By SUBTWEETCAT
Forget what you've heard and let me set the record straight. I am a cat, on the Internet.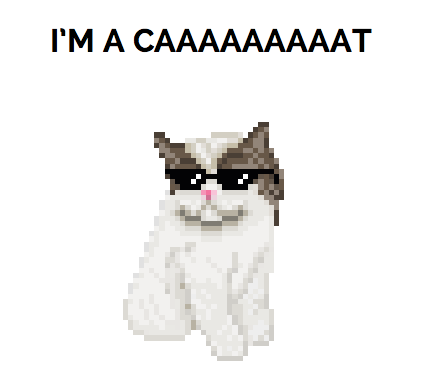 I exist only on the Internet. Twitter dot com; it's my home in the World Wide Web, but I do embrace other great social networks like Tumblr, Instagram, and sometimes Vine. Don't even mention Facebook to me. Pinterest is a joke. No. I'm not on Myspace. lol
One day in December 2012, I was closely watching two of my friends tweet about each other but not mentioning each other's handles in the tweets. It was "weird" and new to me and I wanted to do it. Badly. I had an itch to indirectly tweet about people. People I liked, people I didn't. Things I loved and hated. I wanted to be myself (a cat) on Twitter. So I asked them what they were doing and one of them said "subtweeting."
 
MORE:
SubtweetCat's Guide to Social Media 

My name is SubtweetCat, all one word no last name. I won't say my age but I'm not a teen (I wish I were). I'm a lesbian, and I'll steal your girl if she's fine. I'm Jewish and mixed (gray & white). 420 friendly. There's not much else to say about me except I'm a social media expert. Social media is my life. I eat, live, and breathe it every day. Obama, hire me to do your social media. Hillary Clinton, hire me to do your social media. Tim Cook, PLEASE HIRE ME TO DO YOUR SOCIAL MEDIA.
How to improve your personal brand
Do you remember the days long ago when managing your personal brand meant being a decent person, IRL? Didn't think so. Today we live in a world where if you don't have a website—Twitter, Tumblr, Instagram, Facebook, LinkedIn and Google+ (for SEO purposes)—you basically don't exist… online. Building your personal brand isn't as easy as you think… but anyone can do it. Look at me, I'm a caaaaaaaat and I probably have a better personal brand than you. (Unless you're Warby Parker.) That's why I wrote this ebook, to help you help yourself be a better brand.
I did this thing back in May 2013 that was really just a joke to poke fun at all the people tweeting about Internet Week. I was just jealous. So basically I created my own Internet Week called #STCInternetWeek. 
It was a GREAT success and many #socialmediatips came out of it that I feel should be shared as they directly relate to improving your personal brand.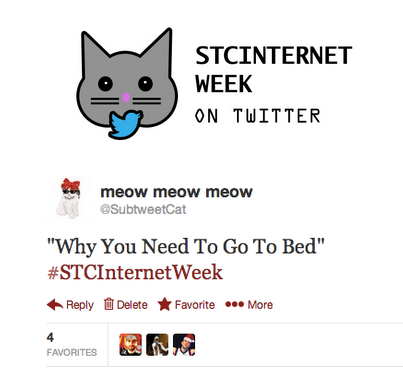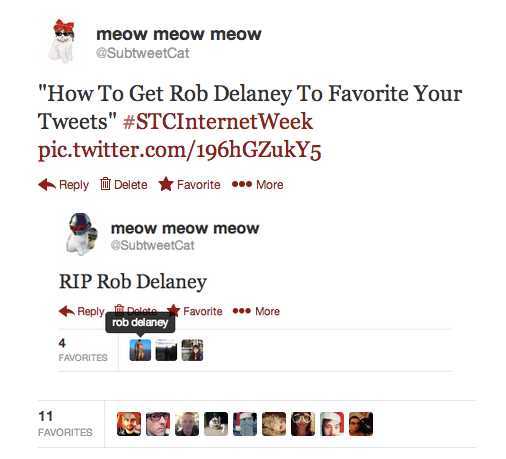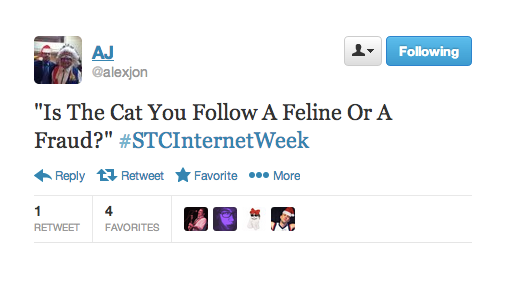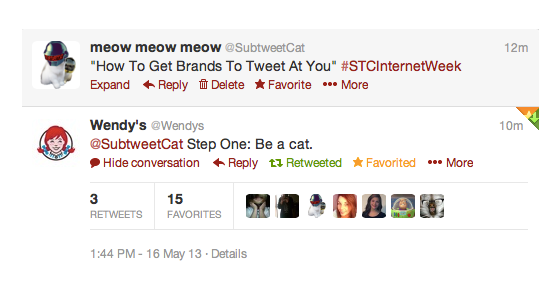 I don't have any solid data about how many people used that hashtag, but what I do know is that people used it and created original content for an entire Internet weekday, which is pretty damn neat.
That one time I was in Time magazine…
Speaking of pretty damn neat. Did you see I was on the cover of Time magazine?
When Joel Stein published that silly millennials article in Time magazine, Twitter was going crazy. Seeing as most of Twitter's general population is made up of millennials, it made a lot of sense for there to be Internet riots happening. So per usual, I did what I do during big media days and made fun of it. 
I tweeted out this (thank you, @darth, for the truly amazing Photoshop work):
Within a day my "personal brand" was featured on Mashable, Buzzfeed, The Week, Jezebel, Know Your Meme, Uproxx, etc.
Back to branding. To understand how to "get" it right we must first examine how to get it very wrong.
Many brands want to be "hip and cool" with the millennial teens these days, which is a #smartmove but not obtainable without proper execution.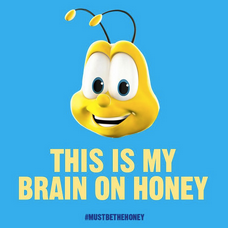 Honey Nut Cheerios' newest ad campaign, "#MustBeTheHoney," is a desperate attempt to tap into the millennial teen generation by making ~*cool GIFs*~ and memes that make absolutely no sense for the brand.
To be quite honest, Nelly is old and tired and is not someone I would use to tap into the teen community. (I love you, Nelly, and no disrespect, but your last good album was Nellyville.)
Anyways, we can clearly see Honey Nut Cheerios® trying very hard . I do give them major credit for the effort and acknowledging the 420 community, but really? The execution is a C at maximum and they should be ashamed of themselves for all of the undeserved attention they're receiving via social media.
Protip: "Don't be that brand."
So now that we've seen a great example about how to do it wrong, let's take a look at how to do it right.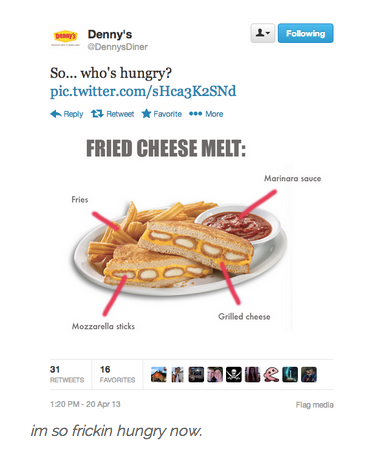 Denny's knows they are an icon in the 420 community and they don't try to hide it. You will notice they use their Fried Cheese Melt as an advertisement on April 20, 2013 (4/20). Whoever came up with this tweet is a brilliant social media specialist and deserves a raise.
This article was excerpted from the ebook SubtweetCat's Guide to Social Media, on sale now at Amazon.com.