Hello! Every week, our internet culture staff will discuss the world of streaming entertainment in this newsletter. In this edition:
Ziwe debuts and Shrill finishes up
How Netflix's Shadow and Bone handles race
Should you watch Star Wars: The Bad Batch?
Sign up to receive this newsletter in your inbox.
---
COMING SOON
2 iconic comedies to stream this week
It's the first week of May, and it's time for the celebs to be interrogated.
Ziwe, the new Showtime series from comedian (and former Daily Dot regular) Ziwe Fumudoh, debuts on May 9 and according to the trailer she will be grilling Fran Lebowitz.
The show grew out of her Instagram Live interview series Baited, in which she famously questioned Caroline Calloway and Rose McGowan on race and privilege. (A standard question was: How many Black friends do you have?)
Ziwe will still have that component, filled out with sketch and musical numbers, and it arrives at just the right moment in the cyclical "wokeness" debate. Fumudoh told the New York Times her guests are "open to looking silly for a greater discourse beyond both of us."
The other notable debut this week is the final season of Hulu's Shrill on May 7. The Aidy Bryant-led comedy has consistently interrogated fatphobia, body image, and sexuality, and this last run of episodes gives the show a heartfelt—if somewhat disjointed—sendoff.
—Audra Schroeder, senior writer
---
SPONSORED
Why mask fit matters so much
Ever go to the grocery store and notice people wearing masks that fit loosely on their faces? While it's admirable to consistently wear them in public, you may not be aware that those gaps on the sides could put you in major danger.
The CDC recommends that your mask creates a tight seal around your nose and mouth for this very reason.
If it drives you nuts to see this everywhere you go, put your energy to a good purpose by joining the #MaskUp project. It's a nonprofit organization with two major goals: Get the word out about how to wear a mask safely, and get masks to people in need of them.
---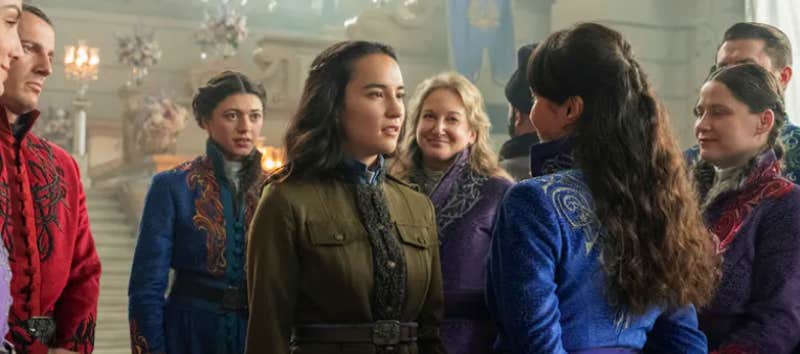 CULTURAL OBSESSIONS
The inconsistent depiction of racism in Netflix's Shadow and Bone
Netflix's Shadow and Bone includes all the classic touchpoints of a new juggernaut fantasy series: a coming-of-age narrator, an ominous place full of darkness and monsters, period costumes, and British accents.
But the series also added a new ingredient it wants to make sure we're aware of from the jump: racism!
"I live in East Ravka, but I've never been welcome here," Alina (Jessie Mei Li) narrates barely 30 seconds into the first episode, "because I look like my mother, and she looked like the enemy."
In the original Grishaverse books, set in the Russia-inspired nation of Ravka, Alina (along with most of the main cast), is assumed to be white.
So when Netflix announced the cast for the adaption in 2019, many fans were as thrilled to see the diversity of newcomers such as Kit Young (Jesper) and Amita Suman (Inej) as they were for the coming Ben Barnaissance.
But Netflix's decision to cast half-Chinese actor Jessie Mei Li as protagonist Alina was easily one of the most significant and exciting in terms of added representation.
Cherry-picking racial history to bolster casting choices without actually having to follow through on the implications of each character's race is a classic in the Netflix series playbook.
Shadow and Bone follows in this tradition by making the race of Alina's actor plot-relevant in much the same way Regé-Jean Page's was as the Duke of Hastings in Bridgerton—all while completely ignoring the ethnicities of anyone else on the show.
—Angeline Rodriguez, contributing writer
---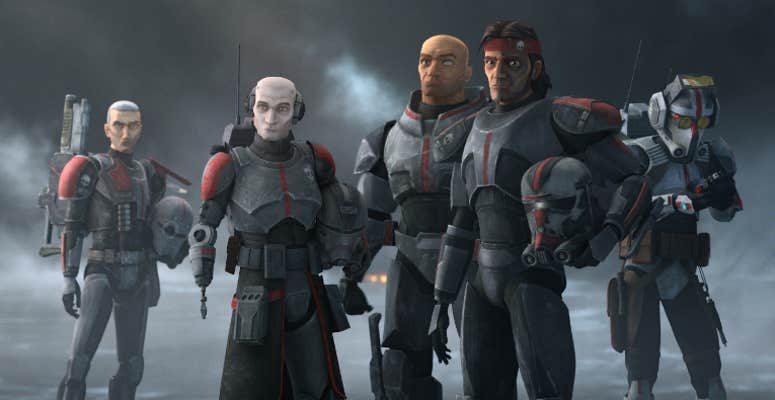 REVIEWS
Star Wars: The Bad Batch kicks off with a compelling story—and distracting cameos
For a more casual fan, Star Wars: The Bad Batch is a hard sell. It's an animated spin-off of Star Wars: The Clone Wars, a show that many might feel too impenetrable to access.
The titular Bad Batch—a.k.a. Clone Force 99, "defective" and enhanced clone troopers who are part of the Republic's clone army—were first introduced in The Clone Wars' final season, but their origins go back several years to an unfinished Clone Wars arc.
That supposed entry level for a show like The Bad Batch might seem steep, but you could also just go in with knowledge of Revenge of the Sith.
The Bad Batch's super-sized premiere introduces a ton of intrigue as it explores an aspect of a Galactic Empire we haven't seen before.
Set amid the emerging Galactic Empire and a world that discourages any kind of individualism or thinking outside of the box, it quickly becomes clear that Clone Force 99 won't fit into the cogs of the Empire's machine.
But for all the new ground it covers, it's also caught in some of the same trappings that many of the more recent Star Wars stories have fallen into.
It can't help but make several connections to what else is happening in the galaxy far, far away, but what can be emotionally satisfying can also be distracting.
The first episode of The Bad Batch is streaming now on Disney+.
—Michelle Jaworski, staff writer
---
Now Playing: "Follow Me" by Aly-Us
Questions? Feedback? Contact us at [email protected].