A Republican Party leader from New Mexico's Bernalillo County has been suspended without pay after insensitive remarks about members of the Working America organization showed up on his Facebook feed.
BCRP executive director Steve Kush was at a Bernalillo County commissioners meeting on raising the minimum wage Tuesday night when he decided that he would start making his gut reactions public, taking to Facebook to post insulting messages about members of Working America, a liberal group working to help raise the county's minimum wage. 
His first remark was about one woman's hat. 

His second was about another woman's shoes.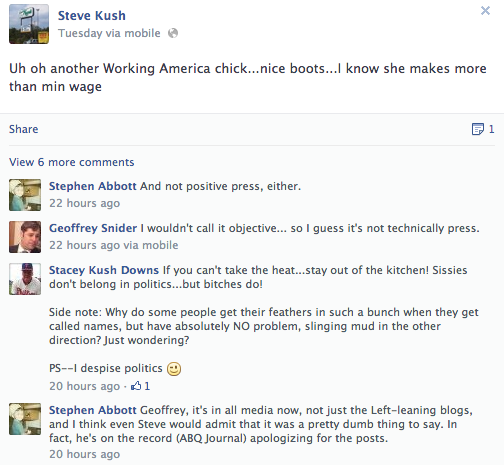 The one about the shoes evoked a response from former BCRP executive director Bob Cornelius, who, in a comment that's since been deleted, wrote "Maybe she used those shoes to walk Central," a reference to the street in Albuquerque, N.M., best known for its prostitutes. 
Kush's response: "She was hot enough to almost make me register democrat."
Bernalillo Country Republican Party chairman Frank Ruvelo caught wind of the digressions and suspended Kush Wednesday. Shortly after, Kush went back onto his Facebook page to apologize for his remarks.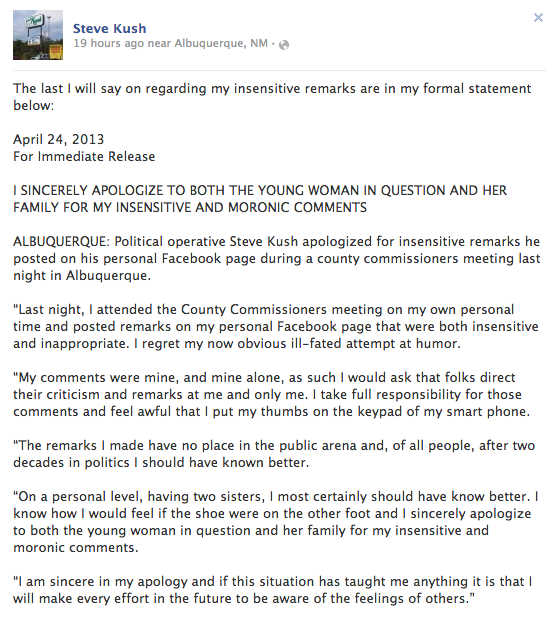 No word yet on how long Kush's suspension will last, but he did tell New Mexico's Watchdog that he's learned his lesson.
"I know better," he said. "I've been doing this for 20 years and I've helped people for doing stupid things. Now I'm the one who's done stupid things."
Photo via Peter St. Cyr/YouTube