Warning: This article contains spoilers for The Mandalorian.
Pablo Hidalgo, a Lucasfilm executive, has experienced a singular force: Upsetting the Star Wars fandom.
The Mandalorian season 2 has ended, but some fans had a very emotional experience seeing Luke Skywalker show up in the final moments of the finale. One of those fans, popular YouTuber Star Wars Theory, posted a video about his own response to the cameo, and Twitter user fellawhomstdve (whose account is now locked) posted a thread about it, insinuating that he was "artificially" recreating the emotional moment.
Hidalgo allegedly responded, though his tweet has since been deleted, with "emotions are not for sharing." There's some debate about whether he was being sarcastic or not. This appears to be his only comment.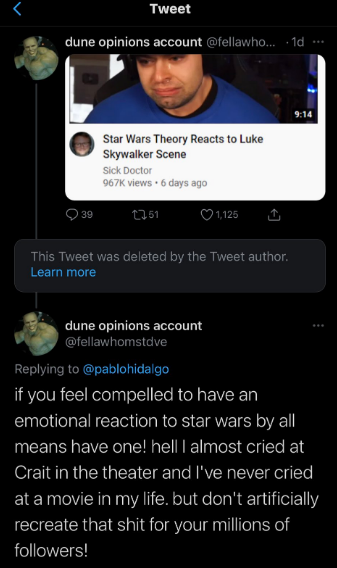 Hidalgo has since gone private on Twitter, though fans called him out for allegedly making the response his Twitter header.
Star Wars Theory included that in a follow-up video about the interaction, which has more than 480,000 views.
Fans tweeted at Lucasfilm and Disney directly, but there has been no public response. Last month, Hidalgo was involved in controversy (from a locked Twitter account) around Baby Yoda's egg eating.