Seymour the squirrel, like all of God's more sophisticated creatures, loves avocado.
And sure, the creamy delicious fruits are packed with healthy fat and over twenty vitamins and minerals, but are they healthier for you than say, having a roof over your head?
Much like today's millennials, Seymour is making the classic mistake of thinking he can eat healthy nutritious food, and also afford a home. If Seymour was willing to forego his snack he could, instead, squirrel that money away and probably put a down payment on a house.
Let's assume Seymour is paying $3 each for his avocados. Sure that's high, but he prefers organic. The average cost of a house right now is $188,900. That slice in his paws is pretty small, but if you assume Seymour polishes off an avocado every week, and that he needs to put down a 20 percent deposit, that means he could on his way to home ownership in just 363 years. Of course, even in captivity, squirrels only live to be about 20, but at least he could get his great-great-great-great-great-great-great-great-great-great-great-great grandchildren started.
The news is even better for humans, who appear to like their avocados spread on toast. If you live in say, Bloomington, Indiana, where the average home cost is only $153,000, and you're willing to give up just one slice of avocado toast per week, that means you could find yourself moving into your new home in just 74 years.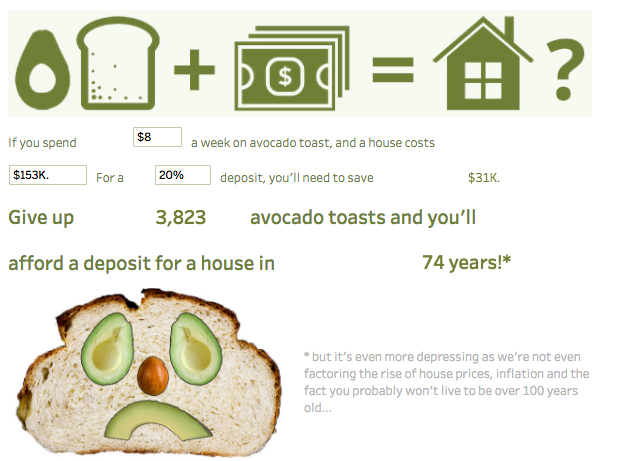 That's only 3,823 slices of toast. Check out this handy calculator if you want to find out how many slices of avocado toast you'd have to give up to become a home owner. Now imagine the kind of place you could afford if you gave up food altogether! That's right, you're only a few simple sacrifices from the home of your dreams.
Or if you prefer to eat, you could always go live in a tree.