The Spotify Wrapped lists are out, and people seem a little more surprised by what they've been listening to during this cursed year. A former Spotify intern also got a bit of a surprise.
On Wednesday, artist Jewel Ham tweeted that she "invented the Spotify Wrapped story concept as an intern project in 2019 and they haven't looked back since LMAO." Ham also included an overview of her design, which presents lists in the style of Instagram stories.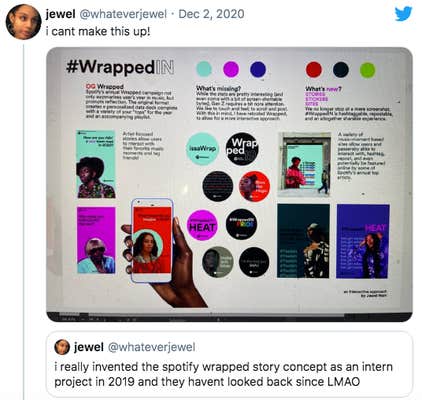 In the comments, quite a few people responded that the lists have been interactive for a few years now. To be clear, Ham, who was a digital design intern from June to August 2019, is claiming she came up with the idea to promote lists in the style of Instagram stories on the app, which Spotify utilized in 2020. Not that she came up with the idea for Spotify Wrapped.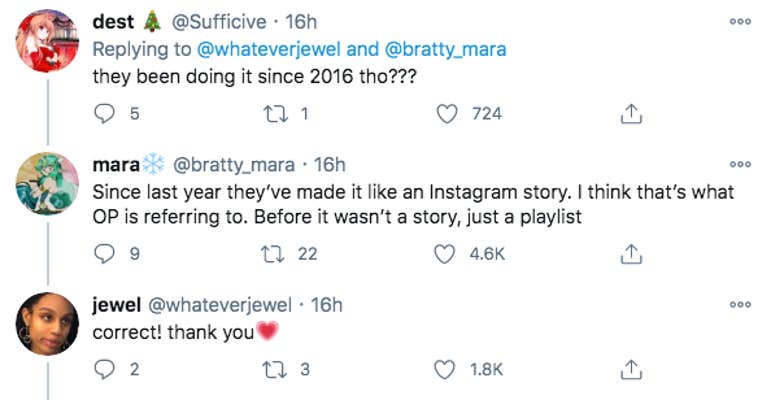 Other commenters chided her for thinking that as an intern at a massively profitable corporation, she should have gotten credit for an idea that is certainly making Spotify more money. But that kind of theft is happening across the tech industry and beyond, and Black creatives are especially vulnerable to their work being co-opted.
Though the lists are fun to share and look back on, Spotify is still a corporation that is collecting data on you, and not fairly compensating artists for streams. On Wednesday, Spotify stock rose 16 percent in the wake of Wrapped engagement—and news that Joe Rogan's podcast is now exclusive to the platform.
Ham's Twitter account was briefly suspended on Wednesday's evening, but it's not clear why. We've reached out to Spotify and Ham for comment.