BAFTA Award–winning actor Chris O'Dowd—possibly best known for playing Roy in The IT Crowd—has a vision. He wants to "build the world's biggest—and probably only—pair of flying bollocks!" Why, you might (fairly) ask? "It's a hot-air balloon shaped like a giant scrotum, what other reason do you need?"
Well, there is another reason: O'Dowd has teamed up with the British charity Male Cancer Awareness Campaign (MCAC) to help raise publicity for their new initiative. It's a crowdfunding campaign to raise money to "build, launch and tour the world in a hot-air balloon shaped like a giant pair of testicles." And not just any testicles. These are the balls of Peter Griffin from Family Guy. And the balloon is called "Skyballs."
I'll just let that sink in for a moment.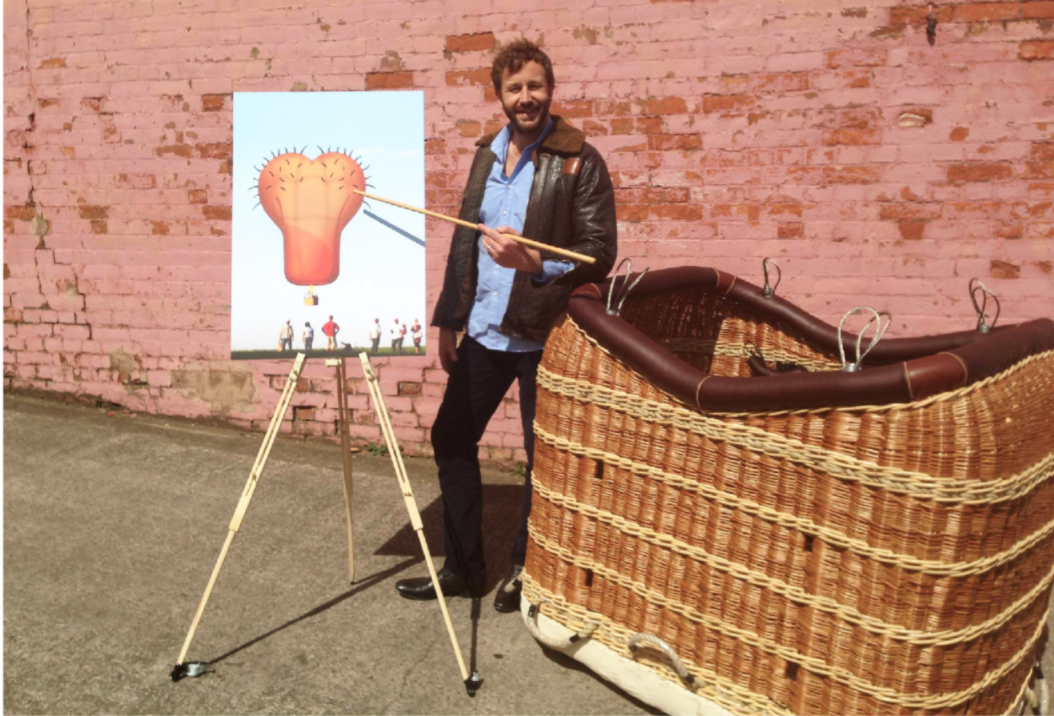 O'Dowd poses next to an artist's rendition. Photo via Indiegogo.
Skyballs is aiming to raise $100,000 (£60,000), and once built will "tour the world's biggest sporting, music and community events," raising publicity, challenging stigmas, and promising to have "every national paper, local paper, radio station and TV station talking about Skyballs and talking about male cancer."
The charity believes the publicity benefits of a giant scrotum-shaped hot air balloon are obvious: "You look out of your window and see a hot-air balloon in the shape of a giant pair of testicles… what will you do?"
The Indiegogo-based campaign offers a variety of reward levels for the discerning men's health supporter, ranging from $24 (£15) "tea-bagger" mugs to the "Skyballs balloon chauffeuring you and your best man to your wedding" for the princely sum of $16,500 (£10,000).
For $165 (£100), you can get a flag hung on the good ship Skyballs personalized with a message of your choosing, and for $795 (£480), backers earn a framed print of Peter Griffin's balls. The use of the cartoon's character's intimate likeness has been authorized by the network Fox, and the Family Guy team "have donated a unique and rare piece of artwork to the project."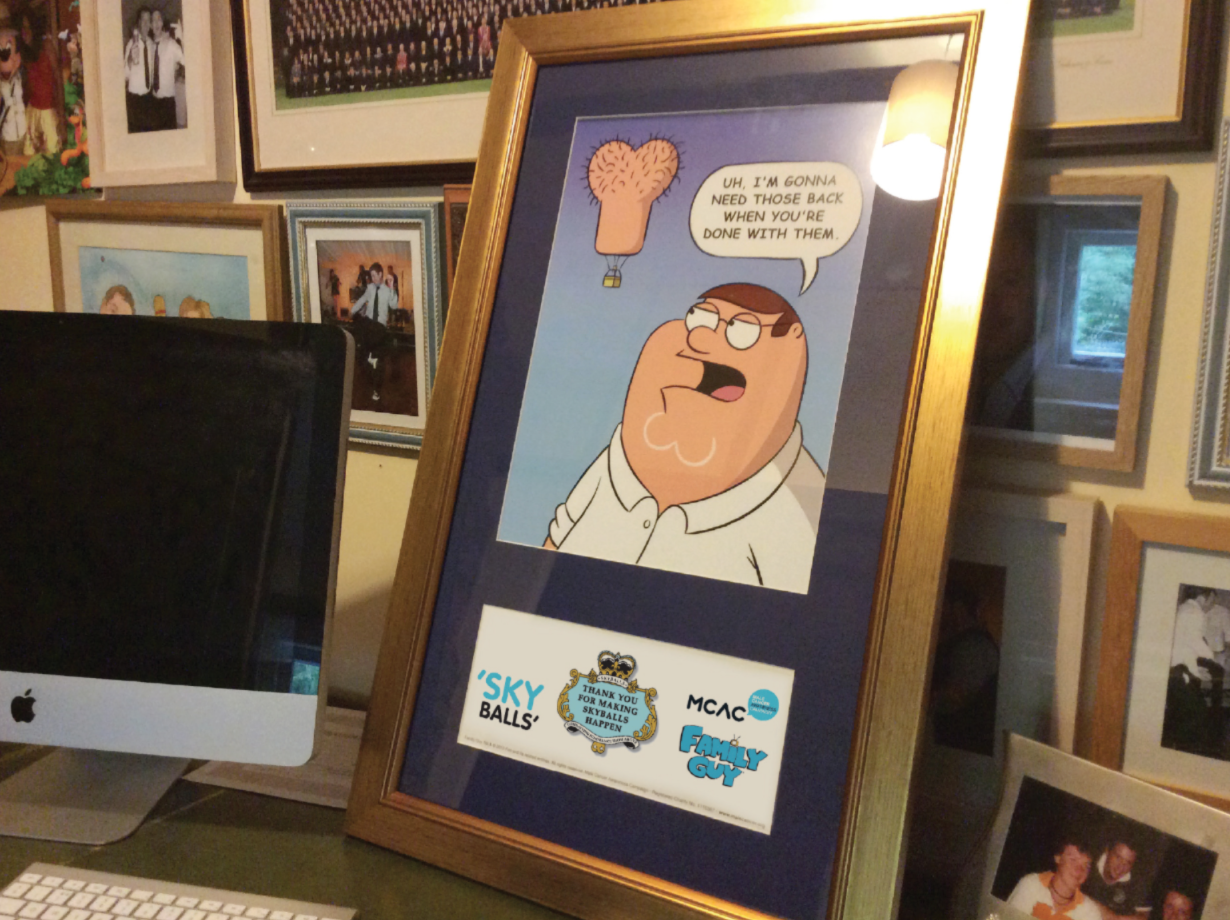 Photo via Indiegogo
The fundraising page admits that this isn't the charity's first attempt at financing Skyballs—a previous Indiegogo campaign was launched and fell through, due to poor timing. However, this new iteration is well on its way to exceeding its financial goals: Having launched on Aug. 25, with another 49 days to go, it's already raised around $16,000 (£10,000)—one-sixth of the $100,000 (£60,000) target. If fundraising continues at the current rate for the duration of the crowdfunding campaign, MCAC can expect to raise as much as $415,000 (£250,000) by the time it finishes on Oct. 14.
The charity is no stranger to outlandish and graphic awareness-raising campaigns; MCAC bills themselves as "the world's boldest, most darling and most innovative charity," and their mascot is the straightforwardly named Mr. Testicles. Previous campaigns have involved hundreds of people dressing as testes and running across London, as well as an appeal for Britons to go commando that was backed by talk-show host Jeremy Kyle, comedian Bill Bailey, and politician John Prescott. 
O'Dowd has worked with MCAC before, starring in a satirical short film in 2012 about the "topless female trampolining world championships" to raise awareness about the risks of male breast cancer.
Testicular cancer is the most commonly diagnosed form of cancer found in men aged between 18 and 44, and is treatable if caught early enough.
H/T Bristol Culture | Photo via Carolyn/Flickr (CC BY 2.0) | Remix by Rob Price