Silk is a rising star in Marvel's Spider-verse, a Korean-American superhero whose civilian name is Cindy Moon. Cindy had a brief cameo in Spider-Man: Homecoming, but she may soon get her own live-action TV show—the first in Sony's Spider-Man franchise.
Silk, Marvel, and Spider-Man
Debuting in the 2014 comic The Amazing Spider-Man #1, Silk was created by longtime Spider-Man writer Dan Slott and artist Humberto Ramos. She has a very similar origin story to Peter Parker, bitten by a different radioactive spider in the same lab. But unlike Peter, Cindy Moon doesn't adopt a superhero persona straight away.
Instead she ends up being found by Ezekial Sims, a wealthy businessman with a recurring role in the Spider-Man comics. He's obsessed with Spider-Man, and keeps Cindy locked away for years. Peter Parker eventually frees her, kickstarting her superhero career as Silk.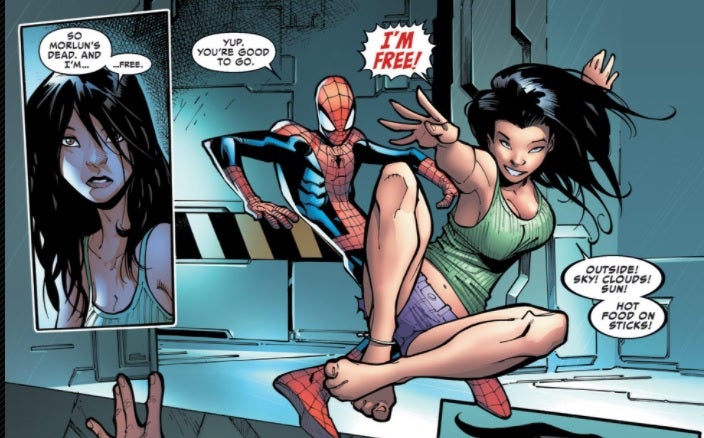 Her first costume leaves something to be desired, because it's basically a skintight catsuit made from spiderwebs. But she soon adopts her signature look in her solo series Silk (2015), a black and grey costume with a red scarf over her face – now a fan-favorite choice among Marvel cosplayers.

If you want to start reading Silk comics, you should probably start with that solo series, not the original Amazing Spider-Man intro, which is kinda sexist. Her Amazing Spider-Man origin story introduces her as a scantily-clad kidnap victim, who Peter Parker rescues and then immediately makes out with. Meanwhile, Silk kicks off with some meaningful backstory and workplace hijinks as she adjusts to her first real job: an internship with J. Jonah Jameson.
What are Silk's superpowers?
Despite their similar origin stories, Silk has different powers to Spider-Man. She's faster and more agile, with a more powerful spidey-sense. And in this version of Marvel canon, Peter Parker built his own web-shooters while Silk is able to generate organic silk webs—hence her name.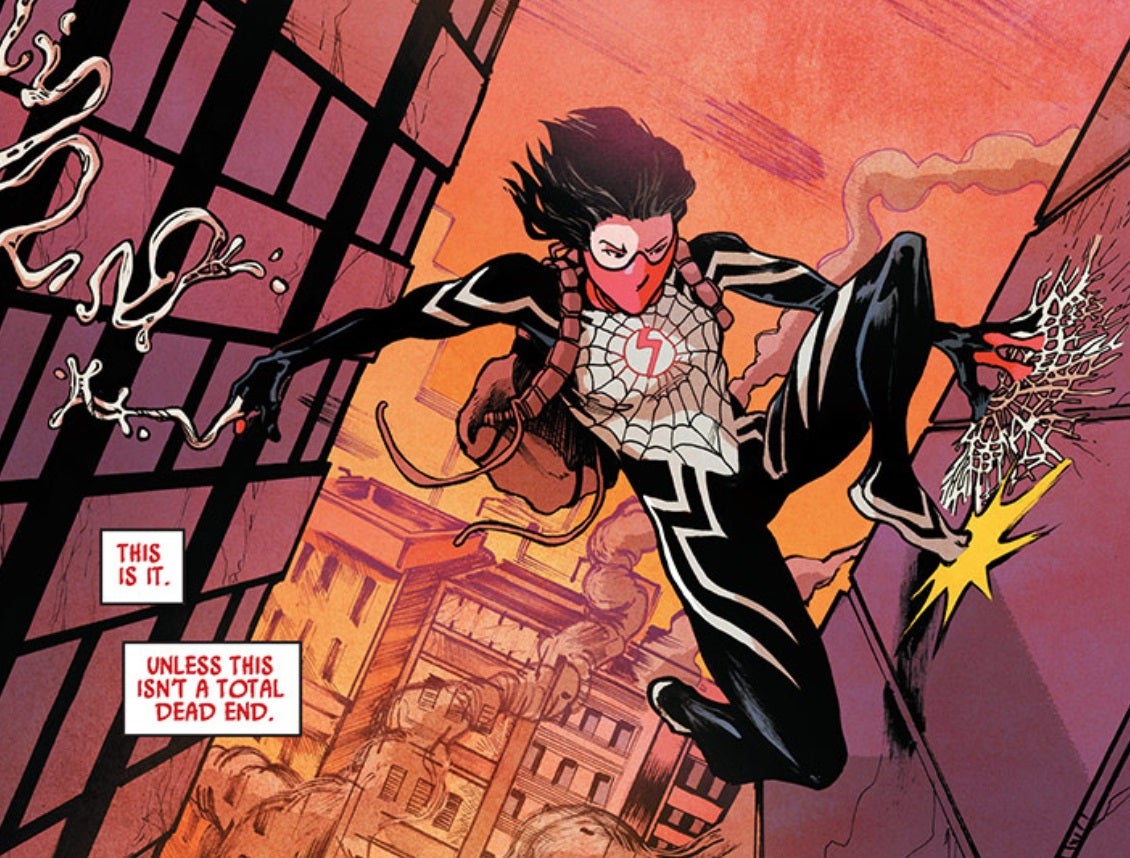 Cindy Moon also had a superpower of her own, long before she was bitten by the spider. She has an eidetic memory, meaning she remembers everything she ever experiences—a useful trait for an investigator.
Silk's live-action TV series
Tiffany Espenson appears very briefly as Peter Parker's classmate Cindy Moon in Spider-Man Homecoming and Avengers: Infinity War, but she's unlikely to reprise her role in the recently-announced TV series. That's because those were Disney/Marvel films, while the TV show will be a Sony production. As always, Marvel's licensing arrangements are kind of convoluted, but all you need to know is that Sony owns the rights to the Spider-Man spinoff characters.
Read more:
According to a September 2020 report in Variety, Korean-American screenwriter Lauren Moon is in talks to write the show. She previously wrote for the Freeform show Good Trouble, and Netflix's Atypical. Spider-Man: Into the Spider-verse directors Phil Lord and Chris Miller are the executive producers.
Sony's Spider-Man franchise is in a weird position at the moment. It doesn't have a strong brand identity like the MCU, and there's no real cohesion between Into the Spider-verse (which was a huge hit), the Tom Holland franchise (which is a Disney co-production), and unconnected spinoffs like Venom and the upcoming Morbius movie starring Jared Leto. There have been plenty of rumors about plans for female-led spinoffs including Silk, but right now it looks like Sony is only going ahead with a Spider-Woman movie from director Olivia Wilde. Providing it actually happens, Silk would be the first live-action Sony/Spider-Man TV show.