On Thursday, Sia released the trailer for Music, her feature directorial debut starring Kate Hudson, Leslie Odom Jr., and Dance Moms alum—and frequent collaborator—Maddie Ziegler. But in the time since the trailer's release, Sia has been going after critics who called out the film for its depiction of an autistic character and for having an abled actor play a character with a disability.
The trailer introduces Music (Ziegler), a nonverbal autistic teenager who uses a tablet to communicate her feelings to others, her neighbor Ebo (Odom Jr.), and Music's half-sister and guardian Zu (Hudson). According to the press release from Atlantic Records, Music "is a wholly original exploration of the healing power of love and the importance of community."
"She sees the world in a completely different way from us," Ebo explains which is both a way both for Ebo to describe Music's disability and how a scene can transform into a colorful music video. While the press release from this week and the trailer don't explicitly say that Ziegler's character is autistic, it had been previously reported in an August 2018 Rolling Stone profile of Sia along with other details about the musical film.
Since the trailer's release, fans and critics alike have gone to criticize Music. One reason is not having an autistic actor playing an autistic character, making it just one of many, many instances where Hollywood wants to tell stories about marginalized people but instead casts abled actors instead of actors who have those disabilities. But they're also incredibly concerned with how the film depicts an autistic character, which appears to infantize and fetishize autism.
Sia quickly responded on Twitter, noting that people should watch the movie before they judge the entire project based on a one-minute trailer. "Fuckity fuck why don't you watch my film before you judge it?" she tweeted. "FURY." She added that she brought Autism Speaks onto Music after it was made.
"I've never referred to music as disabled," Sia explained to one critic who asked why she didn't cast an autistic actor to play Music. "Special abilities is what I've always said, and casting someone at her level of functioning was cruel, not kind, so I made the executive decision that we would do our best to lovingly represent the community."
Despite Sia's intentions to "do our best to lovely represent the community," Sia's assurances aren't comforting many. (For one, Sia's use of "special abilities" to describe Music is ableist language.) The inclusion of the autism advocacy group Autism Speaks is a big red flag for many people who see Autism Speaks as a harmful organization because of its focus on "curing" autism; while Sia said she didn't know that Autism Speaks was polarizing, an explanation on some of its controversies are as easy to find as looking up the organization on Wikipedia.
She also noted that it would be "cruel, not kind" to cast an autistic actor who was similar to Music because "She found it extremely stressful and overwhelming," which suggests that Sia wasn't willing to accommodate her set for an autistic actor's comfort.
Sia was antagonistic when responding to criticism from people within the disabled community. In one instance, when someone pointed out that several autistic actors could've done the project and Sia is making excuses for not casting an autistic actor, Sia replied that "Maybe you're just a bad actor." In another, while highlighting that she cast 13 neuroatypical people and three trans actors, she took a shot at sex workers and addicts. (She also noted that two people on the autism spectrum advised her at all times.)
Sia also insists that criticism over her depiction of an autistic character is premature and that people need to watch the movie for themselves.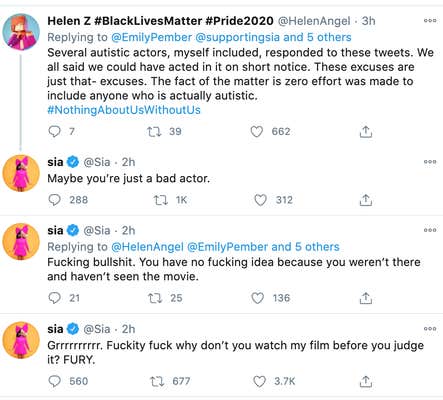 Music is set to be released in theaters on Feb. 12, 2021.
---
More essential culture reads
---