Seth Rogen's production company, Point Grey, is diving into a new horror-thriller film about an apocalyptic meme. Because if there were ever a time that the public could believe in a murderous meme, it is now.
The upcoming movie is titled Memetic, and is based on a Boom! Studios comic of the same name. The original comic, written by James Tynion IV, focuses on a meme called the Good Time Sloth. Viewing the meme sends people into a violent, 28 Days Later-style rage, eventually leading to complete societal breakdown.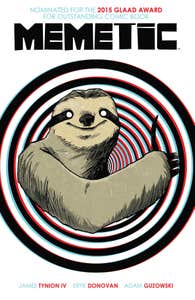 The story follows a young man named Aaron on his journey through the new, violent world in search of his boyfriend. Aaron's colorblindness somehow makes him immune to the meme and its strange side-effects. Lionsgate is in the midst of final talks to pick up the film, which will be written by Mattson Tomlin. Tomlin is the co-writer on the upcoming The Batman starring Robert Pattinson.
Memetic is not the only comic book adaptation Rogen's production company is collaborating with Tomlin on. Fear Agent, a Dark Horse Comics series, will soon be adapted by the team into a show on Amazon Prime. We do not yet know a release date for either project.
READ MORE:
H/T Vulture