Originating in drag culture, the phrase "serving cunt" is everywhere right now, from stan Twitter to a ubiquitous prompt meme where people ask, "How do you serve cunt in [x] way?"
It's pretty wild to see the C-word take off in such a mainstream way, so if you're confused about how that happened, read on.
What does serving cunt mean?
First off, while a lot of people still drop the C-word as a sexist pejorative, "serving cunt" is 100% complimentary. As we already mentioned, it started out as drag slang, typically describing a person with an aggressively cool, bold outfit and/or attitude.
As Urban Dictionary puts it, serving cunt is "used for when your absolutely slaying. the ultimate form of yassification. pussy popping off slay so hard you cant contain it."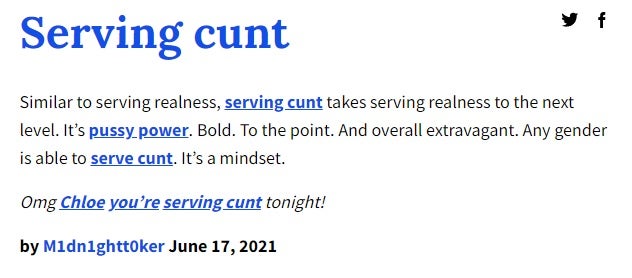 Unsurprisingly, this term was a hit with stan culture.
Likely spreading via RuPaul's Drag Race, serving cunt went viral in the 2010s, routinely used to praise female celebrities and fictional characters. Once you know what it means, you start recognizing cunt-servers everywhere.
According to Know Your Meme, this phrase got a major attention boost in 2021, thanks to a meme where people shared photos with the caption "she lived she served cunt then she died."
The 'How do you serve cunt in an [x] way?' meme
This meme is all over Twitter at the moment, and the format is simple: Someone asks how to serve cunt in a certain way, and people respond with suggestions—the more ridiculous or unexpected the better.
This phrasing likely took inspiration from "how to serve cunt in a god-honoring way," adding another layer of irony to the meme.
Taken at face value, the question of how to do something in a god-honoring way is a genuine concept in conservative Christian circles, from how to disobey orders while honoring god, to how to purchase ethical clothes. This idea has already been ridiculed in its own right (i.e. "how do i get railed in a sundress in a god honoring way"), and in 2020, drag queen Trixie Mattel posted a video response to a makeup tutorial about (you guessed it) how to apply makeup in a god-honoring way.
In March and April this year, these two meme formats converged to inspire several unrelated tweets about how to serve cunt in a god-honoring way. Which seems to have kickstarted the more surreal "how to" memes this month.
'A man is dead and you're serving cunt?'
In case that wasn't enough, May 2023 saw the emergence of another cunt-related meme format, where people post an absurd example of a scenario where someone might be serving cunt. It's pretty self-explanatory, and stans grabbed it as a chance to share their favorite moments of fictional characters looking hot during extreme circumstances.
Basicaly, cunt is here to stay.

We crawl the web so you don't have to.
Sign up for the Daily Dot newsletter to get the best and worst of the internet in your inbox every day.