She said it with a cat on her head. Seo Kim had realized that posting a daily comic was becoming difficult. "I'm traditionally not super prolific, and I'm not super good at time management. If you'd asked me before I started posting comics every day, I'd have said it's really unlikely that I'd be able to keep it up," she admits. But people began following her, and liking her drawings, so she continued. "It became easier to keep doing it because someone was expecting a new comic each day."
The burden was great, though. "When I started, it took maybe two to five hours for each comic — or even longer. I got quite a bit faster at doing the comics, but sometimes I'd still be really perfectionist and redo it a bunch of times." Eventually, it got too much for Kim, and real life — and real work — started to encroach on her time. She began getting interest from television companies looking for a freelance storyboard artist for their cartoons, and she realized that would take up more and more of her time. Slowly but surely she acknowledged "there's no way I'm going to be able to keep doing a daily comic alongside work", and so cut her postings back to twice a week.
Kim's announcement that she would be reducing her posting schedule was indicative of why she couldn't keep up with producing a witty, well-drawn comic every day. "I thought I'd make a post about slowing down and do it in five minutes. Then I sat down and spent an hour doing that drawing. I always end up redoing it."
She continues, "I used to have a big problem when I was in school. I went through a rut in my second year where I had a bad habit of wanting to redo whatever I was working on halfway — literally halfway." This regularly led to her room being filled with half-done drawings of the same thing scattered about, "and I'd be so frustrated and angry. My trash can would be overflowing with crumpled papers." Such an attitude to work was never conducive to producing art on such a short cycle. "Going in, I knew I wouldn't be able to do daily comics forever but I didn't think I could keep it up for so long either," she says. "I feel that I've had a good run."
How she got to this point is convoluted. After 12th grade, Kim began working part-time during summers at Canada's Wonderland, a theme park north of Toronto. She was a live caricaturist, drawing paying customers in lightning sketches as they passed through the park. As part of that she joined the National Caricaturist Network, an industry group which holds annual conventions. "The artists get together and draw each other for four days straight," Kim recalls. "A lot of people don't sleep. It's pretty cultish. That's where I met my friend Marlo Meekins."
Meekins is a caricaturist who has appeared in magazines around the world for her unique style and work. In May 2012 she began posting on Tumblr, producing art every day for her followers. Kim had been a fan of Meekins before meeting her in 2007. "Her fluid style of drawing and carefree sensibility has influenced me quite a bit," she begins. "And on Tumblr Marlo was getting lots of feedback. Just posting consistently every day was generating a lot of response. I thought it was awesome that they were getting such a strong response so quickly, and I felt encouraged to try posting more consistently myself." The encouragement helped. Some of Kim's most popular comics have been liked or reblogged upwards of 10,000 times, and the increasing popularity has helped her make her way in the industry.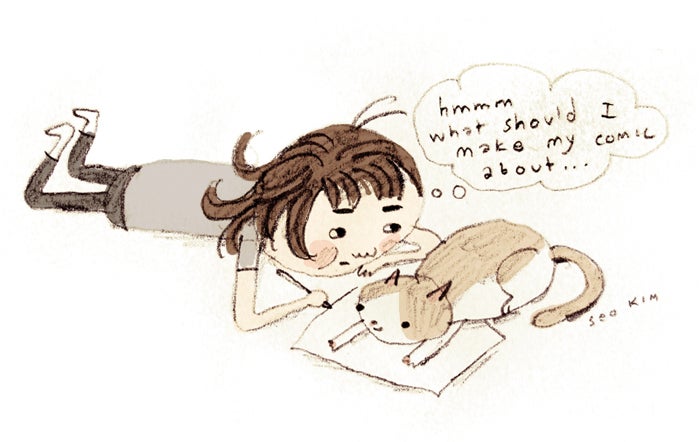 "Posting comics expanded my audience and connected me to people who were interested in working with me, so I got busier," she admits. Something had to give. Posting weekly was "a lot of work, so now I've reduced it to something more realistic."
Kim has two primary goals when drawing: "I want to communicate my idea and also make it look beautiful. I'm realizing I have to do those things one step at a time." Her distinctive style was honed over the few months of regular posting. "I feel much more comfortable with my style now," she says. "I struggled a while to reconcile my drawing style with the ideas behind the art. Back then I wouldn't have been able to make daily comics."
Like many cartoonists and comic artists, she took inspiration from Disney, but not necessarily in the way you might expect.
"It wasn't a technical thing," she begins. "I just wanted to be able to portray emotion and personality and character through drawing, and I knew you had to gain a lot of skill to be able to do that. And I also was attached to the idea of having a distinct style. I always wanted that -– to develop a style which was really distinct but also effective, and could communicate emotions. I've recognized what my strengths are -– which is drawing. Just drawing basic … drawing with a pencil … allows me to express my ability in the purest way right now, I think."
The ideas for her comics often come from nowhere. "It's often exactly what I'm thinking right now. I spend a lot of time in my chair just sitting and zoning out, lots of things going through my mind, and something comes up. It can take just one second to get an idea." Sometimes the ideas are born out of sheer panic. "Often I go 'Oh shit! I have to draw a comic tomorrow! What do I do?' I just come up with the nearest idea." Often that's cats.
When asked what her favorite thing to draw is (besides the Incredible Hulk), Kim pauses and thinks.
"Besides the Hulk?! … cats, obviously." It's no wonder she said it with a cat on her head.
By Chris Stokel-Walker // All illustrations by Seo Kim via Tumblr