Crackhead Twitter handle @Seinfeld2000, a nameless account that capitalized on December's @ModernSeinfeld craze by crafting nonsensical Seinfeld plot variations with absolutely zero adherence to the way words are usually spelled, released an e-book on Wednesday, an epic narrative crafted in the Seinfeld spirit. You should all go buy it now. 
Stretching 16,562 words, the parody, a meandering full-length episode titled The Apple Store, picks up on the four main Seinfeld characters (this round known as Jary, Garge, Elane, and Kragdar) as they emerge from prison in the modern era, exactly 15 years after the celebrated sitcom's main cast members went to jail after a Massachusetts judge found them guilty of "doing nothing" at the scene of a crime.
Flash forward to 2013, and what's the gang up to? Sort of the same. Jary's a prop comedian. Elane works for BuzzFeed Books. Kragdar lives in Times Square. Garge lives with his parents. 
The first three pages are live and available online at Smashwords.com, but a paywall sets up at page 4 and asks that you pay $2.99 to read the rest of the 38 page manifesto. We suggest it. It's riveting stuff. We'll even show you all the text that shows up on the story's first fold.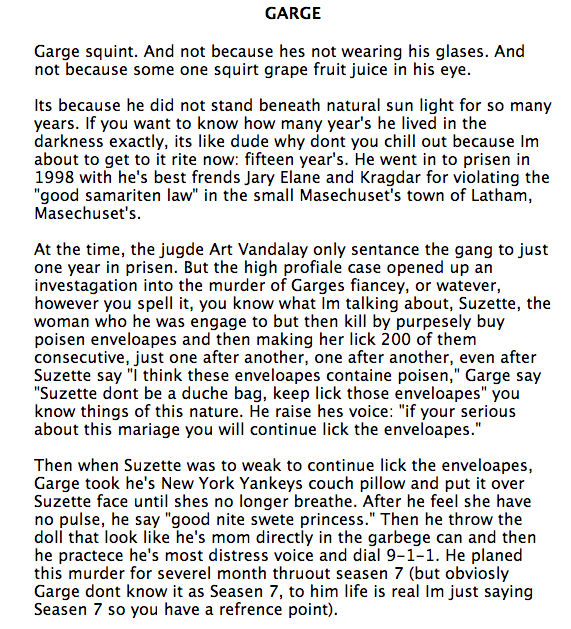 Just as strange as this strange, strange e-book is the recent reemergence of @Seinfeld2000's Twitter account, one that purported to be going away for good in February but sprung back to life a few weeks later. The account now has more than 5,500 followers and more show-about-nothing scenarios than any mortal man could consider possible. Recent episode ideas include Jary stalking Christina Hendricks, Elane "yada yada"-ing an abortion, and Newmen eating a chair.
Modern trials for a very modern man. 
In the never-ending, made-up war between the two Seinfeld parody accounts, @Seinfeld2000 wins this battle. At least until @SeinfeldToday writes a book.
Photo via Seinfeld/Facebook