In case you missed it, on Monday, while giving an interview at a charity event, Jerry Seinfeld refused to hug a star-struck Kesha, who asked the comedian to embrace her three different times. In his defense, he was in the middle of an interview and had no idea who she was. In her defense, she's had a pretty tough year.
https://www.youtube.com/watch?v=Z9ZmyqVBpVs
Seinfeld was as polite as possible and Kesha later posted she had "lots to smile about," so it seems like it's no big deal.
https://twitter.com/KeshaRose/status/872091935804182528
But that didn't stop Reddit from pumping out one of its famous Seinfeld spec scripts, and it just might be one of their best ever.
User pw-15 starts off the script in perfect Seinfeld fashion and even works in a nice Mulva reference.
Jerry: "So I'm standing there talking to this reporter, answering his questions, you know, and this lady walks up like she knows me, and does this hugging motion!"

George: "Hugging motion? Who does that?!"

Jerry, nodding: "This lady apparently. And I'm thinking to myself 'Oh No, do I know this person? Is this that girl I dated last week? I can't remember her name!'"

George: "Mulva, her name was Mulva. What was the hugging motion like? Was it like this?"
George comes at Jerry with open arms, just as Kramer barges into the apartment…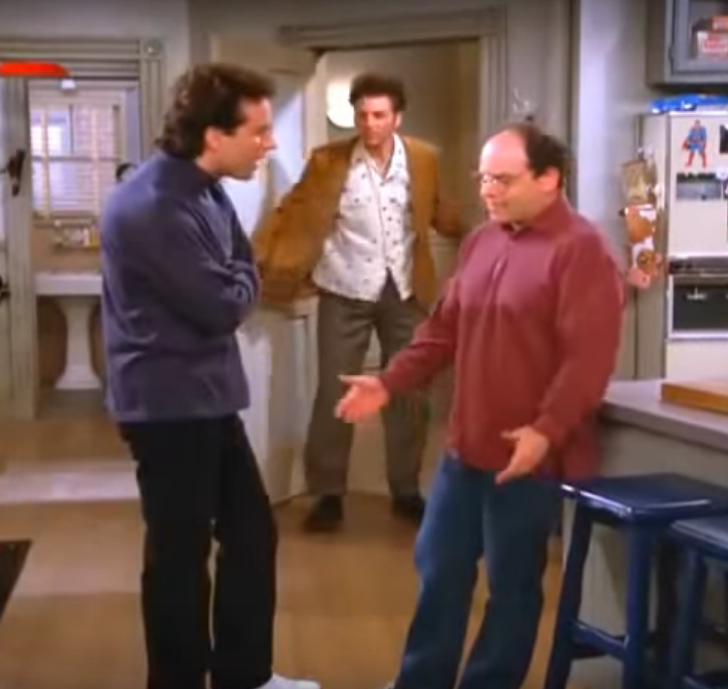 Another user chimed in.
Kramer: puts down a live chicken "So Jerry. I hear you turned down Kesha."

Jerry and George together: "What's a Kesha?"

Kramer: gathering hats from Jerry's closet "What's a Kesha? What's a Kesha?! Wow, you're really out of touch Jerry." Begins trying different hats on the chicken
From there it was off to the races as other users added to the script.
Jerry, looking exasperated with hands in the air: "That was my new agent. He says he's booked a lunch meeting tomorrow with Kesha. Apparently she wants to work with me and thinks I'm the perfect spokesman for her new hat line."

George: "You reject a hug from Kesha and now you get to have lunch with her!?"

Kramer, with chicken still in hand: "Wait just a minute Jerry. You're saying that this Kesha has hats? Hats for your head? You've got to let me come with you to that lunch. I'll drive you."
Thus far the script is only one scene but hopefully redditors will continue to add to it until it's a full episode. With any luck the cast will reunite and shoot the whole thing.
You can check out the full script below.
Seinfeld – The Hug (Written by Reddit)