A second grade class from Elmwood Franklin School in Buffalo, New York, has made Twitter its personal grammar playground after a teacher asked his or her students to correct sentence structure, noun and verb usage, spelling, and punctuation in tweets from NFL players.
The unnamed teacher posted photos on Facebook of his or her students holding large pieces of paper with corrected tweets on them. They include tweets from New England Patriots wide receiver Wes Welker, Detroit Lions wide receiver Titus Young, and San Francisco 49ers cornerback Chris Culliver.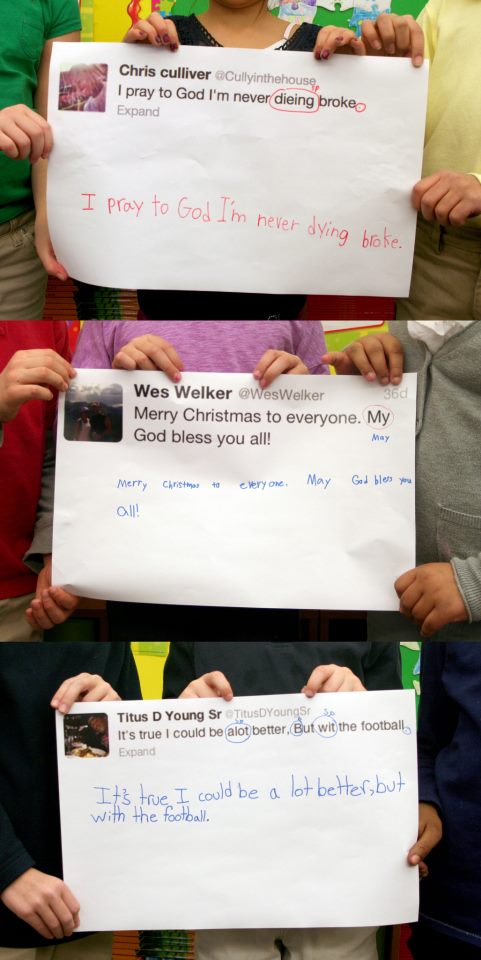 Culliver has been the most hated football player of the week after the 24-year-old insulted the LGBT community during Super Bowl press day on Tuesday.
"I don't do the gay guys, man," Culliver told radio host Artie Lange. "I don't do that. No."
Culliver has since apologized for his statements claiming that the "discriminating feelings are truly not in my heart."
Culliver and the 49ers face the Baltimore Ravens in Super Bowl XLVII Sunday at 6:30 pm ET. Maybe between now and then he can learn a thing or two about proper grammar.
Photo via Elmwood Franklin School/Facebook