Russell Westbrook is one of the best point guards in the NBA, and his season-ending knee injury is devastating for fans of his team, the Oklahoma City Thunder, who many predicted will face the Miami Heat in the Finals for the second year in a row. 
Houston Rockets guard Patrick Beverley, the guy who banged him up, is now so hated in Oklahoma City that he's receiving death threats from all over—including from the team itself. Well, just its ball boy.
In Game 2 of the teams' playoff series, Beverley tried for a steal and ran into Westbrook's knee as Westbrook called for a timeout.
Westbrook is out for the season after knee surgery. Here's a look at the incident.
A Twitter user with the handle @MitchellBrwn wrote "Patrick Beverly, I'm coming to kill you," the Houston Chronicle reported. That was followed by a similar tweet containing Beverley's handle.
The user later apologized for the remarks, and then claimed to have been hacked. Though the account was deleted, the tweets are still visible on Topsy.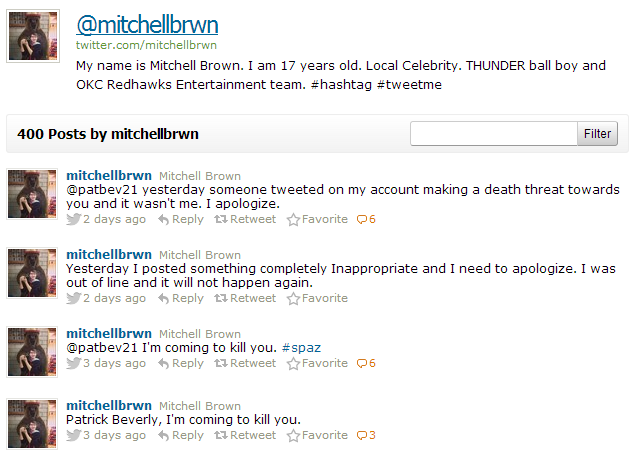 The bio indicates that the Twitter user is a 17-year-old ball boy for the Thunder. Threats were made by others, according to the Chronicle. 
An Oklahoma City Police Department said officers were working with the Houston Police department and the NBA to investigate "Internet threats."
A Thunder spokesperson, meanwhile, said the team does not condone the Twitter user's comments. "He works game nights on a voluntary basis. We will handle this matter internally."
Beverley claimed he was not worried about the threats, adding he did not intend to hurt Westbrook. 
H/T Daily Mail | Photo via DraftExpress/YouTube