Former New York City mayor Rudy Giuliani has been busy at work lately, defending President Donald Trump as his lawyer and sharing his belief that sex workers don't deserve his respect.
Giuliani, in fact, is so busy that he can't waste time finishing his musings on Twitter. That could be why he blessed the social media site with this one-world message on Sunday morning.
You

— Rudy W. Giuliani (@RudyGiuliani) July 29, 2018
That tweet was followed up 20 minutes later with Giuliani promoting appearances he would make Sunday morning on Fox and CBS. But he didn't delete the "You" tweet, leaving it to shine in its simplicity. It's a middle finger to the internet (without having to write "Fuck" in front of it) and to all those who are trying to solve his message.
Naturally, Twitter had a field day trying to figure out what Giuliani was trying to say with his three-letter dispatch. Many thought Giuliani was blessing us with some musical trivia or start some kind of Twitter sing-along.
…'re so vain, you probably think this tweet is about you…

— Doxter Deg (@doxterdeg) July 29, 2018
Rudy, what is the most underrated track on R.E.M.'s MONSTER? https://t.co/3vgo4KcFDr

— Steven Hyden (@Steven_Hyden) July 29, 2018
…Make Me Feel Brand Newhttps://t.co/BEyl9x5f04 https://t.co/tcxIKzPk9S

— Jake Tapper (@jaketapper) July 29, 2018
https://twitter.com/arielmilo7/status/1023544849570689024
…got what I need. But you say he's just a friend. You say he's just a friend…OHHHH Baby Youuuu"

— Pilot (@Pilot9) July 29, 2018
https://twitter.com/305Pirate/status/1023550414766133248
give love a bad name…..

— SwPitch (@swpmontessori) July 29, 2018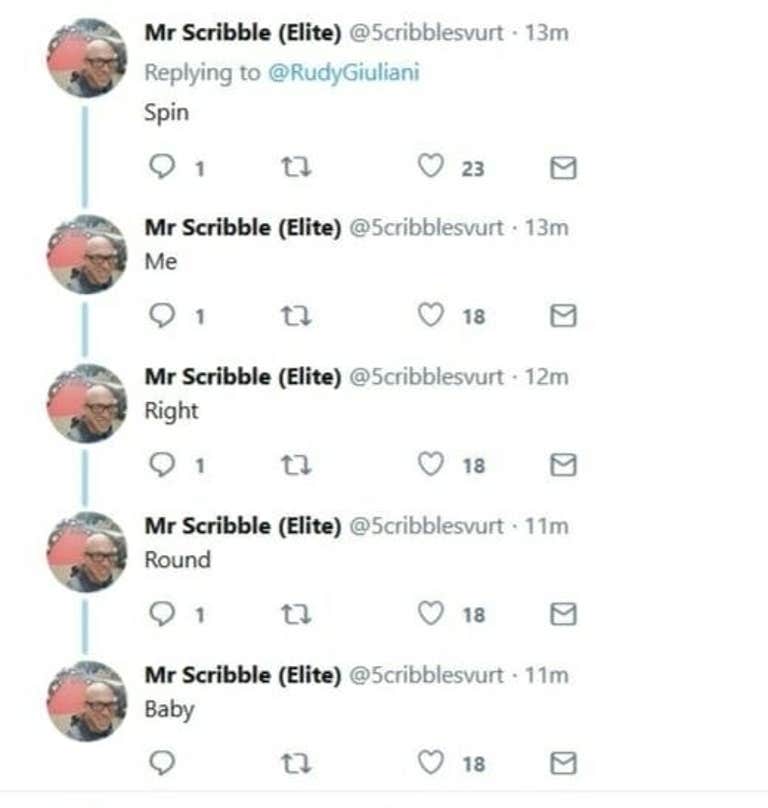 Some questioned his competency.
Are as good at lawyering as you are a Twitter.

— Molly Jong-Fast (@MollyJongFast) July 29, 2018
can't handle the truth

— Jennifer Scully Vote in November (@jenniferscully1) July 29, 2018
… have the right to remain silent.

— ᴛʀᴜᴛʜ ᴡʀɪᴛᴇʀ (@SheWhoRises) July 29, 2018
Some believed Giuliani was trying to teach us about homophones.
Ewe

— Ragnarok Lobster (@eclecticbrotha) July 29, 2018
Ewwww

— Ruth Likes Voting and Disco (@RuthieKetchup) July 29, 2018
And for some, Giuliani's tweet reminded them of Trump's most famous Twitter faux pas—Trump's tweet that will live in infamy.
Covfefe? https://t.co/8kefPfQzfe

— Maury Brown (@BizballMaury) July 29, 2018