Roger Stone, the former adviser to President Donald Trump, shared a meme on Monday that features him alongside other right-wing political figures and media personalities wearing made up Space Force uniforms that have swastikas on them.
Stone has since removed the Instagram.
The meme features Trump, Rudy Giuliani, Rep. Devin Nunes (R-Calif.), White House Press Secretary Sarah Huckabee Sanders, Vice President Mike Pence, and Fox News pundit Sean Hannity wearing orange astronaut uniforms with swastika logos on them. The swastikas have a small rocket coming off one of the sides.
Underneath it, the picture is captioned "In space, no one can hear you lie…," a riff on the popular tagline for the Alien movies, saying Trump and Co. couldn't hide their white supremacist leanings.
"I love this – proud to be in this crew – but the only lies being told are by liberal scumbags #maga #republican #infowars," Stone wrote on Instagram when he shared the photo.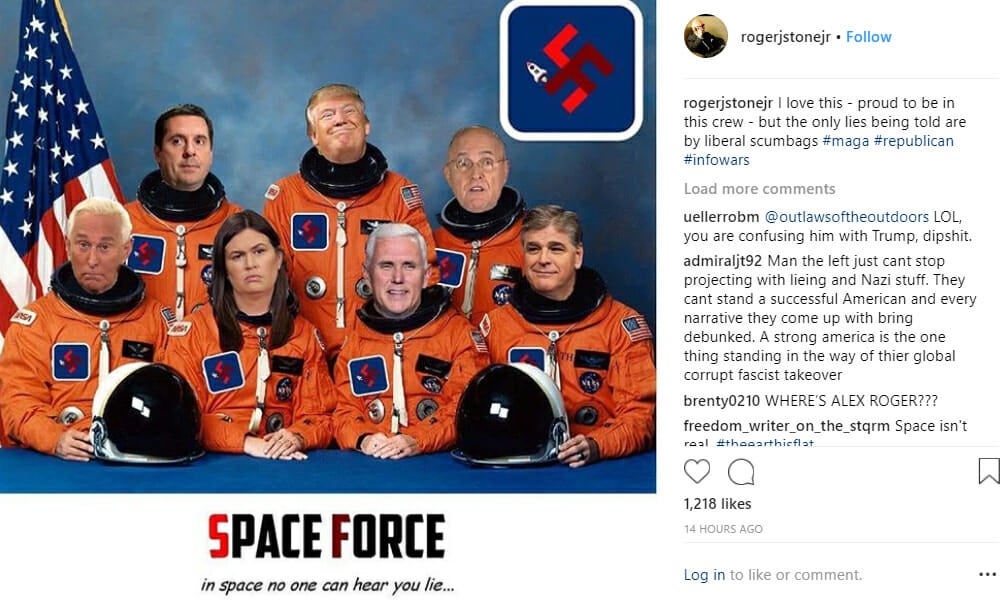 In June the president began the process of creating a United States Space Force, which would become the sixth branch of the armed forces.
Last week Trump's reelection PAC sent out an email asking followers to vote on a logo for the new force that would be used on a "new line of gear" to be sold to help the campaign.
The Trump PAC logos didn't feature the swastika's that Stone was evidently "proud" to share.
READ MORE: