Tech

Tech

The gadgets, platforms, and software that make your digital life possible. If it bleeps, clicks or blinks, you'll find it here.

Internet Culture

Internet Culture

There's a community for everyone online.

Streaming

Streaming

News, reviews, and guides for the world of online entertainment.
The Rock's unbelievable new movie poster gets picked to shreds
This isn't humanly possible.
People have come to think of Dwayne "the Rock" Johnson as almost superhuman. After all, we're talking about a man who can redirect torpedos with his bare hands.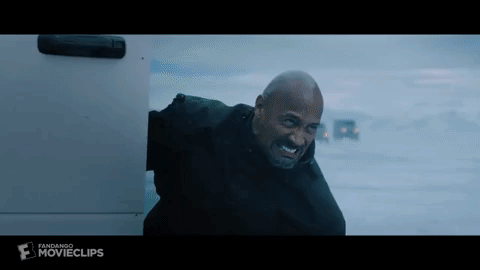 But it seems the wrestler turned movie star has finally pushed our suspension of disbelief too far with the poster for his new movie Skyscraper.
In the film, the Rock plays a former FBI agent who's been hired as a security consultant for the world's tallest building: a fictional skyscraper called the Pearl. Everything goes fine and Johnson spends most of the movie eating snacks and telling kids not to run in the halls.
Just kidding. Obviously, terrorists take over the building and the Rock has to thwart them using his trademarked combination of muscle and wit. Somehow, this leads to a scene of the star leaping from a construction crane to the burning building while being shot at from a helicopter.
But there's a problem. In order to ramp up the thrill factor, whoever designed the poster for the movie decided to stretch the distance of the jump, and people's imaginations, a wee bit too far.
The image might be exciting, but Twitter's armchair physicists weren't having it.
I've mocked up some parabolas for The Rock's SKYSCRAPER jump. Red is assuming he jumped up a bit first; green assuming he ran forward and somehow didn't lose momentum; yellow for a sort of squat-thrust thing.

Whichever you choose, rest in peace The Rock, as you are dead now. pic.twitter.com/cAytzrWMRW

— James Smythe (@jpsmythe) February 2, 2018
So I did some science.

Assuming that there is no "jump-off" (which seems to be optimal here)

We can determine that the Rock would need to leave the platform at 12.7 meters per second (appr. 28.4 mph)

For comparison, Usain Bolt's fastest recorded speed is 27.4 mph. pic.twitter.com/GruWcbtEAN

— ✨New Year New Christian✨ (@ChristianBedwel) February 3, 2018
A few people did offer some possible modifications that would provide a solution. Like a pair of skis.
How easily you forgot about the Olympics. pic.twitter.com/PVR70YmwwJ

— McMike (@_McMike_) February 3, 2018
Or perhaps the Rock could hang on to the letters in the poster!
I've thought long and hard about this, applying everything I know about science to bring you the definitive answer: if he just catches the leg of the K, he can use his momentum and the velocity in which he is travelling to allyoop into the window. He might have to grab the ledge pic.twitter.com/yjpuPpV9I9

— Jamie Rorison (@JamieRorison) February 2, 2018
One thing that isn't mentioned in any of these theories is that the Rock is also minus a leg during the jump. As seen in the trailer, he lost one of his legs while conducting an FBI operation.
But could this actually be an advantage? In the trailer, the building is referred to as the "tallest, most advanced building in the world." Maybe the engineers who designed it took a little extra time to give their new security guard a bionic leg.
The film doesn't premiere until July 13, so until then we'll just have to wait and see. But the Rock revealed on his Instagram account what the jump looked like in front of a green screen:
H/T Digg
David Britton is a writer and comedian based in Rhinebeck, New York who focuses on internet culture, memes, and viral news stories. He also writes for the Hard Times and is the creator of StoriesAboutWizards.com.
© The Daily Dot, all rights reserved.
Represented by Complex Media, Inc. for advertising sales.