The gravediggers at the Internet search engine graveyard are dusting off their shovels.
AltaVista, a staple of the pre-Google Web and one of the last vestiges of the early Internet, will be shutting down on July 8 after 18 years.
The search engine was founded by Digital Equipment Corporation as a "a high-speed system for finding information on the Internet's rapidly expanding World Wide Web," the New York Times reported in 1995. 
"Alta Vista also scans more than 13,000 different discussion forums on the Usenet network," the Times added. "The AltaVista searcher also enhances its performance by sending out what Digital calls a 'brood of spiders,' technically known as threads, to scan Websites much more quickly. A super spider search can consist of as many as 1,000 simultaneous threads."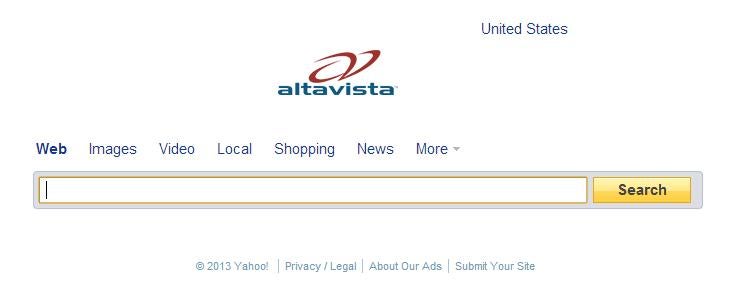 Over the next 18 years, AltaVista was bought and sold by the likes of Compaq, ModusLink Global Solutions, Inc. (formerly known as CMGI), and Overture.. The search engine was acquired by Yahoo in July 2003 after Overture was bought out.
AltaVista once boasted that it processed 2.5 million searches a day, the Times reported. Today Google processes more than 5.1 billion a day.
Here's a look at the other search engines AltaVista will join in obscurity. 
Infoseek (1995-2001)
Founded in 1995 by tech entrepreneur Steve Kirsch, Infoseek was one of the only search engines to charge people to use its service while offering 5,000 free accounts. This proved to be a terrible strategy with Kirsch making his search engine free to all almost immediately after launching. In 1997 Infoseek had 7.3 million visitors a month before it was purchased by Disney the following year.

Ask Jeeves (1996-2006)
To this day, there hasn't been a search engine with a more dapper looking frontman than Ask Jeeves.  The search engine was "originally designed to answer simple questions posed in everyday natural language," the USC Beufort Library reported. The site prominently featured an illustration of a well-dressed man in a red tie named Jeeves, based off P. G. Wodehouse's novel Jeeves. In February 2006, the Jeeves character "decided to retire in style and cruise the happy seas" and disappeared from the search engine. Ask Jeeves was subsequently named Ask.com.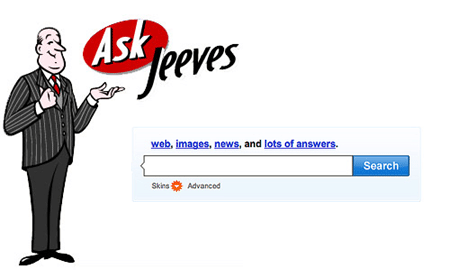 Snap (1997-2001)
Snap was created by tech site CNET. It was touted as a search engine that got "smarter" as the more people who use it. "Instead of just relying on computer algorithms to rank search results, Snap also uses click-stream information from a network of one million Internet users," the company once stated on its about page. "By recording and processing which Web sites users spend time on, and which sites they quickly leave, Snap improves the likelihood that the search results you get will be the results you're really looking for." Snap wasn't smart enough, on the other hand, to predict its own demise. It was acquired by NBC and shuttered in 2001.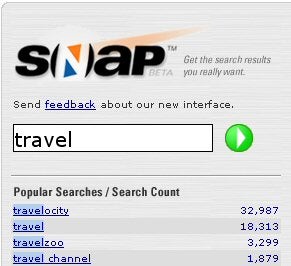 AlltheWeb (1999-2004)
In June 2002, FAST's search engine AlltheWeb proudly proclaimed that it had dethroned Google as the "world's largest search engine." "FAST's search technology showcase, now searches 2,095,568,809 Web pages versus the 2,073,418,204 Web pages listed on Google's home page as of June 16th, 2002," the company stated in a press release. Today, AlltheWeb is nonexistent. The search engine was bought out by Overture in 2003, which was ultimately absorbed by Yahoo in 2004.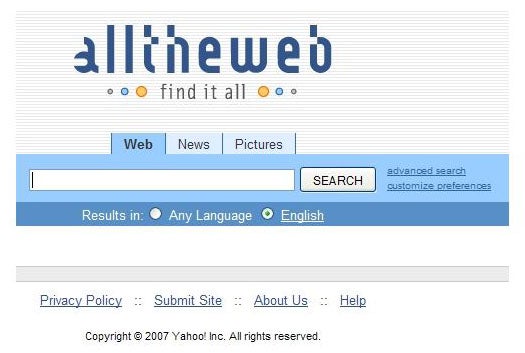 Fortunately for vintage Web aficionados, though, you can still search on the likes of Dogpile, Hotbot, and Lycos.
Photo by aloha75/Flickr | Remix by Fernando Alfonso III