Shine bright like a moron if you think there's video of Rihanna circulating on Facebook.
So that's way harsh, but a picture of the singer cuddling in bed with Chris Brown (GROSS!) with a link to an alleged sex tape is duping users on the social networking site. As tempting as it sounds, the link points to a group exclaiming "Rihanna sex tape," with the description "I lost all respect for her after watching this."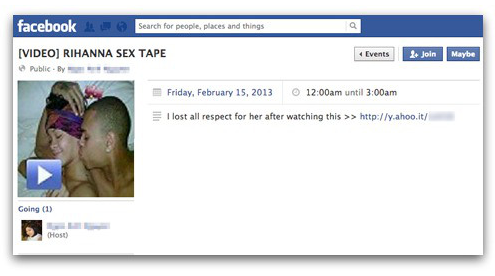 To make it even more convincing, the link (http://y.ahoo.it) appears to be directing curious voyeurs to an Italian-oriented Yahoo page, but it's a URL shortener leading to a shady website, as Naked Security points out.
Facebook makes it a habit to block these links when they're reported as malicious but it's possible for it to keep spreading. "Scams like this only spread because of human's natural curiosity and desire to watch a sleazy celebrity sex video," writes Graham Cluley.
Similar to the Taylor Swift–Harry Styles sex tape trick earlier this month, the links usually point to money-making affiliate links. They'll sometimes install malware on infected computers.
And if there were a sex tape, this is total TMZ territory.
Photo by avrilllla/Flickr