Move over Ridiculously Photogenic Guy. You may be remarkably proportioned and handsome, but you've got absolutely nothing on Ridiculously Photogenic Surgery Girl.
Reddit's latest picture-perfect sensation and instant meme attained her fame thanks to two front page AMAs ("ask me anything") threads, both of which she wrote from her hospital bed. The first she typed up on May 15, as she waited for a surgery that would remove 60 percent of her lung, which had been infected with virulent strain of pneumonia. The second came Wednesday morning, following the procedure.
She attached a post-surgery photograph and looked positively glowing. We suspect that any normal human—even Ridiculously Photogenic Guy—would have likely wilted under such an invasive procedure.
Combine that natural beauty with her indomitably cheery disposition and Hallmark-ready life story and you have an instant Reddit love affair.
Behold: The Ridiculously Photogenic Surgery Girl. Posted to Reddit's image macro section r/AdviceAnimals, it's already garnered a few thousand upvotes and hit the site's front page.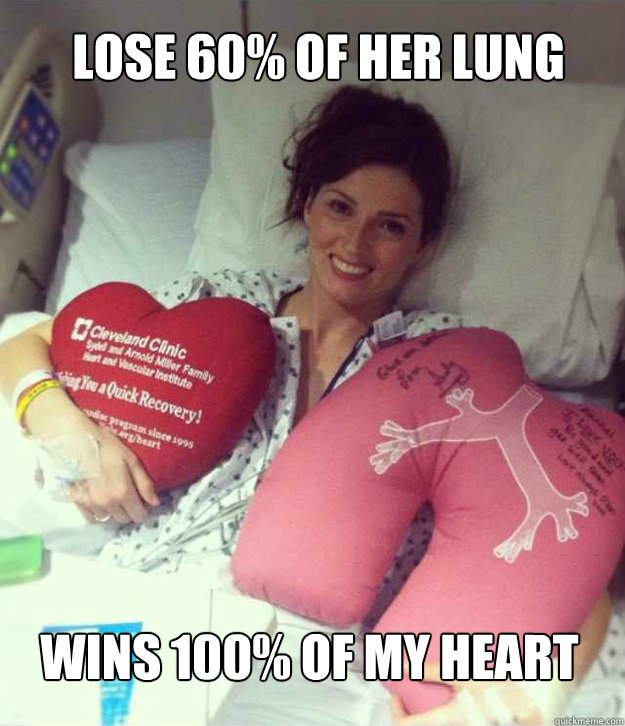 The woman, who's 28, goes by WhosThatGirl_ItsRach on Reddit. We sent out a request for comment but she didn't reply in time for publication. (Probably because she's ridiculously swamped with Reddit messages.) On Reddit she had this to say about her sudden meme stardom:
"OMG you guys are killing me! I am still an emotional roller coaster on lots of pain meds! I don't know if I should thank you, or laugh, or cry! In real life, no one ever says anything about the way I look. I don't get hit on all the time(maybe because I don't like leaving my house if I don't have to) and I feel pretty average. People have been saying so may [sic] nice things about me the last few days. I've never felt more beautiful. Thank you :)"
There was added bonus for "Rach:" In her original May 15 thread, she was introduced to redditor helpmeimbored, a patient in the very same ICU unit. They've since met twice and have become fast friends.
"I feel really lucky to have met her this way," she wrote, "and I know we are going to be lifelong friends."
Photo via Quickmeme