It took several months for scientists and researchers at the University of Leicester to confirm that the remains they found under a parking lot were once the most famous king in English history—and it took Twitter only 0.000002 seconds to make a "my kingdom for a horse" joke. 
Richard the Third is by far the most villainous—or perhaps the most misunderstood—of the English kings: the fabled hunchback long-rumored to have ordered the murders of his own nephews, the famous princes in the tower. Though Richard was immortalized in Shakespeare's play Richard III as an ill-tempered man twisted by greed and a physical disfigurement, historians have long known that rumors of the king's villainy have been greatly exaggerated. 
And it's hard not to feel sorry for the body unearthed under a slab in a Leicester parking lot in August, only officially confirmed to be the king after DNA testing with the cooperation of the royal family.
The 500-year-old cadaver had his skull split by a sword and bludgeoned at least 8 times, and a barbed arrowhead stuck in his back. 
Today we learned that not only are the remains, discovered in August, actually those of the king, we learned that the mythical "hunchback" was a lie.
The king, like many citizens, suffered instead from early-onset scoliosis, and there's nothing to suggest that he had a "withered arm," as Shakespeare wrote.
But when you're the most horrible king in literary history, the joke is on you—and on Twitter this morning, the jokes were rampant, as "Richard the Third" trended worldwide.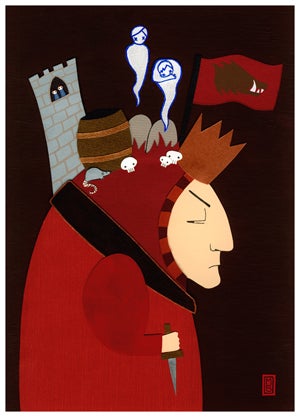 Illustration by renton1313.deviantart.com
Screengrab via YouTube