Back in the 1980s, Mickey Rourke, with his boozed-up bad-boy charm and his WASP-meets-auto-mechanic good looks, was the ultimate male sex symbol. But in the mid-aughts, long after he'd ridden the wave of his success as a film star, something about him changed. His skin was tighter, his eyes oddly slanted, and his nose looked like a piece of putty that had been left out in the sun for too long. When pressed about his physical transformation, he admitted to reporters that he'd had a string of botched plastic surgeries, which he chalked up to his many injuries from his days in the boxing ring.
During the 1990s and early-to-mid aughts, Rourke's career was basically dead in the water, and his surgically altered physical appearance was widely derided by gossip columnists, until he gave an Oscar-nominated performance in The Wrestler, which heralded his Hollywood comeback. Now, in spite of his permanently altered physical appearance, he's regularly cast in gritty noir dramas and action thrillers, and he reportedly commanded $400,000 for his role as a villain in Iron Man 2.
Let's compare Hollywood's treatment of Mickey Rourke to Twitter's treatment of Renee Zellweger, the Oscar-winning star of Chicago and Bridget Jones' Diary, who debuted a significantly altered appearance at an awards show this week:
I'm not mad about Renee Zellweger's plastic surgery. Just looks like she finally took that invisible lemon out of her mouth.

— Comedian Ryan Broems (@ryanbroems) October 21, 2014
What the actual hell has Renee Zellweger done to herself! Is that even her!! #ReneeZellweger pic.twitter.com/qvsVmfTSmH

— AshleyAria (: (@AshleyyyAria) October 21, 2014
Renee Zellweger Apparently Didn't Like Herself Just As She Was https://t.co/jkPjrQ1c6b pic.twitter.com/L9Q5NGPsUb

— Hilary Sargent (@lilsarg) October 21, 2014
It wasn't just social media busybodies who got in on the shaming. Well-respected journalistic outlets that don't typically waste any ink on celebrity plastic surgery transformations also piled on. "Can I still call you Renee Zellweger? Are you still Renee Zellweger?" the Atlantic rhetorically opined. Gawker even ran a post called "Here Are Some Photos of Renee Zellweger," with photos of the actress in 2003 and 2014, to drive the point home that yes, although the two photos looked different, they were actually of the same person.
I admit I was also not immune to the allure of cracking jokes at Zellweger's expense. (As this Twitter exchange with my friend, Alex, proves.) It's also hard to look at Zellweger's face now and look at stills of her in Chicago, Cold Mountain, or Me, Myself, and Irene from more than ten years ago and say that she doesn't look like a drastically different person. (But then again, who doesn't after ten years, as a cursory glance at our Facebook photos from that time frame pretty clearly indicate?)
Based on the evidence, it's safe to assume the following: a) The change to Zellweger's appearance was due to extensive plastic surgery, as was the case with Rourke and b) Unlike Rourke, Zellweger's surgeries could likely be attributed to the enormous pressure on aging actresses in Hollywood to retain their youthful good looks, thanks to the dearth of available leading roles for actresses in their 40s, 50s, and 60s.
But here's the thing about Renee Zellweger's face: Yes, she looks different; yes, it looks like she had plastic surgery; yes, the pressure Hollywood puts on actresses to conform to twenty-something beauty standards is unfortunate; and yes, you may very well think she looks worse than she did eleven years ago. But it's not your face. It's hers. And it's time for you to shut the fuck up about it.
The intense scrutiny social media has devoted to Renee Zellweger's Face (2014 edition and 2003 edition) and the Substantial Variations Betwixt the Two is bizarre, given how little attention the Internet has devoted to Zellweger or her Face since her career peaked in the early-to-mid aughts and she was commanding nearly $11 million per film. Here, for example, is a Google Trends chart tracking how many people have searched Zellweger's name in the past ten years: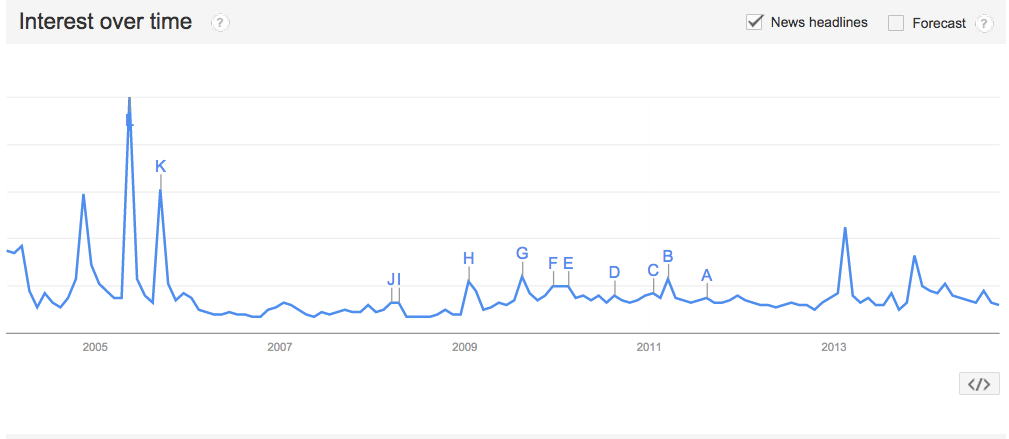 It shouldn't come as any surprise that interest in Zellweger's career has basically plateaued since 2005, around the time she hit her mid-thirties, an age that usually signals the death knell of any Hollywood actress. The only exception to this trend? A slight peak in 2013, as a result of the actress's appearance at the 2013 Oscars—when tabloids speculated that it looked like the actress "had overdosed on Botox."
It's reasonable to assume that the sudden lack of interest in Zellweger's career stems from the fact that she's barely appeared on screen in the past five years or so. Since starring in the 2009 flop New in Town, a rom-com that many assumed was direct-to-DVD even though it grossed more than $16 million in theaters, Zellweger has barely appeared onscreen; in fact, her last major film credit was in 2010, as the star of an unremarkable Tribeca Film Festival entry called My Own Love Song. 
That's a pretty precipitous decline for any actress's career, particularly considering how ubiquitous Zellweger was in the early aughts. So why, then, was she apparently having so much trouble being cast?
She presumably hadn't lost her acting abilities, which, while not on par with those of her arguable successor, Amy Adams, were considerable. (As a comedic actress, she had a certain gossamer yet flinty charm, as evidenced by her turns in the Bridget Jones films and what I consider the incredibly underrated Down With Love.) Unlike Rourke, she didn't have a drug or alcohol problem that we knew of. And as far as we knew, she hadn't destroyed her characteristic facial features—the squinty eyes, the apple cheeks, the Cupid's bow mouth—with extensive plastic surgery, with the end result of watching the plum roles that had previously been reserved for her wither away on the vine.
Of course, as we now know, Zellweger had fallen into the same trap that Nicole Kidman, Goldie Hawn, Melanie Griffith, Meg Ryan, and dozens of other aging sex symbols had fallen into, and the reason why she wasn't being cast in movies was because she didn't actually look like Renee Zellweger anymore. She was being kept off the screen not because she had aged badly, but because some Malibu Shores cosmetic surgeon had butchered her face enough that if she was still working today, people would wonder who that blond, squeaky-voiced, vaguely Juliette Lewis-looking woman on screen was.
Now, we look at Renee Zellweger's puffy face and taut eyelids and shiny forehead and we cluck our tongues and accuse her for falling victim to Hollywood's oppressive standards for female beauty, for not "aging gracefully" enough for our liking. But as Amanda Hess put it for Slate, "in Hollywood, "aging gracefully" is a euphemism for "good plastic surgery," the kind that successfully skirts an unarticulated line between sagging and frozen."
The truth is, most women of Zellweger's age (45) in Hollywood have had a nip here and a tuck there, regardless of whether they still regularly appear on-screen. It appears that Zellweger's only crimes were a) being a woman in a society that punishes women who get cosmetic surgery for being "vain," while rewarding similarly surgically altered men like Rourke with Oscar nominations and b) getting a nip and tuck too much, or getting them from the wrong doctor.
We shouldn't fault Zellweger for falling victim to Hollywood's oppressive beauty standards, in part because they're not Hollywood's standards—they're ours. Hollywood has treated Zellweger kindly during her entire career; Hollywood has looked past what Zellweger's unconventional (albeit white and blonde) features—the "squinty" eyes, the chubby cheeks, the pouty mouth—and propelled her to It Girl status.
We have not done the same. We have called Zellweger "a one way ticket to flaccid-ville." We have likened her trademark pout to Zellweger looking like she just sucked on "extreme sour lemon candy." We've compared her physical appearance to that of a butthole, a "cigarett-y sour pussy" (whatever that means), and an anteater, in one notorious Family Guy cutaway. Hollywood ageism didn't pressure Zellweger to get plastic surgery. We did.
I figured it out. Renee Zellweger is stuck in the longest oncoming sneeze of all time.

— Alexis From TX (@Mad_Humor) October 18, 2014
Renée Zellweger kinda looks like a baby taking a deuce.

— Casey Duncan (@caseytduncan) August 29, 2014
"All babies look like Renée Zellweger pushed against a glass window." – @Joan_Rivers #BestJoanJoke

— Scott Nevins (@ScottNevins) August 31, 2014
Although the film-going public reacted to Rourke's dramatic plastic surgery transformation quite differently than we did to Zellweger's—i.e., by giving him an Oscar nomination and sending him scuttling back to the A-list—there's one respect in which they are similar. As a Hollywood actress in her forties, whose physical appearance will be praised and denigrated and scrutinized and mocked on Twitter probably until the day she dies, Zellweger has also done her time in the ring; she, too, has taken her fair share of punches.
It's time for us to stop punching and wait for the bell to ring. It's time for us to realize that the match is over, and she's been KO'ed.