Following in Twitter and Facebook's footsteps, Reddit has launched a  trending subreddits feature to its frontpage.
The feature, launched on April 10 to little fanfare, displays the names of popular forums at the top of the home page, using "secret formula," according to Reddit administrator umbrae .
"To qualify for trending there's some secret sauce, but at the very least the subreddit must be SFW [safe for work] and must be set to allow itself to be shown as a default subreddit," umbrae added. Default subreddits are the 20 communities that users subscribe to automatically when they first join Reddit. They're chosen by the site's staff, but communities can opt-out of being included if they don't want the surge of new subscribers that default status can bring. 
"The formula for subreddit choosing is completely subject to change and contains anti-cheating controls. Users attempting to game a subreddit into the trending list will be banned."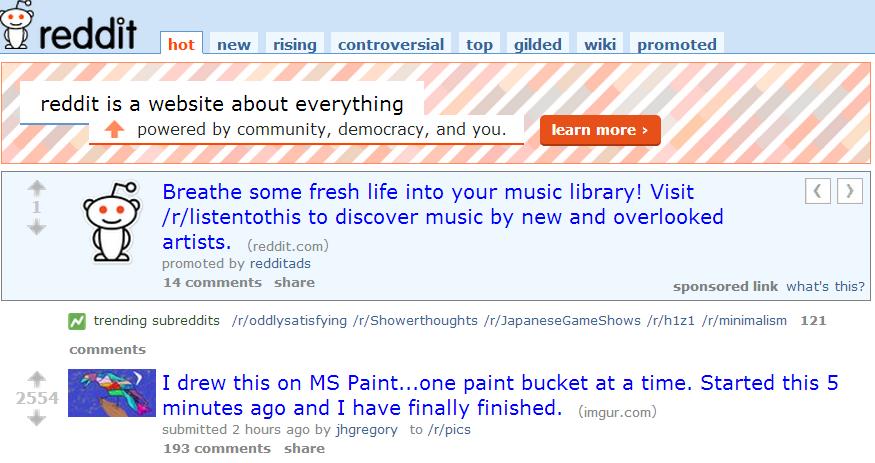 In January Facebook added a trending feature to its news feed. Like Twitter's trending section, Facebook's shows a list of the most popular stories of the day, as well as a short blurb explaining  why they're trending. The trending list also includes personalized stories based on subjects you're interested in according to your likes.

Twitter added the trending hashtag feature to its homepage in 2010.
So far, the Reddit community has embraced the new trending feature. The site, which has barely updated its design in nearly 9 years, has long had difficulty finding ways to bring exposure to smaller communities. 
"This is super neat, what a great way to highlight new/growing communities and see what's popular now! It's not too surprising to see [r/GameofThrones] up there today," redtaboo commented.
With this new feature, and the live reporting tool unveiled in February, the nine-year-old social news site is turning into an unexpected competitor to Twitter. After all, its To a certain extent, front page is already the most influential "trending topics" section on the Internet. 
Illustration by Fernando Alfonso III