A 19-year-old redditor turned to the relationships subreddit with a crisis: She, a lesbian, has a crush on her female roommate, of unknown sexuality, who toes the line "between being romantic and platonic" with her. She's confused.
She and her roommate, who met in high school, have lived with each other for over a year. She said they were never really friends but had a few classes and worked on projects together. "I never really paid attention to her but she is SMOKING hot and I obviously knew she was and acknowledged it," the redditor wrote.
When they ended up at the same college, they decided to room together. "She's a v lovely roommate but I've ended up developing a pretty huge crush on her after I started being in her company a lot," she wrote.
The roommate knows she is a lesbian, and the redditor "can't figure out if she's flirting with me or not." She then goes on to list 15 examples of said "flirting."
They buy each other an endless amount of presents. "We don't have a lot of money but she keeps doing it because she says she wants me to be happy," she wrote.
When they both went their separate ways for summer vacation, the roommate "texted me saying she misses the way I feel and smell with no regard for my gay heart."
"Her baby niece came to visit once with her sister and she referred to me as 'auntie's very special girlfriend.' I freaked but just laughed it off," she wrote.
She buys the redditor her favorite meals. "When I tried to do it back she said 'no, let me take care of you' and my small gay self collapsed," she wrote.
They were each other's valentines.
"She then gave me a stuffed animal, I had to scramble to buy her chocolates and then we went to go eat at my favourite takeout place. A guy also gave me a chocolate (we're friends) while she was with me and she said 'don't steal my valentine now,'" she recalled.
The roommate almost exclusively calls the redditor "baby," sometimes throwing in "baby girl" and "cutie" into the pet-name mix.
"While drunk, she looked at me and said that I looked like I wanted to kiss her and when I panicked she was like 'I won't mind' but she was very very wasted and she forgot about it I think so I never brought it up," she wrote.
And they also hold each other's hands whenever they go out. "I don't know if it's platonic," she questioned. The redditor has also been cuddled and had her hair stroked by the roommate.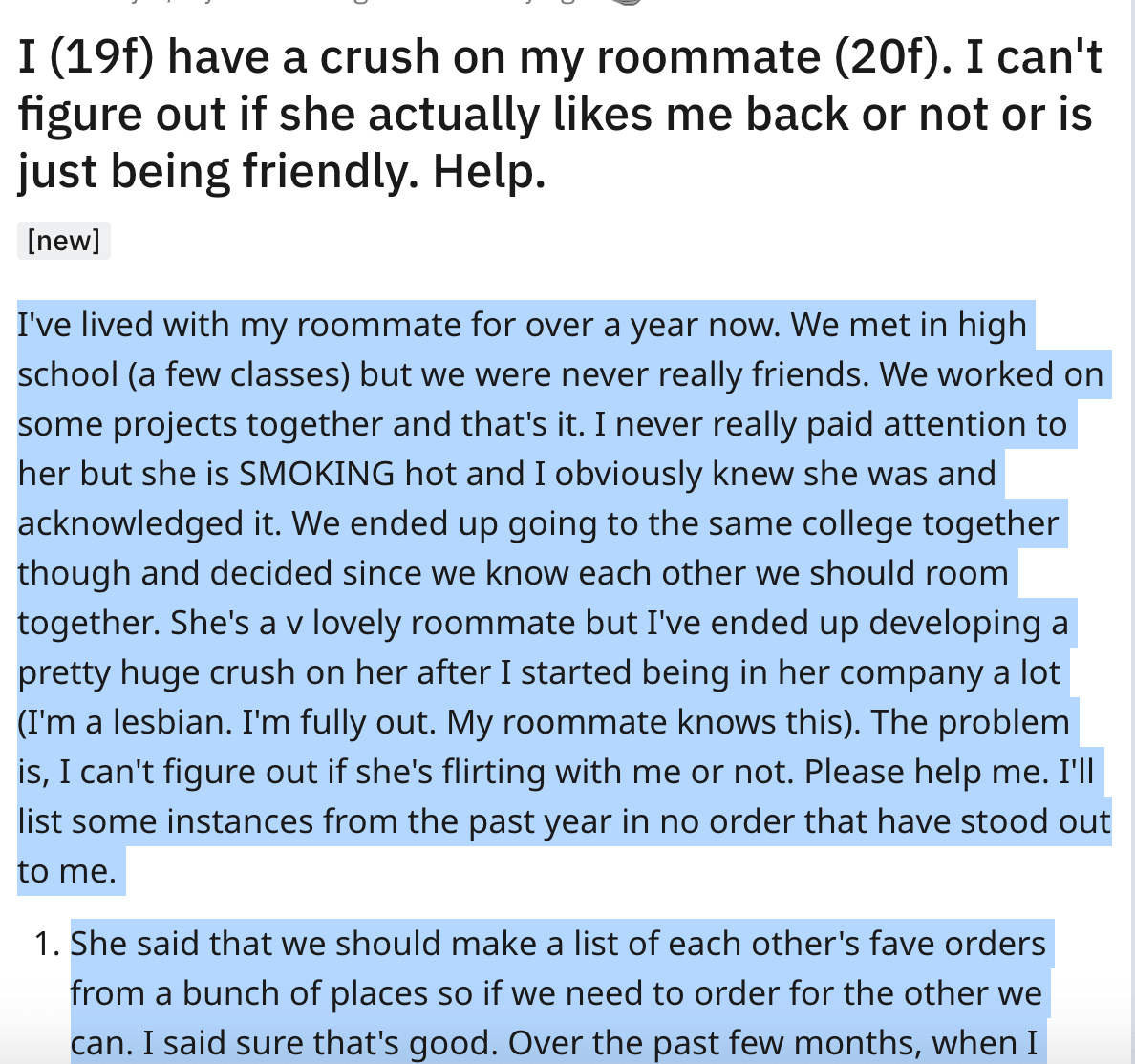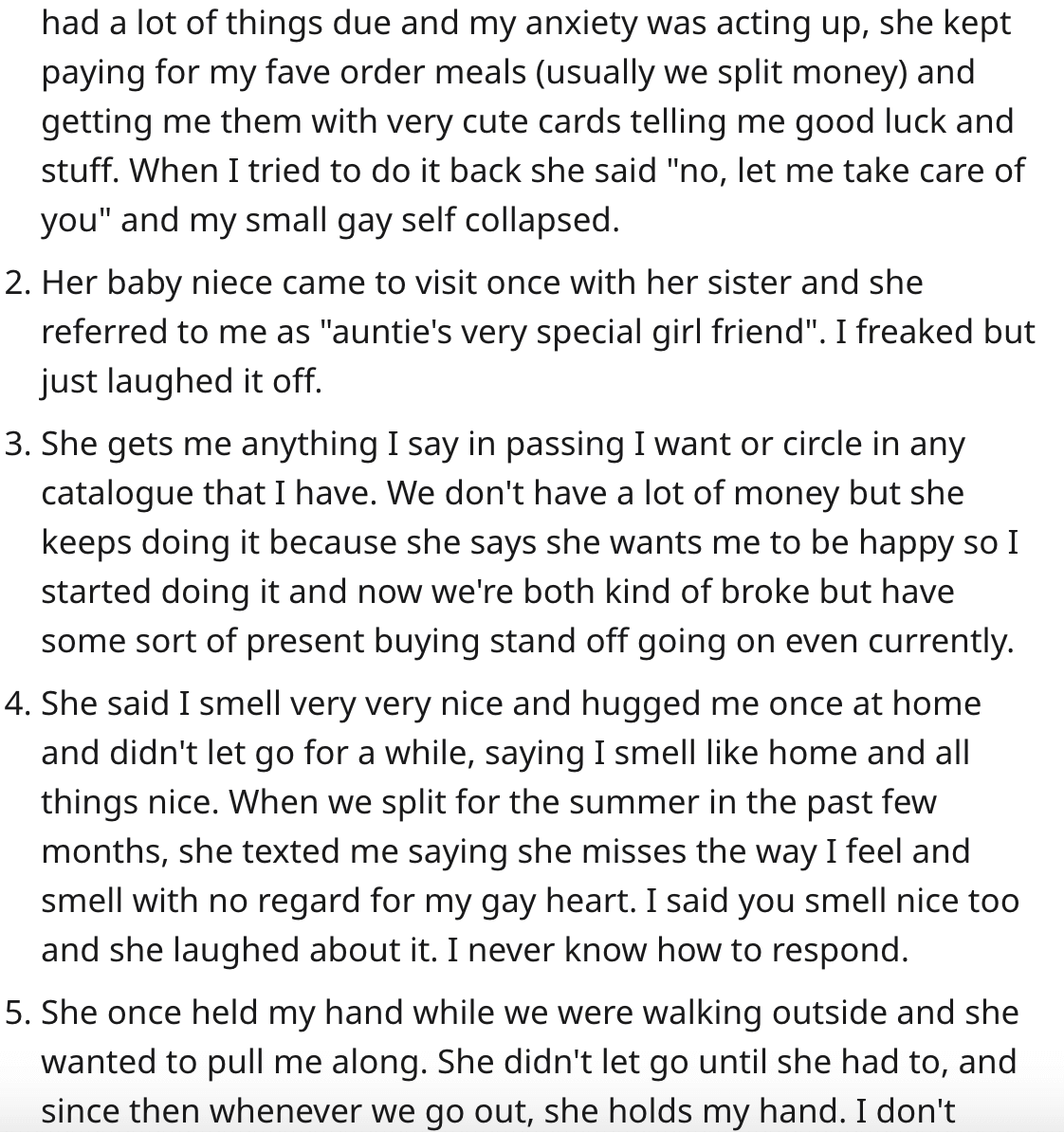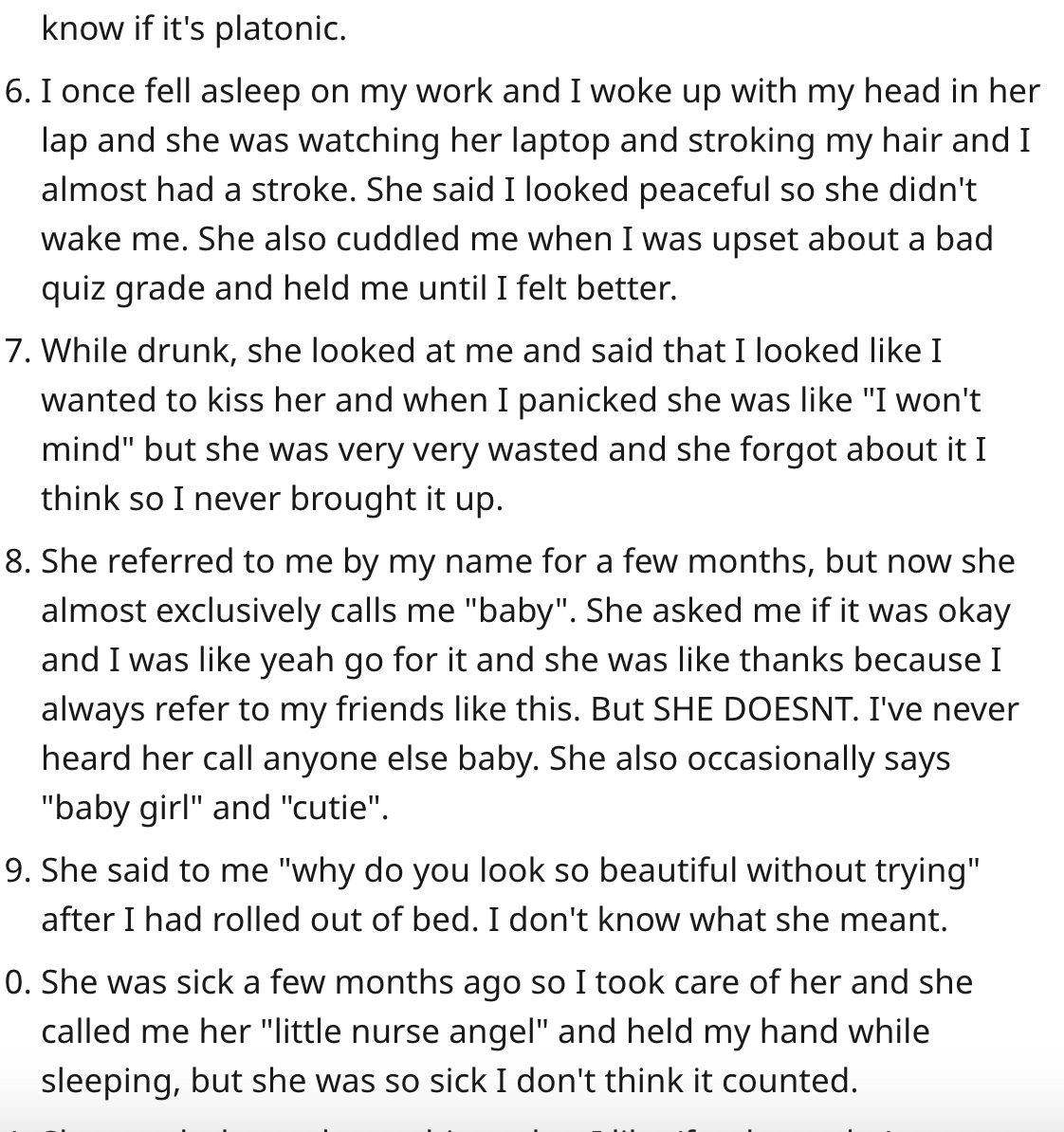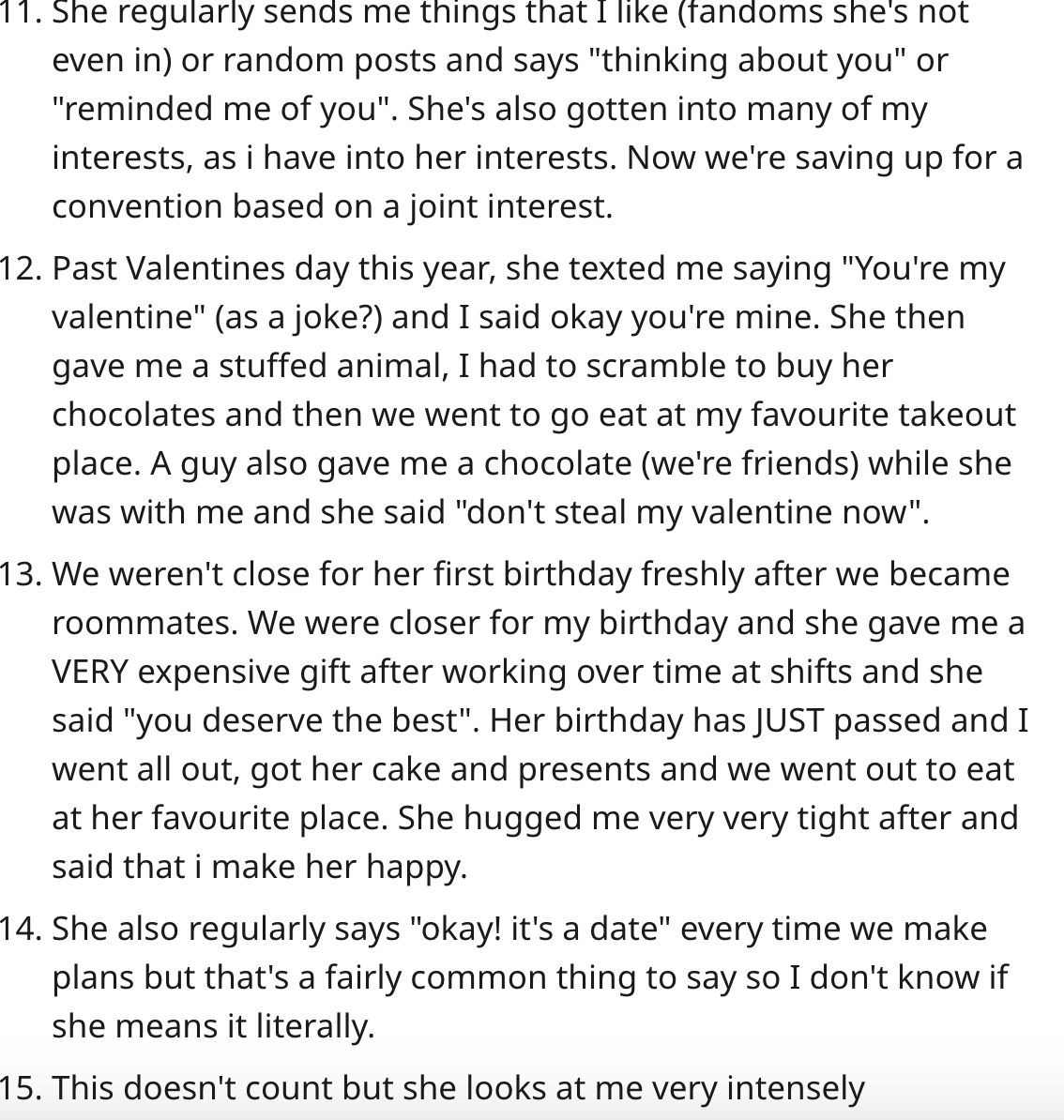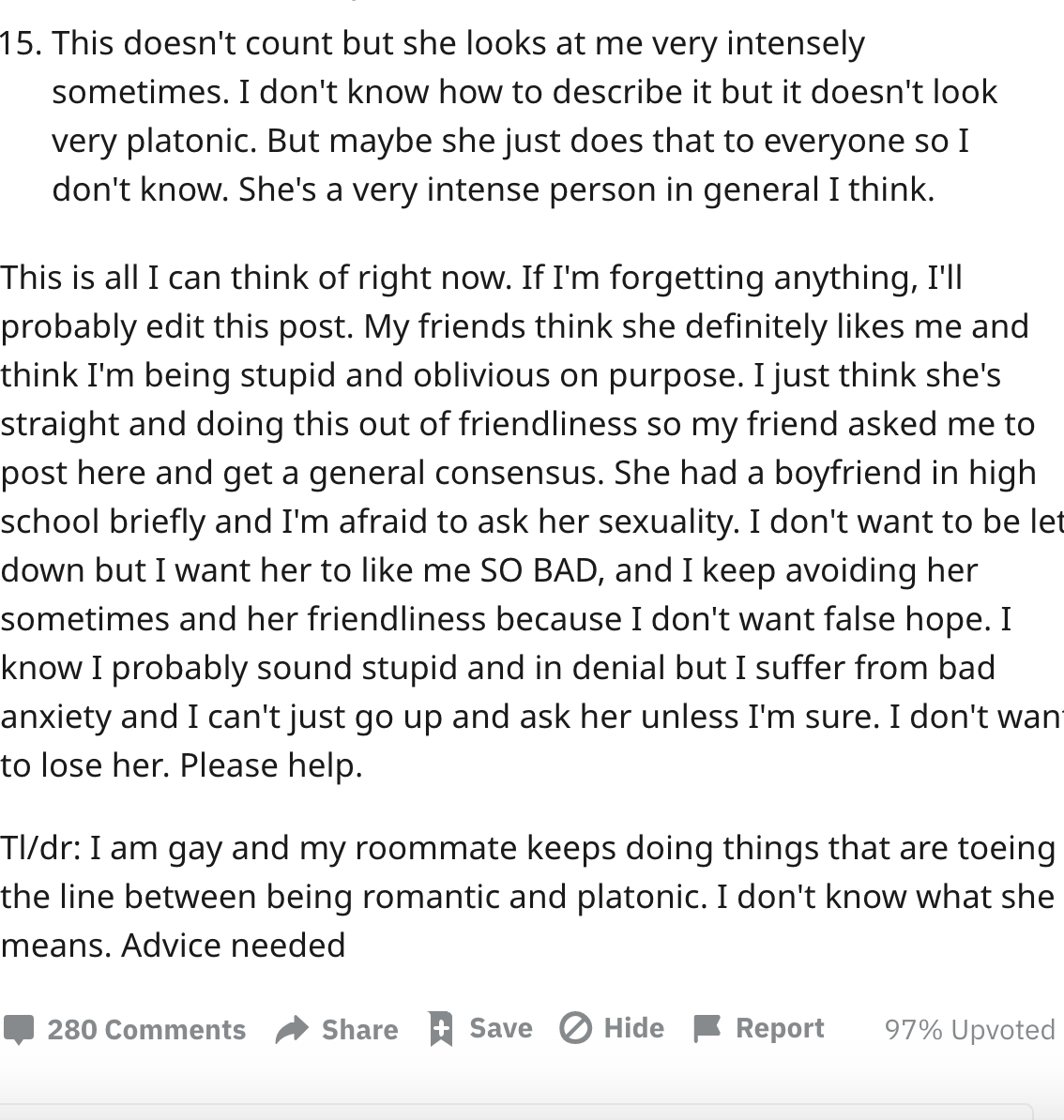 And this is just a few of the plethora of damning evidence that the two are already in a relationship–which is what the consensus of Reddit and Twitter seems to be.
"Are… Are you sure you're not already dating and you didn't realize it? You're gonna end up legally married to her and still wondering at this rate," one redditor responded.
So this is what happens when the lesbian is the Harold

— Rose T (@AngryAria) September 10, 2019
I'm pretty sure I've seen someone ask this before, even if not on reddit. #lesbians

— Elainovision 2020 (@scattermoon) September 10, 2019
The redditor said the roommate had a boyfriend in high school, so she is afraid to ask about her sexuality. She said her friends, who believe the roommate romantically likes her, urged her to ask Reddit for advice.
"I don't want to be let down but I want her to like me SO BAD, and I keep avoiding her sometimes and her friendliness because I don't want false hope. I know I probably sound stupid and in denial but I suffer from bad anxiety and I can't just go up and ask her unless I'm sure. I don't want to lose her. Please help," she pleaded.
Luckily fellow redditors were there to steer her in the right direction. "She loves you, you useless lesbian," one redditor wrote. Others made a game of how far down the list the got before realizing that the two were more than friends. "I couldn't read past number 5 without concluding that this girl totally likes you. How many of these things have you ever done for a platonic friend?!?" one asked.
Another said they made it all the way to seven.
"I feel like I actually achieved something. I read till 8 haha," another added.
Many rooted for the redditor, urging her to clarify the relationship with her roommate. Reddit seemed to give her the courage she needed to do just that.
"I have decided to take Reddit's advice and not text her about this. I'm gonna wait until dinner tonight and then I'm gonna fully confront her. That being said my friend saw this circulating on twitter ???? And my crush HAS twitter so if she sees this before I have the chance to ask her myself I'm gonna crawl into a hole and die," she wrote.
READ MORE: