A tremendous meme war raged through Reddit this week, pitting some of the site's most successful meme communities against one another. It started out as lighthearted fun and ended when some posters took it a little too seriously. And when the dust finally settled, everyone lost.
We've seen meme wars before. You may wearily recall, for example, the 2016 battle between Pepe-the-Frog-loving Donald Trump memers and socialists from Bernie Sanders' Dank Meme stash. But this one was supposed to be different. It wasn't a knock-down drag-out political fight with national stakes. It was a silly spat between two Star Wars subreddits, r/prequelmemes and r/sequelmemes.
As Vice reported Thursday, prequelmemes started the conflict by teaming up with r/trebuchetmemes and r/garlicbreadmemes. Their goal was to post goofy mashups of their three content niches on the sequelmemes subreddit, drowning out the forum's usual content about the Star Wars sequels. Reddit is an ideal place for a meme war, because it has a built-in system for keeping score. Are you getting more upvotes than the opponent? Have you taken over their front page?
The Meme War was basically a prank, but it escalated into a World War II-themed conflict, with the prequelmemes contingent branding itself "The Allies" and smearing sequelmemes and its supporters as "The Axis." (Objecting to the obvious negative implications of that name, the sequelmemes faction decided they were "The Resistance" instead.) A half-dozen other prominent meme subreddits, dedicated to Lord of the Rings, Game of Thrones, and SpongeBob SquarePants, all got sucked into the fray.
Stuff like this is fun for a time, but it eventually gets tiring when your favorite subreddits don't have any of the posts you've come to expect. The war probably would have burned itself out before long, but instead, it ended abruptly and embarrassingly, with accusations that someone doxxed (revealed personal information about) one of the prequelmemes moderators. A server (presumably a Discord chat server) being used by the Allies was also allegedly hacked.
These allegations haven't been proven, but they were a wake-up call to the participants in the war, causing them to return to their respective subreddits and chill out. The r/memeworldwar subreddit, the main hub for news about the war, is due to be shut down.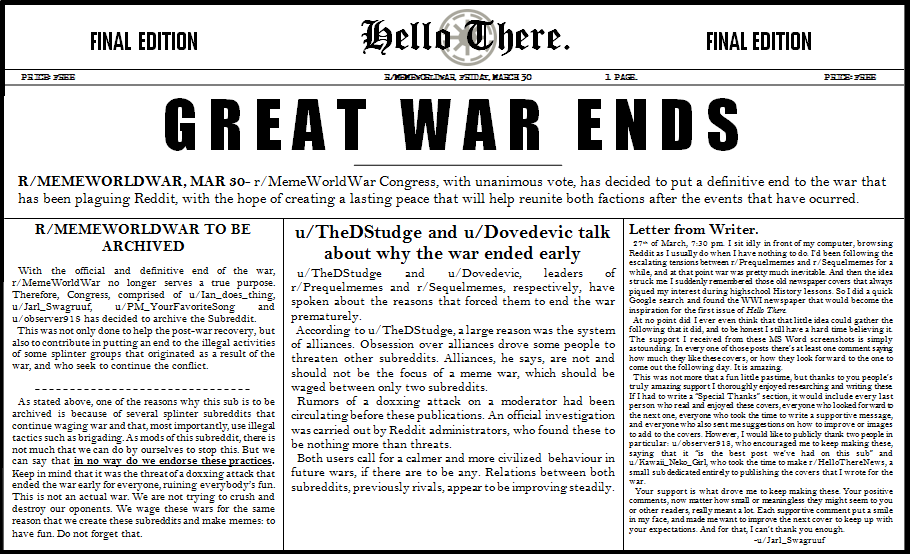 As of Friday, some scattered redditors are trying to keep the war going, but most are cleaning up the rubble and trying to restore their forums to regular order. This is, as they say, why we can't have nice things.