Joel Bush is getting married to the love of his life, and he's got the pictures to prove it—thanks to a few nimble moves made by the kind folks at Reddit subreddit r/Austin.
While taking pictures around the Austin, Texas, capitol building Wednesday night, redditor Patrick Lu spotted a perfect shot on the path along the west side of the compound.
It was there that Lu found Joel Bush proposing to his girlfriend, the lovely Jennifer Orr; he'd gone down on one knee and everything. He had the ring and probably the whole "eternity" spiel. The only thing he didn't have—Lu would learn later—was a cameraman to capture the scene forever.
Lu nabbed a shot of the proposal and posted it to r/Austin the next morning.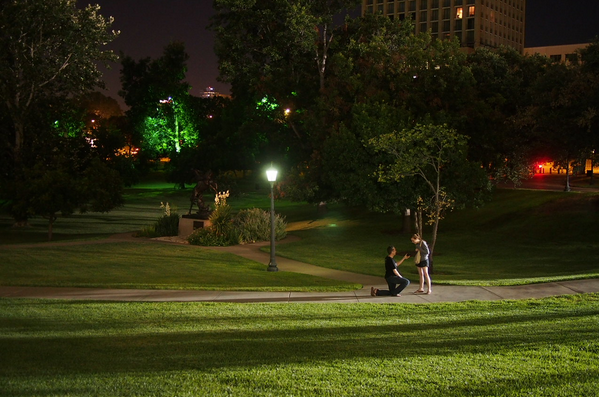 "Did any of you propose at the capital last night?" he asked with the post.
Bush hadn't read the thread, but a few of his friends did. They sent him an email with the photo Thursday night.
"We're grateful for the photo now," Bush told the Daily Dot. "She loves it, and that's the main thing. We also experienced the joy of that moment totally on its own terms. Having a great picture is a surprise bonus thanks to an observant, ready photographer and a benevolent Web."
Bush said that he has communicated with Lu through Twitter and hopes to meet him in person soon.
"I'm sure we would like a print," he said. "It's a great photo."
No word yet on when the happy couple plans to marry, or if the 14,399 r/Austin subscribers will be invited to the wedding. For now, Bush and his fiancé are reveling in the realization of eternal love—and getting another glimpse at a memory that they never planned to see.
Photo via Patrick Lu/Imgur