Jeremy, John, and Elizabeth have lost a combined 450 pounds.
What's their secret? Diet, exercise, and Reddit.
They're all members of r/loseit, a section on the social news site where members cheer one another on toward their health and weight loss goals. With more than 77,000 users, the two-year-old subreddit is the network's largest and most active weight-loss community. Whether participants want to lose a few pounds or a few hundred, they're welcome to document their progress, pose questions, and offer advice.
But the most popular part of r/loseit is its focus on sharing dramatic before-and-after photos. These revealing photos serve as inspiration for the community, which in turn rewards the submitters with compliments and karma (Reddit's peer-approval point system).
Jeremy, John, and Elizabeth's before-and-after shots are among the top 10 transformation posts on r/loseit for all time. And with good reason.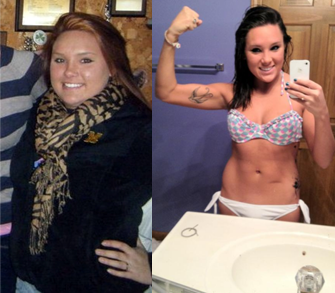 Elizabeth, known on Reddit as creative_username_1, lost 50 pounds in 2011. The Phoenix, Ariz., resident said she decided to slim down when she realized she was going to be the largest bridesmaid in a friend's wedding party—in a size 16 dress.
"I can't remember how exactly, but when I first glanced at that subreddit, I knew I was in the right place," she told the Daily Dot. "These people knew all of the hardships I was having myself. They also knew just the right things to say to keep me motivated."
Elizabeth started swimming laps every day in order to lose weight. Eventually, she added cardio, dance, and weightlifting to her repertoire. She read r/loseit "religiously," while keeping up a personal fitness blog. She managed to drop 30 pounds in time for her friend's wedding, but she kept working toward her target healthy weight.
By October, the 21-year-old reached her goal and posted her transformation shot. She's kept her new figure and just ordered a new gown for her own wedding in June 2013. It's a size 4.
"People were happy for me," she said. "It was thrilling."
Jeremy, a 25-year-old better known as skizmcniz on Reddit, encountered even more dramatic results as an r/loseit member. The Houston, Texas, resident lost 150 pounds in a year.
"When I was introduced to Reddit, the first subreddit that caught my eye was r/loseit because I was roughly six months into my routine," he said. "I saw all these success stories and I knew I'd be one of them, and I was eager to share."
For Jeremy, losing weight was the side effect of a permanent lifestyle change. On a road trip with his parents, he happened to weigh himself in a McDonald's bathroom and noticed he tipped the scale at over 300 pounds. He decided to do something about it.
"I then moved out of the country, where my only modes of transportation were the bus and my feet, so I started walking everywhere," he said. "Lost 70 in six months. It wasn't because I chose to do anything; it was a necessity to get around. I moved back home, gained 40 back. Because I lost a good amount by 'accident,' I figured if I actually tried, I could probably do even better."
Jeremy started exercising daily in January 2011, and he hasn't stopped. Now he's a shadow of his former self at around 170 pounds. While not as active as he was in r/loseit during his transformation, Jeremy said he still finds the subreddit motivating, and he takes comfort in knowing the community is always there if and when he needs additional support.
"Seeing the enormous transformations that people have made is incredible," he said. "It makes me want to keep going and never stop."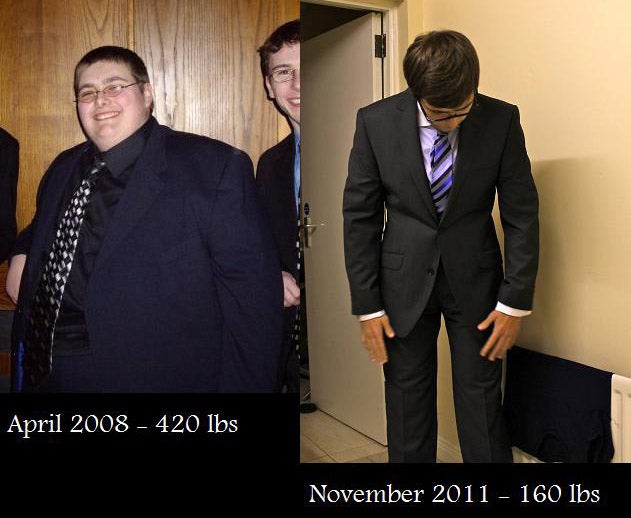 Perhaps the most astounding success stories in the history of r/loseit is 25-year-old John's drastic transformation. Known as moderndaymerlin on Reddit, his before-and-after photo is the subreddit's third-most popular post of all time and made the front page when he posted it last year. The Irish graduate student went from 420 pounds in 2008 to around 160 today.
John, who is currently pursuing a Ph.D. in astrophysics in Belfast, said r/loseit offered him the support and encouragement he needed to stick with his diet and newly active exercise routine. Today, he returns the favor by offering support to others.
"I'm really proud now that I'm able to start helping people and give advice," he said. "It's always so flattering—and just plain awesome—to hear people say that I'm now an inspiration."
These days, John is equally active in another subreddit, r/travel. When he was at his peak weight, traveling wasn't something he was able to do. Now it's his passion, and he thanks his support system at r/loseit for helping him to discover it.
"My advice to any redditors looking to lose weight and get in shape would be to be aware of your support network, be it r/loseit, family, friends, your local health center," he said. "There are always people to talk to and offer advice and support."
Elizabeth was even more blunt in her gratitude toward the Web community. 
"Thank you, r/loseit," she told the Daily Dot. "You saved my life."
Photos via Reddit
This content series is presented in partnership with smartwater. smartwater, simplicity is delicious. Click here to learn more.