Tech

Tech

The gadgets, platforms, and software that make your digital life possible. If it bleeps, clicks or blinks, you'll find it here.

Internet Culture

Internet Culture

There's a community for everyone online.

Streaming

Streaming

News, reviews, and guides for the world of online entertainment.
Three new engineers, millions of new users
Reddit is hiring to serve its growing community.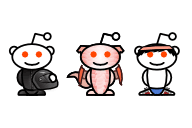 One of the biggest perks of being hired by Reddit, the online-discussion site, is that you are immediately immortalized in the form of a Reddit-alien caricature.
For Reddit users, the new caricatures are such a big deal that posts announcing hires routinely leap to the top of the site. (Can you imagine Twitter users, say, making such a big deal about a new engineer starting there?)
The site added three new hires/doodles yesterday (which we're pretty sure is a record): Logan Hanks, Keith Mitchell, and Brian Simpson.
It also revealed some pretty impressive traffic numbers — Reddit just can't seem to stop growing, in fact. The site boasted a 37 percent growth in monthly visitors since January (from 13.7 million in January to 18.8 million in May), and a 25 percent increase in monthly page views, up from 1 billion to 1.228 billion in May.
Like the citizens of a fast-growing Wild West town, Reddit's inhabitants are avid boosters, taking pride in their growing ranks, even as they worry about the newcomers' manners.
Thankfully, all three of the new hires are programmers. Those billion pageviews a month often result in extended periods of downtime and at one point earlier this year, the site had only one full-time engineer to handle it all. Since then, corporate parent Condé Nast, the publisher of Wired and other magazines, seems to have made good on its promise earlier this year to give the site "more resources and more funding."
All three hires have been redditors for at least one year, though Brian Simpson (bsimpson on Reddit) has been a mighty lurker on the site: his first comment —  ever — was on the thread announcing his hiring.
Logan Hanks (intortus on Reddit) formerly worked at Google. He's been more of a gabberer than a hunter on Reddit, amassing a comment karma score of over 2,000 in two years (as opposed to about 700 link karma), primarily in the motorcycle subreddit, or section. He's such a motorcycle aficionado, in fact, that he may singlehandedly balance out the high nerdiness quotient at Reddit HQ (his caricature only confirms this theory).
Finally, Keith Mitchell (kemitche on Reddit) has a background in coding Python. He's especially active in various coding and gaming subreddits on the site. He's also a big fan of Reddit's Secret Santa gift exchange, for which he once expressed his giddiness with a level of nerddom that can only be described as awe-inspring and, perhaps, most fitting for a new Reddit admin:
"I'm getting so excited to find out who I'll be sending a gift to," he wrote, "so I can go all ninja-spy-assassin on them, backtrace their IP, plant GPSes in their memes and figure out what gift will make their brain 'asplode when it arrives."
Imagine what he could do with Reddit server logs.
Kevin Morris is a veteran web reporter and editor who specializes in longform journalism. He led the Daily Dot's esports vertical and, following its acquisition by GAMURS in late 2016, launched Dot Esports, where he serves as the site's editor-in-chief.
© The Daily Dot, all rights reserved.
Represented by Complex Media, Inc. for advertising sales.