There's a war going on between two of Reddit's most beloved comedy subreddits. One, r/funny, operates under the sanction of Reddit's powerful front page; the other is a small offshoot. It's almost a mirror of the comedy clubs vs. alt scene debate that permeates stand-up offline.
The accusation: r/funny is a mainstream big bad that's crushing the smaller, quality subreddit r/standupshots. R/funny is a subreddit for anything that makes posters laugh, while r/standupshots is mainly comedians and hardcore comedy fans responding to Imgur photo memes of stand-up comics posting their own material. R/funny's mods have banned crossover posting from r/standupshots and redditors from posting in the r/standupshots format.
R/funny is one of the site's massive default subreddits—when you sign up for Reddit, you're automatically following—and boasts more than 5 million readers. On r/standupshots, where comedians post their own jokes in an easy-to-read format, is not one of the biggest communities—but it is one of the most dedicated. The subreddit now has nearly 101,000 subscribers. Not too shabby. 
Nathan Anderson, a comedian and former moderator of r/standupshots, wrote up a long explanation of why he's stepping down, and the problems between r/funny and r/standupshots. Fittingly, he published it on a photo of himself doing stand-up. 
Anderson, an active redditor who'd hosted many of Reddit's stand-up live shows, then deleted his account.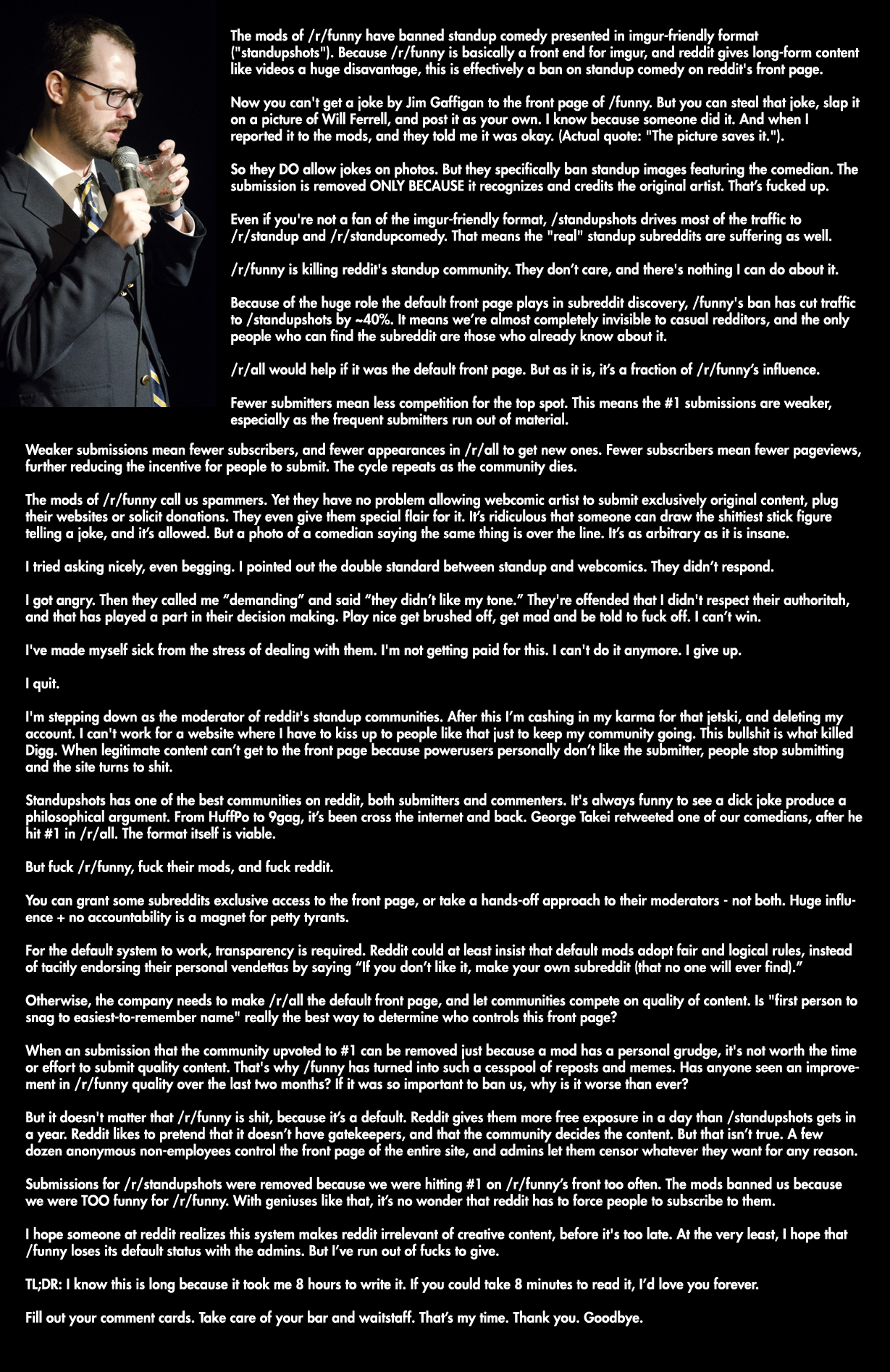 "Reddit likes to pretend that it doesn't have gatekeepers, and that the community decides the content," he wrote. "But that isn't true. A few dozen anonymous non-employees control the front page of the entire site."
It's a familiar complaint. Recently, redditors have accused mods of abusing their power in two other notable cases: on r/politics, where sites like Mother Jones and the Huffington Post were added to a block list, and on r/NFL, whose mods blocked links to former punter Chris Kluwe's essay about why he left the Minnesota Vikings. 
As of today, r/standupshots is the site's fastest growing non-default subreddit and is part of the top 200 subreddits, according to Reddit's metrics. The subreddit is important, as Anderson said, because it gives lesser-known comics a venue online. Comic Steve Hoffsteder, who regularly posts on the subreddit, posted a follow-up to Anderson's note saying that every comedian who posts on r/standupshots should get his fellow comics to do the same. 
"R/funny doesn't matter," Hoffsteder wrote. "I love it here [in r/standupshots]. It's like an open mic with 100,000 people in the audience. A wonderful place to get exposure and critique, and something I recommend to every comedian I can.
"And that's what I ask you to do. If you want this place to keep getting better, help grow it bigger than r/funny. Who cares that they're a default—they're for the masses, but we're for people who get it. I'd rather have a big audience of smart people than a massive audience of idiots any day."
A commenter named flaming_monocle said he asked r/funny's mods to lift the ban; one u/Lord_Nuke replied, "We're definitely up for revisiting the topic and making changes, however as of right now there's still a raid going on in which members of standupshots are flooding our new queue with coolio's picture and downvote brigading us across our accounts. Once this dies down and the people acting childishly stop doing so, then we can certainly look into making some changes that benefit both communities."
The debate rages on here, but in the meantime the controversy is gaining r/standupshots a lot more subscribers. Perhaps this fight could be a win for the little guy.
H/T Reddit/AbsolutePunk | Screengrab via YouTube