It's possible that subreddit Am I The Asshole? has found its biggest asshole yet in one man who walked out on his wife mid-cancer diagnosis—because it meant she had cheated him out of children.
The man's wife was hospitalized with searing abdominal pain while he was away on a business trip. After his return, the two of them were informed by her doctors that she was suffering from ovarian cancer and would need a full hysterectomy, including the removal of her ovaries and fallopian tubes—an incredibly aggressive form of treatment that's both hard to live with and indicative that the cancer is already in an advanced state.
Rather than consoling his sobbing wife, his first response was anger, and not just an understandable rage at the cancer. Oh no, he was mad at his wife because now it was too late for her to give him biological children, something he'd been pestering her about for years.
That news jolted me from my chair. Because the doctor was effectively telling me that she wouldn't be able to have kids after this, and after years of work, I thought we'd finally have a family.

I'm overwhelmed with emotions of anger, not just anger at the disease, but pent up anger form the fact that I had begged her to have kids since we were 26, but she refused for her career.
He also had other concerns, namely that she wouldn't be hot or fun anymore either. Not only was he being cheated out of a "real family" by his wife's selfish failure to predict she was going to have cancer and having children to pre-empt it, he might end up with a wife who wasn't pretty or entertaining to boot.
And now instead of becoming a real family, I didn't even know if she would remain the woman I married, whether the last picture of us together would be last time I'd remember her looking beautiful, young, and carefree. Because the wife I as in front of me was already a different person.
Despite his wife's reassuring him that they could adopt, meaning she must have been aware that at least part of his response was anger over the loss of her ability to have children, OP proceeded to walk right out of the hospital.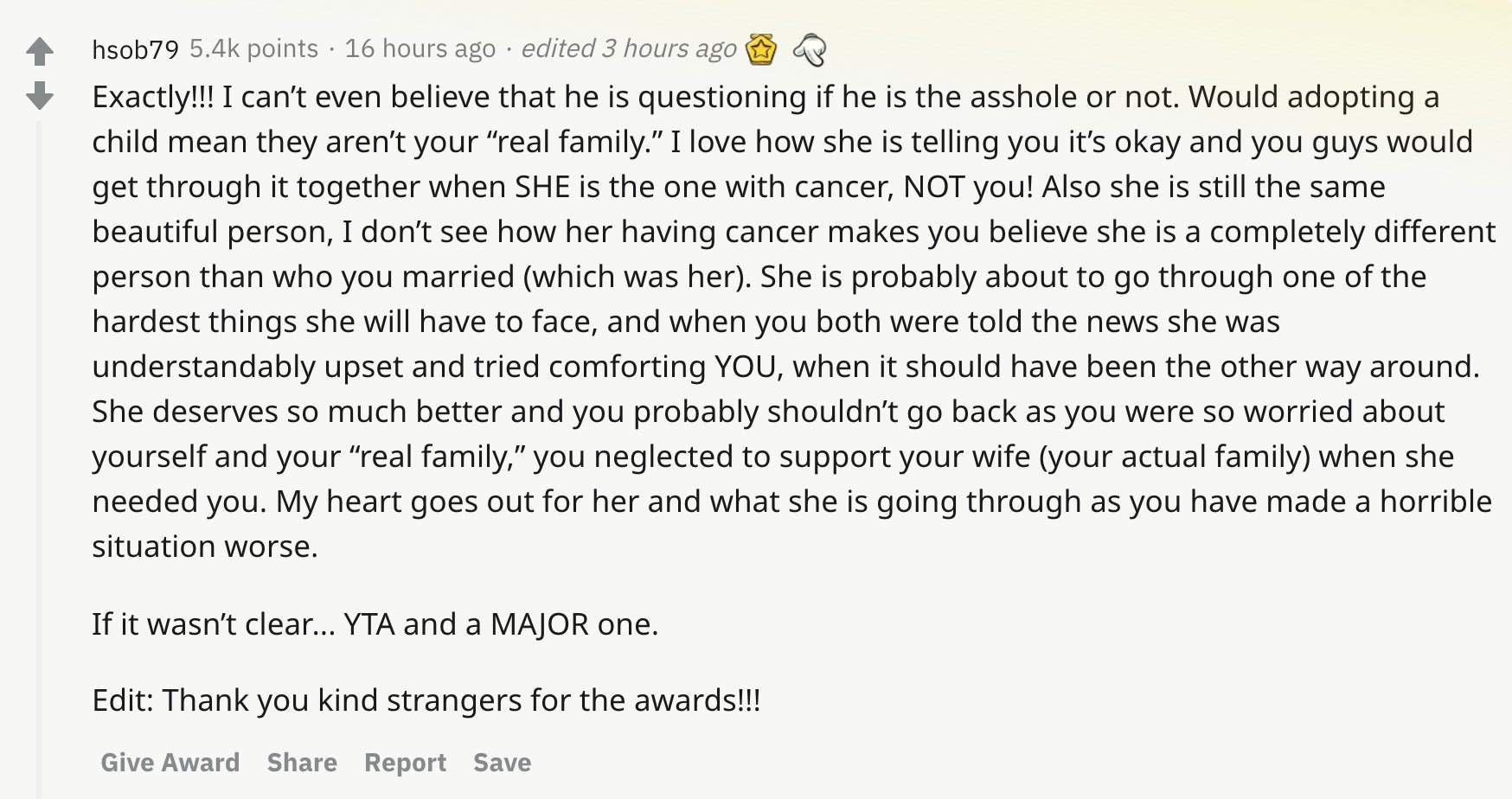 Without explaining himself or even telling anyone where he was going, OP set himself up in a hotel for the night so he wouldn't have to see his wife later if she was discharged that day. According to OP, while he was at the hotel, he was able "to get a grasp on all my emotions and feel more like my normal self in that I knew exactly what I felt about every aspect and how I would react to it from here on out."
He then received a phone call from his mother in law, telling him that wherever he was he should stay there, prompting him to come to subreddit to ask if he was in any way at fault.
AITA for walking out? I admit it was done on impulse but this diagnosis just sliced my life and my wife's life wide open.

I wasn't going to expel the cancer if I stayed that night but I did at least make myself aware of my situation. And I feel I have a right to be angry that my hope of biological kids, the only kind I ever wanted, is rapidly fading away.
Unfortunately for OP, who seems to find himself entirely justified, the answer was a resounding yes.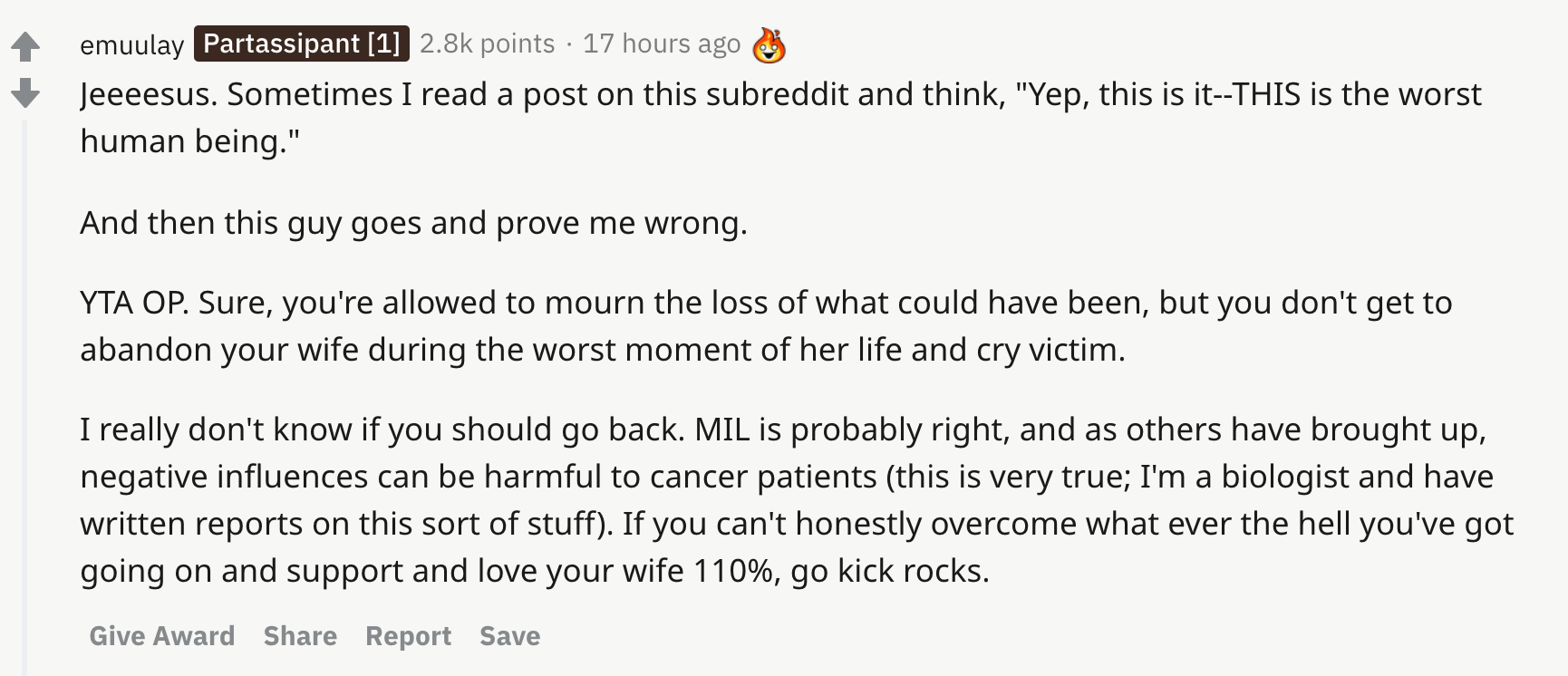 And while some thought he should go back and grovel, others thought his leaving was the best favor he could do her, and he should stay far, far out of her life—after delivering a breathtakingly apology first.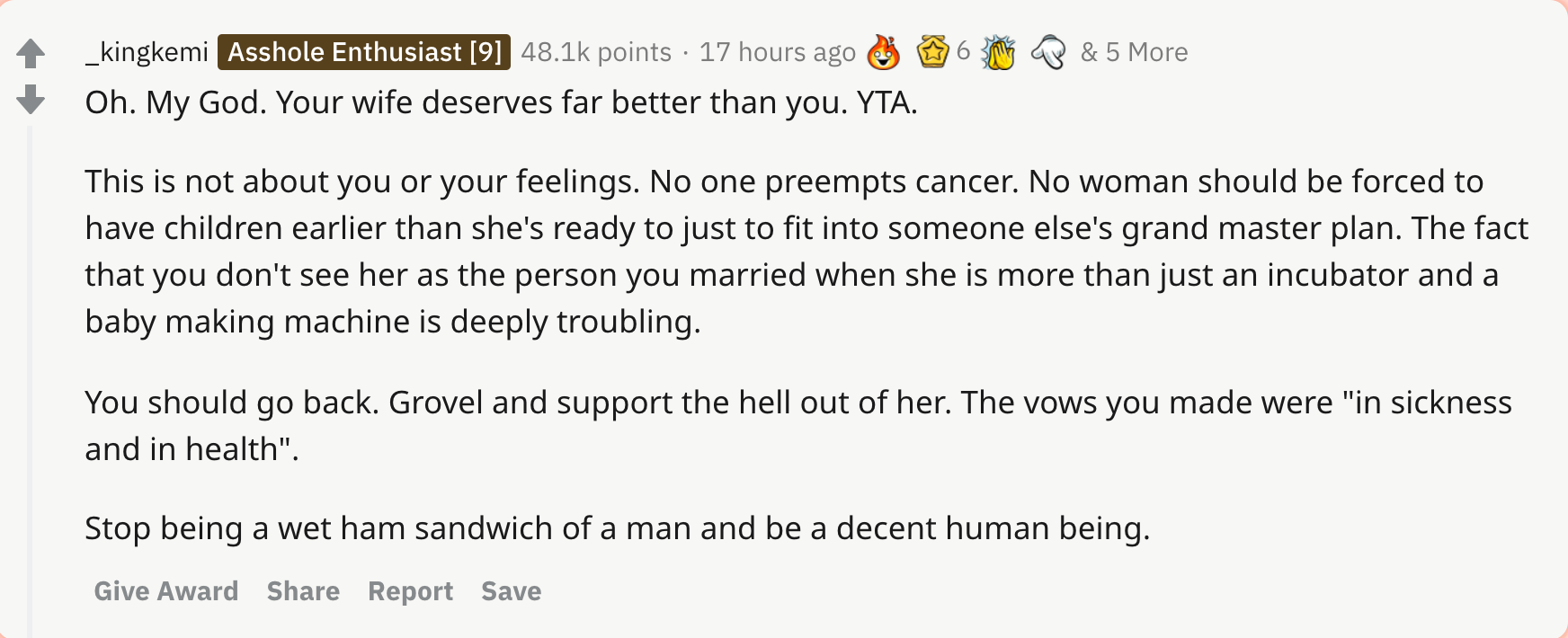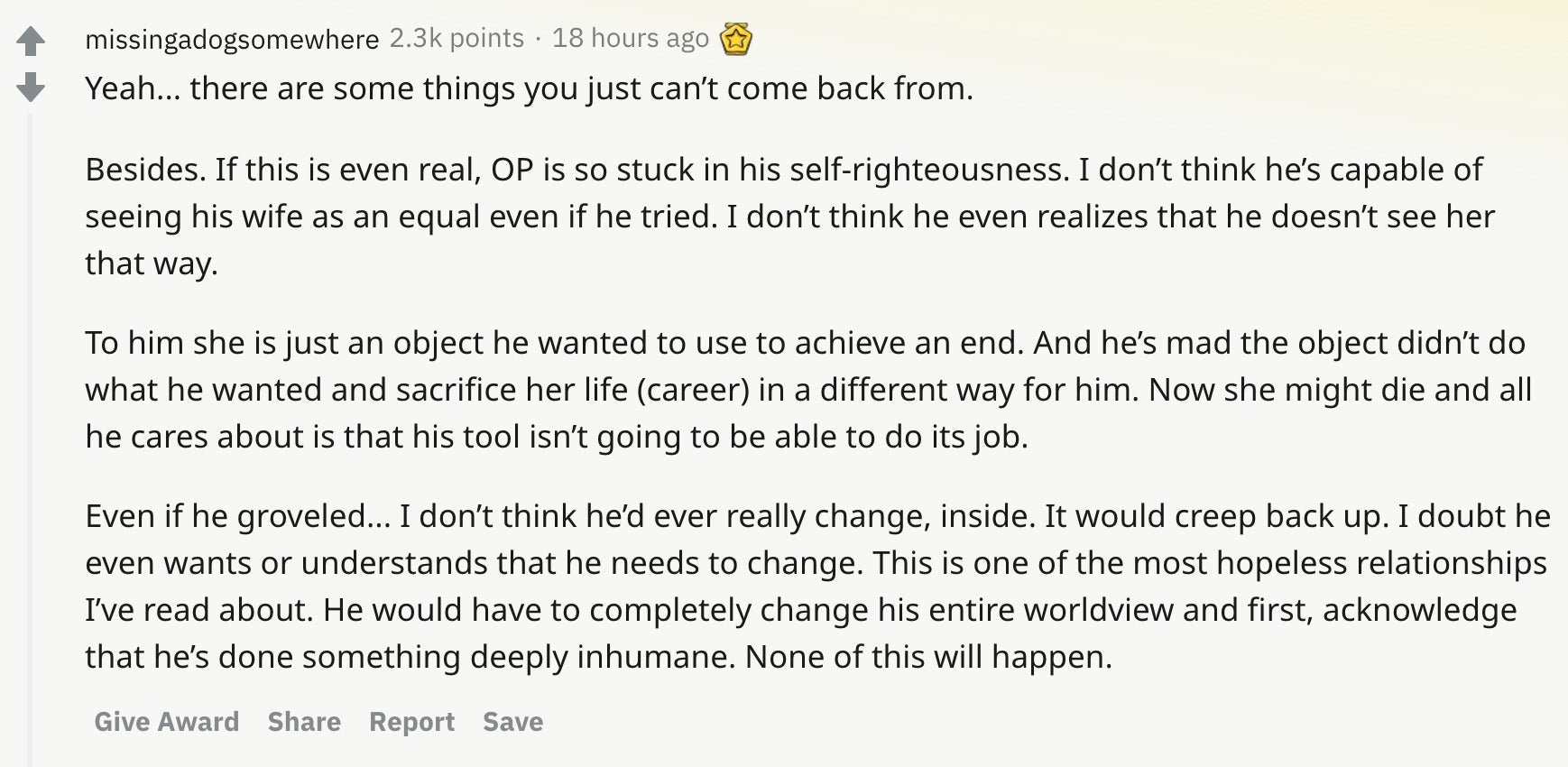 Reddit user dreadsquidred pointed out that surrogacy exists, meaning his wife's infertility wouldn't even stop him from having biological children while married to her—but followed it up by saying he should never, ever have children with anyone because he's such an asshole.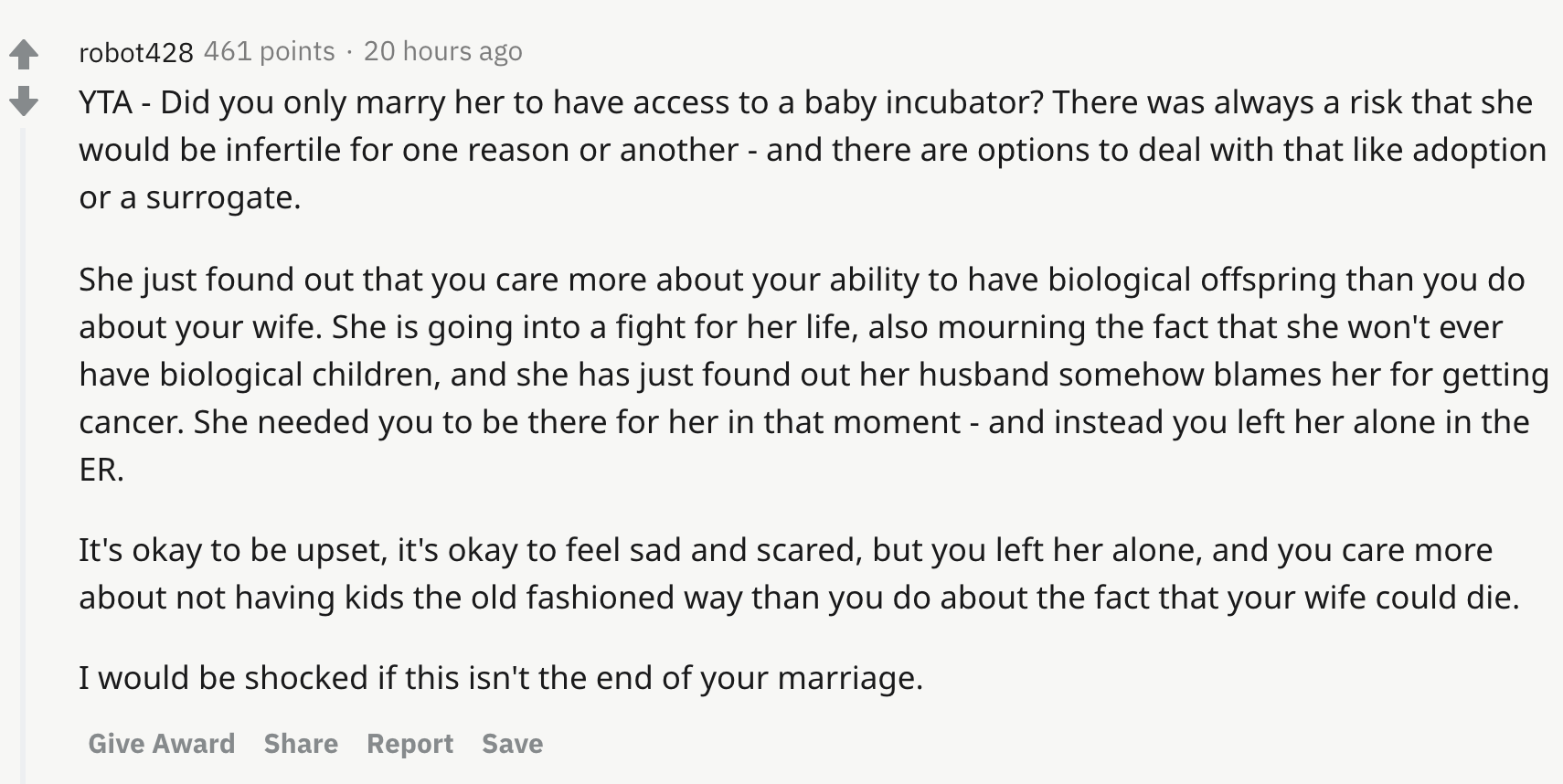 The deeply depressing statistic that the majority of husbands leave their wives after their wives receive a cancer or other serious diagnosis was brought up, and several experienced cancer care specialists confirmed the ubiquity of this in their own, albeit anecdotal, experience.




People were also distinctly unimpressed at his conflation of biological with real when it came to family and children. Adopted members of the subreddit in particular found his attitude toward family abhorrent.



In the end, user AskAJedi spoke for the whole sub.

READ MORE: