A baffled Japanese-American redditor came to the Am I The Asshole subreddit with a question she never thought she'd have to ask: is the traditional way she eats potatoes actually disturbingly sexual or is her new co-worker just an asshole?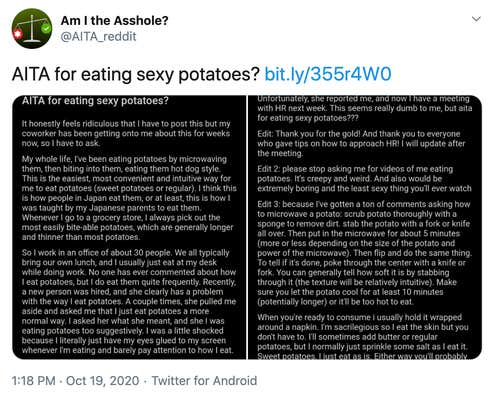 OP is a big fan of potatoes, both sweet and regular, and regularly has them for lunch at work. Growing up, she was taught to first microwave them and then, when they'd cooled down enough to touch, to pick them up whole with her fingers and chow down on them "hotdog style."
While OP stated that she wasn't sure whether or not this was a standard way of eating them in Japan, where her parents grew up, several Japanese and Korean commenters stepped in to confirm that this is normal in both countries and in their American diaspora communities as well. Some even shared helpful video evidence to convince the sceptical.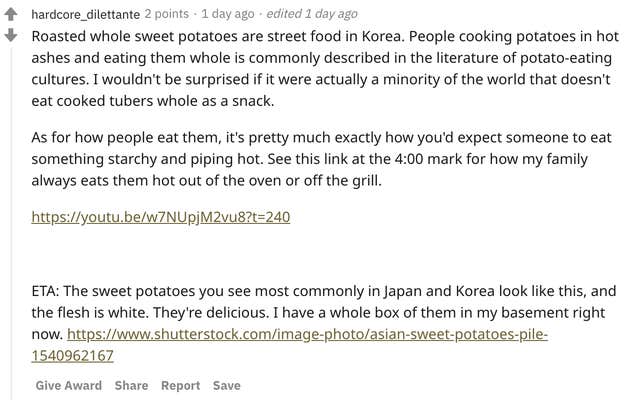 OP's explanation wasn't good enough for her new workmate, however, who told her that she needed to eat potatoes in "a more normal way," as she eats them "too suggestively".



The first time this "Office Karen" said so, OP thought it was a joke—a weird, sort of inappropriate joke, but a joke all the same. But of course, it wasn't a joke and the woman kept coming back, accusing OP "of going out of my way to choose sexy potatoes (????)".

OP suggested that "Office Karen" just stop watching her eat, which is when the co-worker told her that actually everyone else also found it inappropriate as well but were just "too polite" to say so. Concerned that she might be the actual bad guy here, OP went and asked her co-workers about this. Unsurprisingly, they were not only baffled by the idea of sexy potato eating but at least one of them had also had the same co-worker complain about his own South Asian lunches.



Despite this deeply uncomfortable situation, OP did not choose to go to HR—but, bizarrely, "Office Karen" did, accusing OP of sexually harassing her via potato. Luckily for everyone, OP Sexy Potatoes shared an update on the situation with us this week, after she and her co-worker had their final meeting with HR and, spoiler, things did not play out well for "Office Karen".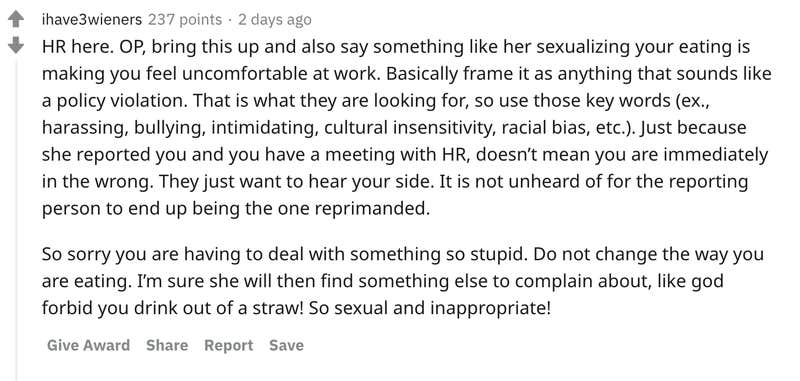 At first, HR assumed there had to be something more to it than cutler- free potato eating, after all, someone eating potatoes with their fingers is such a completely nonsexual thing that it just didn't make sense. But no, the woman kept up her claim that the potato-eating method was innately sexual, and that OP was going out of her way to buy sexy potatoes just to spite her.



But when "Office Karen" claimed that no one else eats potatoes like this, and therefore it must be sexual, OP had the best clawback. She showed the HR rep and the co-worker herself a YouTube video of Japanese people eating potatoes in exactly the same way that she had.
Instead of admitting defeat and apologizing, "Office Karen" switched tracks and tried to claim that OP's method of potato eating was a COVID-19 risk somehow, but HR wasn't buying it and dismissed the case, telling the woman that she was free to work from home, away from OP, her sexy potatoes, and the alleged COVID-19 risk.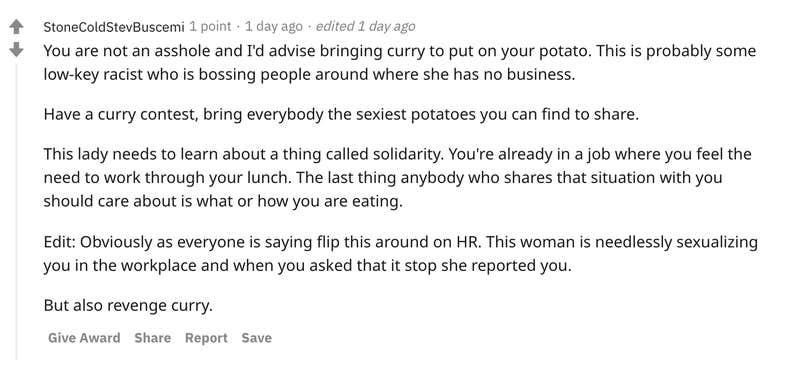 Later on, OP was even called into a meeting by their boss who revealed that not only did he dislike "Office Karen" too, and hiring her had been a favor to his wife, but that there had been multiple complaints made about her already in the short two months she'd been working there. OP has decided to go ahead with her own harassment complaint against the woman, pointing out she's been targeting two of the Asian staff members over their food. She promises all of us that she's going to continue "eating sexy potatoes for the foreseeable future."
---
Today's top stories