Reddit, the social news site, has gone from a niche site to an Internet force to be reckoned with.
Its community of redditors—around 35 million strong—are now numerous enough to propagate memes, dominate online conversations, create heroes and villains, pick hits on YouTube, and reshape the political debate over Internet regulation.
But what does that newfound clout look like? Through exclusive data shared with the Daily Dot, Reddit has unveiled just how fast it's grown in the past 12 months.
We're talking billions and billions of pageviews.
If you want to know more about the stories mentioned in the infographic, keep reading for links to our in-depth coverage and other notes about Reddit's most eventful year yet.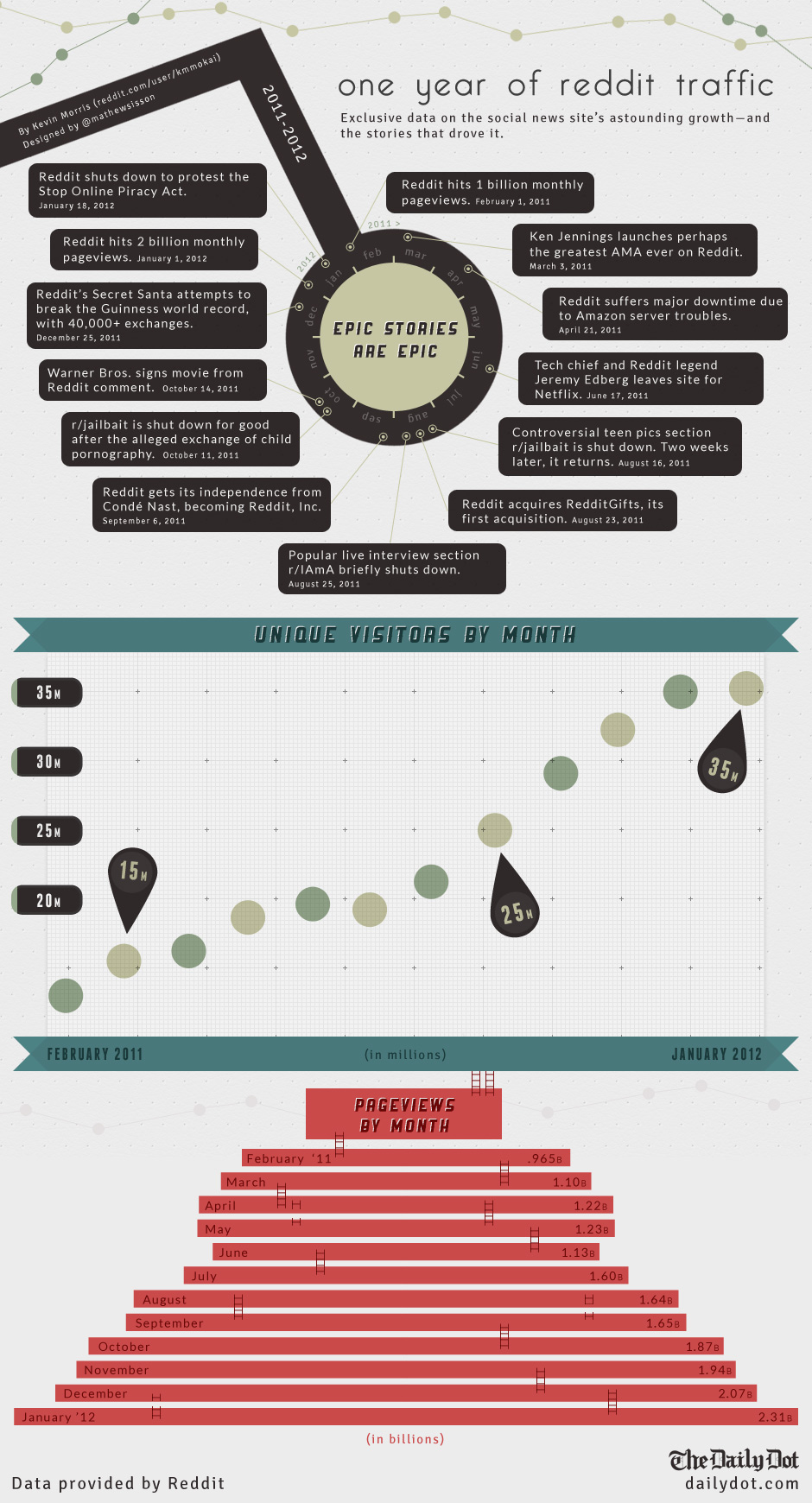 Former Jeopardy champion regaled Redditors with his sharp wit and self-effacing humor in February 2011. In the process, he held the most popular live interview in the site's history. And as Woody Harrelson can tell you, a successful live interview on Reddit isn't nearly as easy as Jennings made it look.
Jennings set a standard that other celebrities have been trying ever since and helped establish r/IAmA as a jewel in Reddit's promotional crown.
Reddit's monstrous growth at the beginning of the year coincided with long, painful downtimes. When Jeremy Edberg, Reddit's tech whiz left the site for Netflix in June, he was quickly replaced with three new engineers. As Reddit beefed up its staff, their downtime problems became (largely) a thing of the past.
Mainstream media got the Reddit bug in September, but for reasons that hardly made the site's users or staff proud. Teen pics section r/jailbait attracted the angry scrutiny of big media outfits like Gawker and CNN.
Reddit shut down the section after the alleged exchange of child pornography in October. Many users cheered the decision. But the move was also the first time Reddit backed off its voluntary policy of absolute free speech.
Reddit finished 2011 on a high: Warner Bros. signed a movie from a Reddit comment, redditors raised hundreds of thousands of dollars for charity, and the site blew past 2 billion pageviews in December.
But Reddit wasn't finished.
In January 2012, the social news site flexed its digital muscles. The company became the the vanguard in Internet protests that helped shelve the Stop Online Piracy Act, a controversial legislative proposal that many argued amounted to Internet censorship.
That prompted Slate magazine to call Reddit an "unstoppable force."
A bit of hyperbole, sure. But Reddit's unique brand of pseudonymous community and democratic news-sharing has it set on a rocket-like trajectory.
Where is it heading? Here at the Daily Dot, all we know is that we can't stop watching Reddit zoom ahead.
Infographic by Mathew Sisson; photo by Sarah Worthy