Yesterday, Nadya Tolokonnikova and Masha Alyokhina, two members of the Russian collective Pussy Riot, tweeted photos and details of their arrest in Sochi. Today, a group once again appeared in Sochi and donned their balaclavas to perform in an outdoor plaza roughly 20 miles from the Olympic Park. They were met by Russian Cossacks wielding whips and pepper spray.
Some of the videos have been removed from YouTube, but the AP has footage and photos of Cossacks spraying one member with pepper spray, and whipping another, as onlookers record the performance. Cossacks also whipped photographers.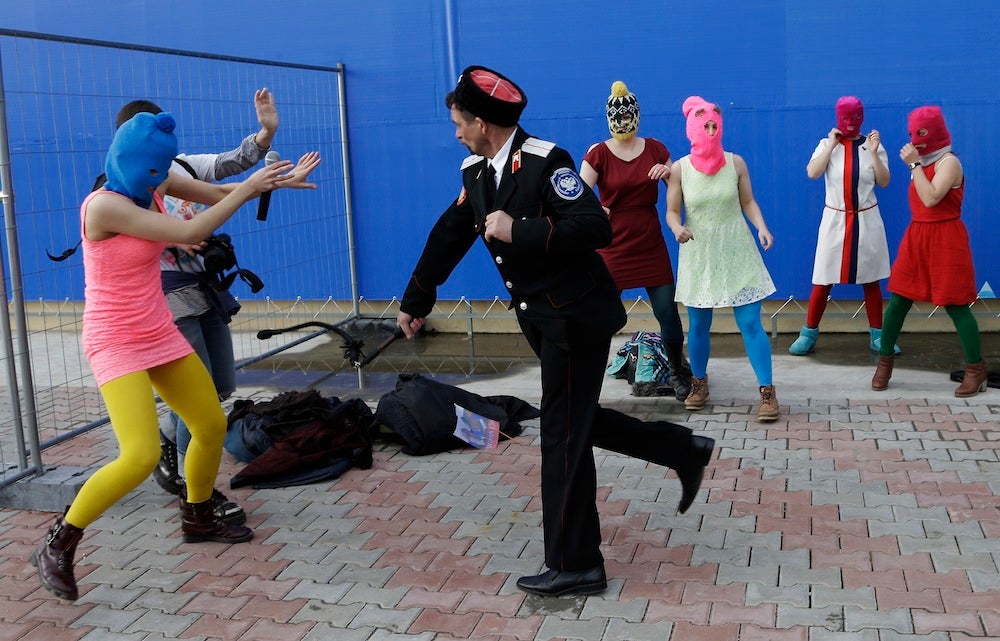 The group—five women and one man—were preparing to make a new protest video for the song "Putin Will Teach You to Love the Motherland." When members were arrested yesterday, they were allegedly gathering to perform the song as well.
Sochi authorities have been attempting to silence any protesters during the Olympics. International Olympic Committee spokesman Mark Adams told reporters today that they'd need to speak to local authorities about Pussy Riot, but that he didn't think they were protesting the games directly. According to the AP, the confrontation lasted less than three minutes. The attackers could see prosecution:
Krasnodar region governor Alexander Tkachev, who has been advancing Cossacks' interests for years, promised on Wednesday to conduct a "thorough probe" into the incident and prosecute the attackers. Tkachev said in comments carried by the Interfax news agency that the views of Pussy Riot "are not supported by the majority of people in the region" but stressed the importance of abiding the law.
In December 2013, Tolokonnikova and Alyokhina were freed by Putin under amnesty, after being imprisoned since August 2012. Earlier this month, they were part of a media blitz in the States. The remaining members of Pussy Riot attempted to distance themselves from the two.
Alyokhina tweeted out photos of the aftermath:
У одного из членов #pussyriot рассечена бровь после нападения казаков. Газовые балоны, хлысты. Полиция не реагировала pic.twitter.com/EGkXY7N8II

— Мария Алехина (@MashaAlekhina) February 19, 2014
Есть еще рассеченный палец. Безопасность в Сочи. pic.twitter.com/Uwph6tFZZ9

— Мария Алехина (@MashaAlekhina) February 19, 2014
Photo via Morry Gash/AP