With a Donald Trump typo making some of the biggest news of the week, it makes perfect sense that Pornhub would bestow upon us one of the greatest SFW gifts it could offer.
The porn site asked what is the most common misspelling for each state when horny people search for something online that can satisfy their libidos? The answer lies below in this handy map of the U.S.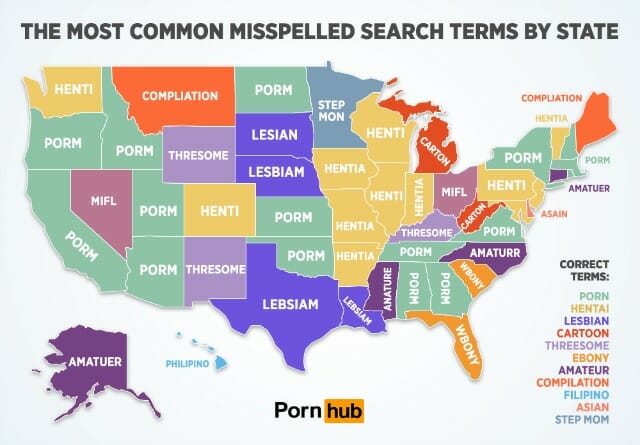 To be fair, hentai can be difficult to spell, and apparently, six states in the Midwest have figured out a couple of different ways to misspell the term that applies to Japanese anime porn. And the rest of the typos seemingly come because the letters on the keyboard are situated right next to each other. So, you get "porm" instead of "porn" and "step mon" instead of "step mom" and "wbony" instead of "ebony" (though there's little excuse for Texas and Louisiana to be typing "lebsiam")
Let's face it, when you're excited about something, sometimes it's easy to forget to copy-edit your work.
Luckily, Pornhub has your back (and, um, your front).
Wrote Pornhub: "As you can imagine, misspelled searches are quite common on Pornhub when people's dominant digits are otherwise being … occupied. Thankfully our advanced auto-correct feature is always there to lend a hand."
H/T Someecards