What would you do if you thought Pornhub shared your watched videos on Facebook?
Yeah, possibly deactivate your Facebook, wipe your computer's hard drive, and flee the country. So long, normal life, it was fun while it lasted.
But for April Fools' Day, Pornhub has done just that. Unlike its more amusing Cornhub stunt from 2016, this year the porn website is giving users the fright of their lives by pretending to share their watched videos on social media.
Just click on any Pornhub video and you'll be greeted with a nice reminder about the new "feature."
"Thanks for sharing. Pornhub now has automatic video sharing to your social media accounts," the popup boasts. "No need to manually share your video to your friends and family ever again because this new revolutionary sharing feature does it for you! Automatically!"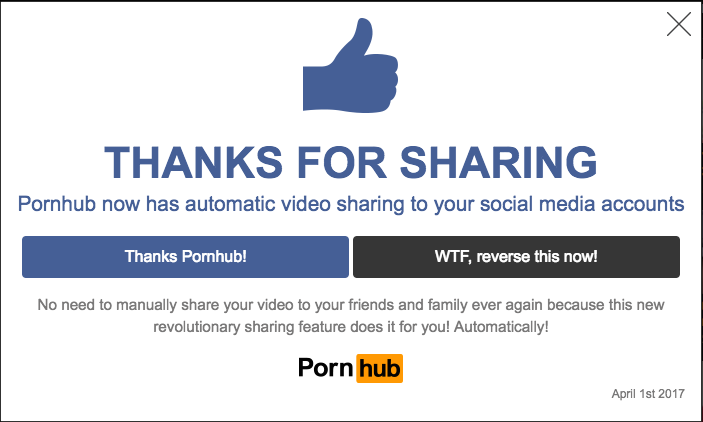 Cue the cold sweat. Should you care to send appreciation to the website, you'll simply click, "Thanks Pornhub!" on the popup. But if you're like the rest of the population who doesn't want Nana perusing their porn picks, you'll click, "WTF, reverse this now!"
Either selection will bring you to this explanation: It's a joke, fools!
"Don't worry your browsing is always safe and secure, we are fully encrypted using HTTPS protocols," the message reads.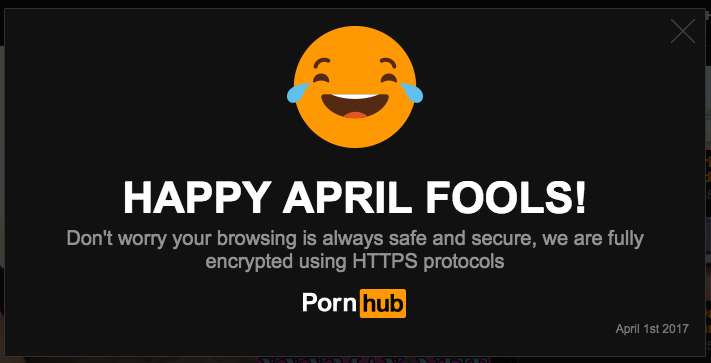 Of course, the sick joke was enough to send Reddit into a brief shock:

Good one, Pornhub. You really know how to make users go from horny to panicked in a matter of milliseconds.
H/T r/Funny