We've long suspected Pinterest might be addictive. Now, new data has proven it.
Pinterest retains users two to three times more effectively than Twitter did at the same time in its history, according to an RJMetrics study. When people join Pinterest, the study found, they're usually there to stay.
Pinterest's user retention indicates that the social network isn't going to disappear anytime soon, RJMetrics founder and CEO Robert Moore told VentureBeat, a publication covering technology and startups.
"This is not a Chatroulette," Moore said. "Once people start using it, they don't stop."
Why? Twitter has been fighting the preconception most users have that to use Twitter, you have to tweet. And tweeting requires thinking up a clever phrase first. To participate on Pinterest, all you need is one click of the repin button.
"There's a very low barrier to sharing [pins] with everyone who is following you," Moore said.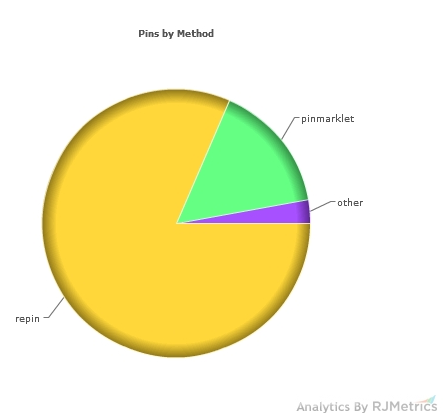 RJMetrics also found that 80 percent of pins on the social network are repins, indicating that any image that makes its way onto Pinterest is likely to proliferate quickly among users. Moore called this "evidence of the impressive virality" of the network.
The original pins themselves, the study found, come from all over.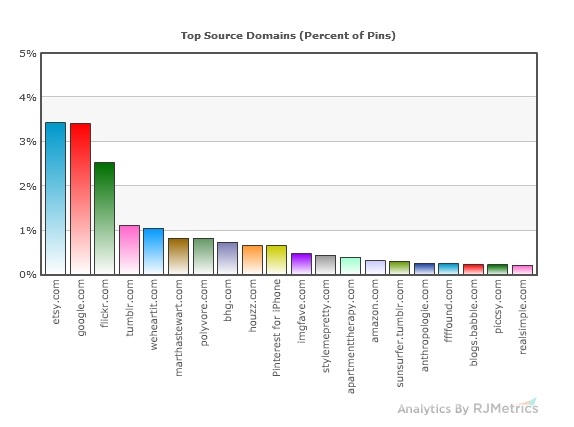 More pins came from Etsy.com than anywhere else, but only by a small margin—the online crafts site is responsible for just three percent of pins. While Pinterest and Etsy have a strong demographic overlap and the sites are often compared to each other, the data shows that Pinterest isn't dependent on any one source for its success.
"In our sample of about a million pins, over 100,000 distinct source domains existed," Moore wrote.
Moore wrote he decided to conduct this analysis after growing tired of waiting for the notoriously quiet company to release its own data.
"In our experience, when traffic is growing that sharply there is often something even more amazing going on under the hood," he wrote. "We wanted to see if the usage and engagement numbers for Pinterest were as remarkable as its traffic."