Tech

Tech

The gadgets, platforms, and software that make your digital life possible. if it bleeps, clicks or blinks, you'll find it here.

Internet Culture

Internet Culture

There's a community for everyone online.

Bazaar

Bazaar

The Bazaar specializes in the stuff you don't actually need…but you really, really want.
Pinterest spam attack impacts Facebook and Twitter
Scammers are stealing Pinterest accounts and using them to post spam messages to users' linked Facebook and Twitter accounts.
Pinterest users have been taking to Facebook and Twitter to complain about an apparent spam attack this week.
As the image-sharing network has become increasingly popular, the size and length of its spam attacks have matched its explosive growth. While an earlier Easter attack was resolved in a weekend, The Next Web reported that pinners have been complaining about hacked accounts since the weekend.
A spokesperson for Pinterest told the Daily Dot that while some users may be falling victim to phishing or spamming attacks, Pinterest itself has not been hacked.
"[A hack] implies that our corporate systems, databases or infrastructure has been compromised, which is not the case," he said.
Based on users' comments, it's apparent that some pinners have had their accounts compromised. Pinners are getting notices that people from Guyana, Iran, and South Africa have logged into their accounts.
"Who knew your pinterest could get hacked," @xkaysad tweeted with a photo of what happened.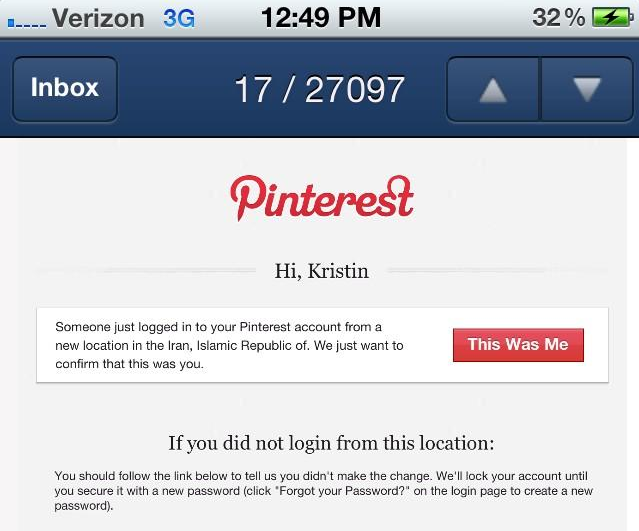 @bettinakatie had a sense of humor about the attacks, remarking on the fact that phishing scammers targeted a site where users store very little personal information.
"You guys, someone hacked my pinterest. PINTEREST. I hope they didn't fuck up my mason jars craft ideas," she tweeted.
A Twitter search for "Pinterest hacked" is bringing up results as recently as minutes ago from pinners lamenting their hacked or deleted accounts. On Topsy, "Pinterest hacked" has more than 1,000 mentions since Sept. 9.
But complaints aren't the only things popping up on Twitter. If hacked pinners had their Twitter or Facebook accounts hooked up to their Pinterest accounts, scammers took advantage of these spamming opportunities as well. The messages typically begin with something like "Omg so cool!" and end with an advertisement about working from home, Naked Security reported.
In July, Pinterest Support outlined steps pinners can take if their accounts are compromised—they recommend changing your password and submitting a help ticket to Support. Pinterest also released a statement to the Daily Dot about how it is dealing with spam.
"Recently, we've seen an uptick in accounts sending spam. Generally, we've found that a simple password reset fixes these cases. We've been sending emails to impacted users to notify them and help them reset their passwords. We hope pinners will remember to use strong and unique passwords for their accounts."
Photo via Pinterest
Lauren Rae Orsini is a web culture reporter who specializes in anime and the business of fandom. Her work has been published by Forbes and Business Insider.
© The Daily Dot, all rights reserved.
Represented by Complex Media, Inc. for advertising sales.