Pinterest may be making bank off your pins without you even being aware of it.
While comparable social networks like Twitter and Facebook focused on building an audience before they ever offered advertising, Pinterest has found an unobtrusive way to make an early buck through affiliate programs.
Pinterest is able to do this with Skimlinks, an affiliate-marketing technology that identifies URL sources with affiliate programs and quietly adds the users' affiliate identification to those links.
Here's how it works: If you pin an item from a site with an affiliate program, such as Amazon, Pinterest modifies the link and adds its own affiliate tracking code. Then, if somebody clicks on your pin and makes a purchase on Amazon, Pinterest gets a paycheck.
This reporter's screenshot below highlights the affiliate-referral link on an Amazon pin in yellow.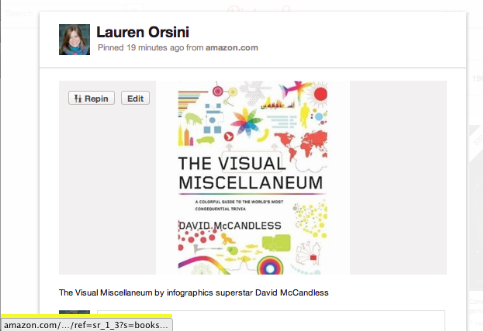 As further evidence of Pinterest's tie to Skimlinks, traffic tracking company Compete shows that Pinterest has edged out Twitter as the third largest traffic source for the affiliate company.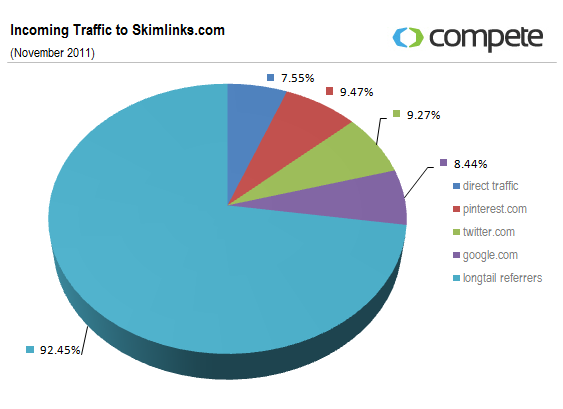 The proof is there, so why isn't Pinterest disclosing their method of revenue to pinners?
According to Skimlinks' policy page, Pinterest users have the right to know:
"We encourage our publishers to disclose to their users and comply with the FTC regulations which state. … When there exists a connection between the endorser and the seller of the advertised product which might materially affect the weight or credibility of the endorsement, such connection must be fully disclosed."
Allison, a technology blogger at BlogWorld, wrote she doesn't mind Pinterest's quiet method of gaining revenue, just the nondisclosure.
"I'm more than happy to allow Pinterest to make money from my pins using Skimlinks," she wrote. "But I feel like a disappointed parent… because I wish they would have just told me."
Blogger Josh Davis isn't sure if Pinterest legally needs to disclose its affiliate links, but worries about whether users will continue to trust the service once they find out.
"I, like many people, don't have a problem with Pinterest making money off of user content. The links are modified seamlessly so it doesn't affect the experience. Pinterest likely should disclose this practice to users even if they aren't required to do so by law, if only to maintain trust with their users," he wrote.
Pinterest did not respond to a request for comment.
Photo by val.pearl