With its focus on interests instead of people, Pinterest isn't the most competive social network around. But if you're the type who'd like to make a game of it, PinClout just might be for you.
PinClout is a simple new tool that measures your influence on Pinterest. Once you input your username, it assigns you a score from 1 to 100 which you can show off or conceal accordingly.
Sounds a lot like Klout.
But PinClout cofounder Chris Fay told the Daily Dot that Klout, which measures influence on social media sites like Facebook and Twitter, is unrelated to his latest startup.
"To be honest, I have never used Klout, and although I'm familiar with how it works, it has had little to do with PinClout thus far," he said. "The score is the first metric we offer, providing insight into influential members and their actions, but our business model and goals span well beyond the clout score."
Currently, however, the clout score is all that PinClout has to offer—just like Klout. Here's a screenshot of the Daily Dot's score, determined by specific benchmarks like repins.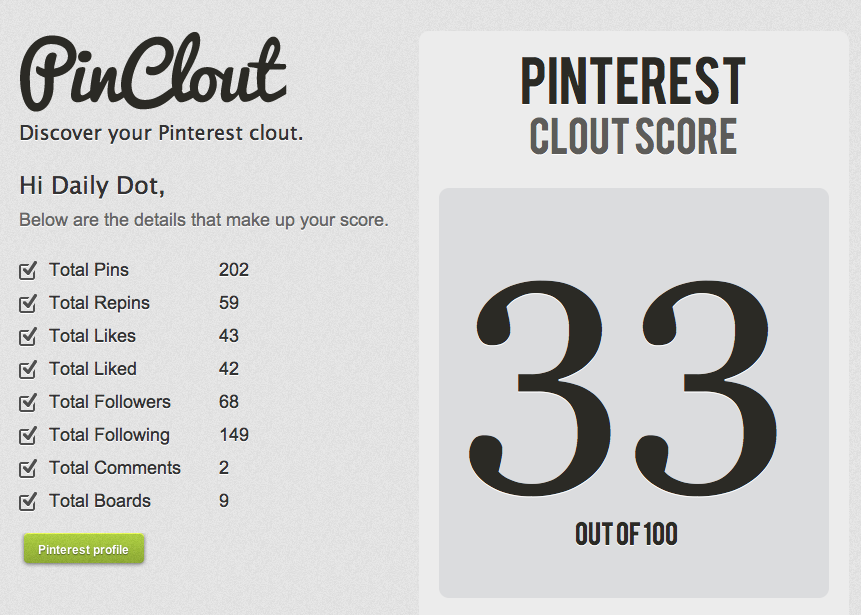 Fay, who previously founded AdRavage and Fashionify, said his score of 15 has less to do with his own inactivity on his Pinterest profile page, and more to do with how other people interact with it. (On the About Page, Fay said the average PinClout score is 29.)
"I can't go into specifics here, but suffice it to say that actions made on your account outweigh those you do yourself," said Fay. "Your score will increase much quicker by growing your follower base over pinning, for example."
Fay said that so far, PinClout has received an even mix of positive and negative feedback. The responses that irk him the most compare his new startup to Klout.
"Some assume we are simply a Klout for Pinterest, and although we do provide a clout score, our business model is quite different, offering a unique value proposition," he said.
When asked what those differences were, Fay, 30, said they would become increasingly apparent as new features are added.
"Our next phase will focus primarily on providing valuable analytical data surrounding members, pins, boards, and so on," he told us. "I can't say anything more, but keep an eye out!"
The Daily Dot also reached out to Klout. The company has heard of PinClout, but won't be providing a similar Klout measurement for Pinterest in the near future, said spokeswoman Lynn Fox.
"[W]e love Pinterest, but they don't have a public API yet," she tweeted.