Have you ever looked at an old black and white photograph of flowers and wondered, that would have looked nicer in color?
Well, thanks to an army of Photoshop proficient redditors, these sorts of questions now have answers.
The r/picrequests subreddit is a place for people to submit photos they'd like altered. The section was created about seven months ago by redditor cannedpasta. The section has 1,353 readers and receives dozens of requests a day, some from redditors offering cash in exchange for work.
But as cannedpasta has noticed, most Photoshop savvy redditors have no problem altering a photo for free, especially if it has a compelling story.
That was the case two days ago when redditor wizard4all submitted a black and white photo of his ailing grandfather as a young man for Reddit to alter. It featured wizard4all's grandfather as a young boxer, with his fists up, ready to fight.
"He has many boxing stories from winning golden gloves in his league to accepting corn field fights from from much larger muscle building guys," wizard4all told the Daily Dot. "He led a rough life in his childhood and grew up protecting himself."
The story struck a cord with redditors compugraphx, plobby, ThePendulum, bzknz and csgecko who all tried their hands at adding color to the storied photograph. The result was patchwork of beautifully altered photos, each with their own personality.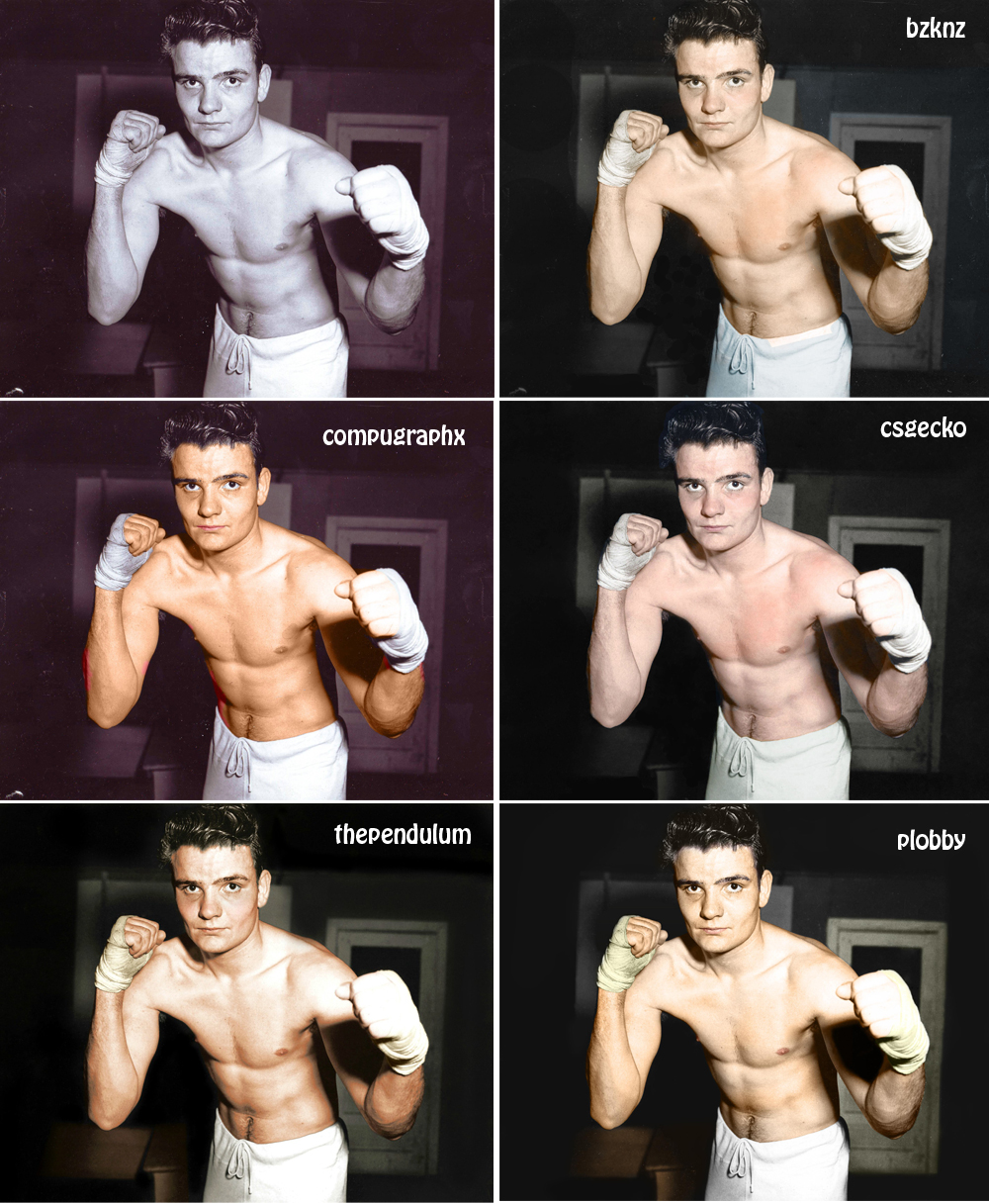 "I think people want old pictures colored as a way to update them a bit. It is a way to modernize the photograph for someone while keeping the spirit of the original in tact," cannedpasta told Reddit. "There is a lot of amazing work that is done around here, and almost everyone does it simply for the fun of it."
But sometimes Reddit makes people sweat for the alterations, which was the case for redditor foundbypat, whose black and white photograph of his dead father was colorized only after more than five meme-like alterations were submitted first.
"This was a tricky one," mygrapefruit wrote on Reddit. "Considering he's standing in the shade, and the whole street is in shade and only the top of the street is where you can see the sunshine flow. I also tried giving it an overall warm glow to compensate to the natural blue shade."
Image credit, wizard4all