What's trending on Pinterest?
There's no easy answer. In the months since the image-sharing social network has opened its digital doors, it has quietly rolled up nearly all of its trend-tracking features.
Up until June 2011, it was easy to keep up with Pinterest's hottest pins by following the platform's "Tastemakers." Tastemakers were Pinterest's super-users, those with the most pins, comments, and followers—and anyone could be one. But the platform phased the feature out over the summer.
While Tastemakers were determined by internal "number crunching," Pinterest also used to keep tabs on boards that caught staff members' eyes. Staff Favorites was a list of these boards, but navigating to it now leads to a 404 error. Likewise, the staff's official pinboard, Best of Pinterest, hasn't been updated in 49 weeks.
The Pinterest blog has also seen its features disappear. The "Weekly Round-Ups" label is still there, but clicking it takes visitors to another 404. "Pinteresting Trends," a category that was updated regularly throughout September, has grown sporadic and vague.
What's left? Pinterest's "Popular" feature, which updates by the second. While this tab is great for determining what's getting buzz at that moment, it does little to reveal long-term trends and popular users. Plus, what's getting comments right now may have been posted weeks ago; Pinterest doesn't differentiate between today's and last month's favorites.
Here at the Daily Dot, we love to write about the social Web's top stories and influencers. But on Pinterest, with no way of tracking what's trending, we hardly have a clue.
So we're bringing the question to you: Who's a person of interest on Pinterest?
Who first told you about Pinterest? Who do you follow? Whose pins do you repost the most? Your input could affect our Pinterest stories through 2012.
If you have somebody in mind, you can let us know in the comments or an email. We've also created a graphic for you to "like" and repin to your pinboard so you can let people know you've nominated them.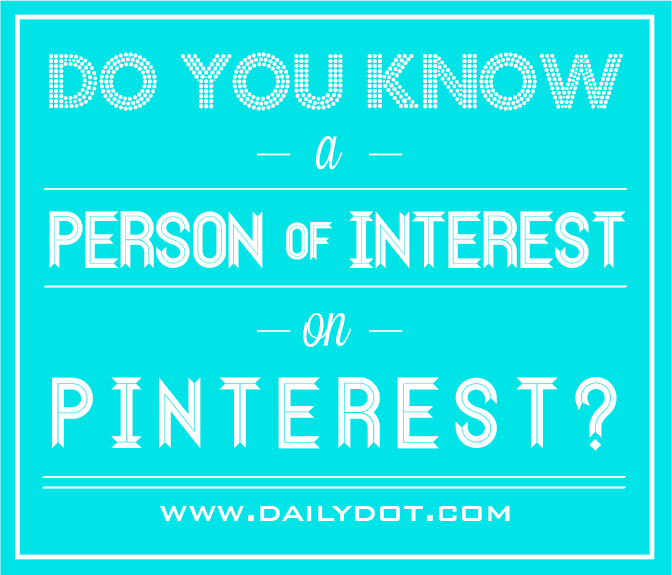 Photo by pinkpoppy