Wednesday actor Percy Hynes White has responded to accusations of sexual assault that started circulating in January and called them a "campaign of misinformation."
Hynes White, who plays love interest Xavier on the massively popular Netflix series, posted an Instagram story saying that following the accusations, his family has been doxxed, and his friends have faced death threats.
"Underage photos of me were used, and examples of me acting in character were presented as hateful," Hynes White said in the statement. "My friend Jane was falsely portrayed as a victim, and her attempts to set the record straight have been ignored. She gave me permission to include her in this message."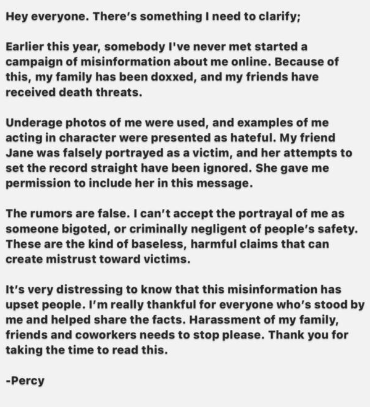 In January, in a now-deleted tweet thread, a woman claimed Hynes White, 21, sexually assaulted her at a party in Toronto and that he pursued girls younger than him between the ages of 17 and 20. After the initial tweet, other accusations of predatory behavior surfaced against the actor, and there were allegations that he used racial slurs.
People petitioned Netflix via social media campaigns to remove Hynes White.
Wednesday was renewed for a second season earlier this year. Jenna Ortega, who plays Wednesday Addams in the series and is now a producer going into season 2, did not directly address the accusations but faced criticism in March for speaking about her friendship with Hynes White on Dax Shepherd's Armchair Expert podcast. Ortega deleted her Twitter account shortly after.
However, Ortega told Elle Fanning during a "Variety Studio: Actors on Actors" interview that season 2 will get rid of a love interest for her character and "lean into the horror aspect of the show a little bit more."
It's not clear if Hynes White is returning for Wednesday season 2. In his post, he added, "I can't accept the portrayal of me as someone bigoted, or criminally negligent of people's safety. These are the kind of baseless, harmful claims that can create mistrust toward victims."


We crawl the web so you don't have to.
Sign up for the Daily Dot newsletter to get the best and worst of the internet in your inbox every day.