People have ideas. Sometimes they're good ideas, and sometimes they're so bad they make you wonder: Who the hell was dumb enough to think this would work? If the idea is particularly racist and/or sexist, the answer to this question is usually "a very white man." And if the idea is racist and/or sexist and/or particularly douchey, it's usually "a very white man who works for a tech startup."
Ladies and gentlemen, what follows is the story of one of those ideas.
To celebrate the launch of its latest product, a smartphone called the One which is currently available by invite only, the startup OnePlus decided to hold a competition for people to win the chance to buy the phone.
The terms of the contest? It's only open to women, and in order to be eligible, these women have to draw the OnePlus logo on their bodies and post a photo on a OnePlus forum. The 50 most "liked" photos will then receive a free T-shirt and the opportunity to buy a OnePlus smartphone.
The most offensive thing about the "Ladies First" competition—yes, that's what these geniuses decided to call it—isn't that it's obviously sexist to ask women to consent to having their physical appearance ranked in a public forum. It's not even that the grand prize is the opportunity to pay full price for a shitty smartphone, rather than winning the shitty smartphone itself.
The most upsetting part is that OnePlus clearly thought it was doing women a huge favor by asking them to objectify themselves online for the purposes of winning the chance to win a smartphone. (Again, not the actual phone itself.) This is the text from their original campaign, which is no longer available online:
As we close in on the 200K mark for the number of registered forum users, OnePlus wants to give a shout out to the few but beautiful female fans in our community with our Ladies First contest.

In true gentlemen fashion and because chivalry is not dead, we are giving the lovely ladies of OnePlus a chance to skip the invite line and introduce themselves to us.
See, that's where you're wrong, guys. Chivalry is dead. Know why? Because it's a lame and offensive and outdated concept, because women don't want to be receive better treatment than men, they want the same treatment as anyone else. So apologies for not wanting to show you a photo of our boobs with your dumb logo tattooed on them, but we have better things to do with our time. Like make fun of your stupid contest.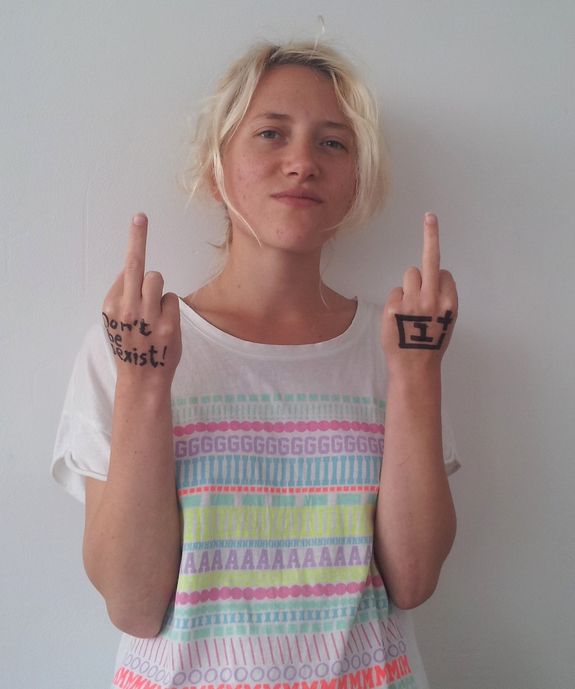 H/T The Verge |  Photo by Kae Yen Wong/Flickr (CC BY SA 2.0)