If you didn't know about "Old Town Road" last week, you probably do now.
Lil Nas X's genre-bending hit song debuted in December and quickly went viral thanks to TikTok's "Yee Yee Juice" challenge. In March, the track landed on the Billboard Hot Country Songs chart and the Hot R&B/Hip-Hop Songs chart, perfectly illustrating its crossover appeal. But Billboard removed it from the country chart, citing that "Old Town Road" didn't "embrace enough elements of today's country music to chart in its current version."
A loaded statement, to be sure. But late last week, the 20-year-old debuted a remix of the song, featuring a new verse from Billy Ray Cyrus, and it quickly shot to No. 1 on the Billboard Hot 100. It's captured our imagination online, too: "Old Town Road" memes and reactions rose in tandem with his Billboard ascent, even before the remix. And Lil Nas X has intimate knowledge of how the meme cycle works.
i was literally promoting old town road via twitter memes with -$5.62 in my wells fargo account 2 months ago wow. i sit here in shock about this shit everyday.

— nope (@LilNasX) April 3, 2019
Here are some of the best Old Town Road memes.
The best Old Town Road memes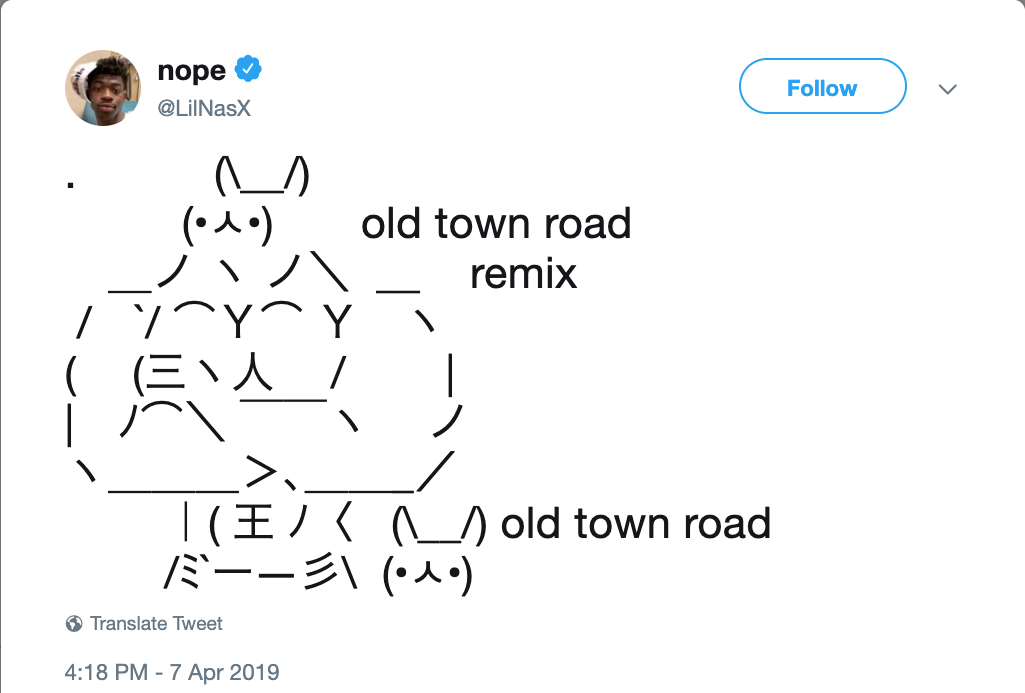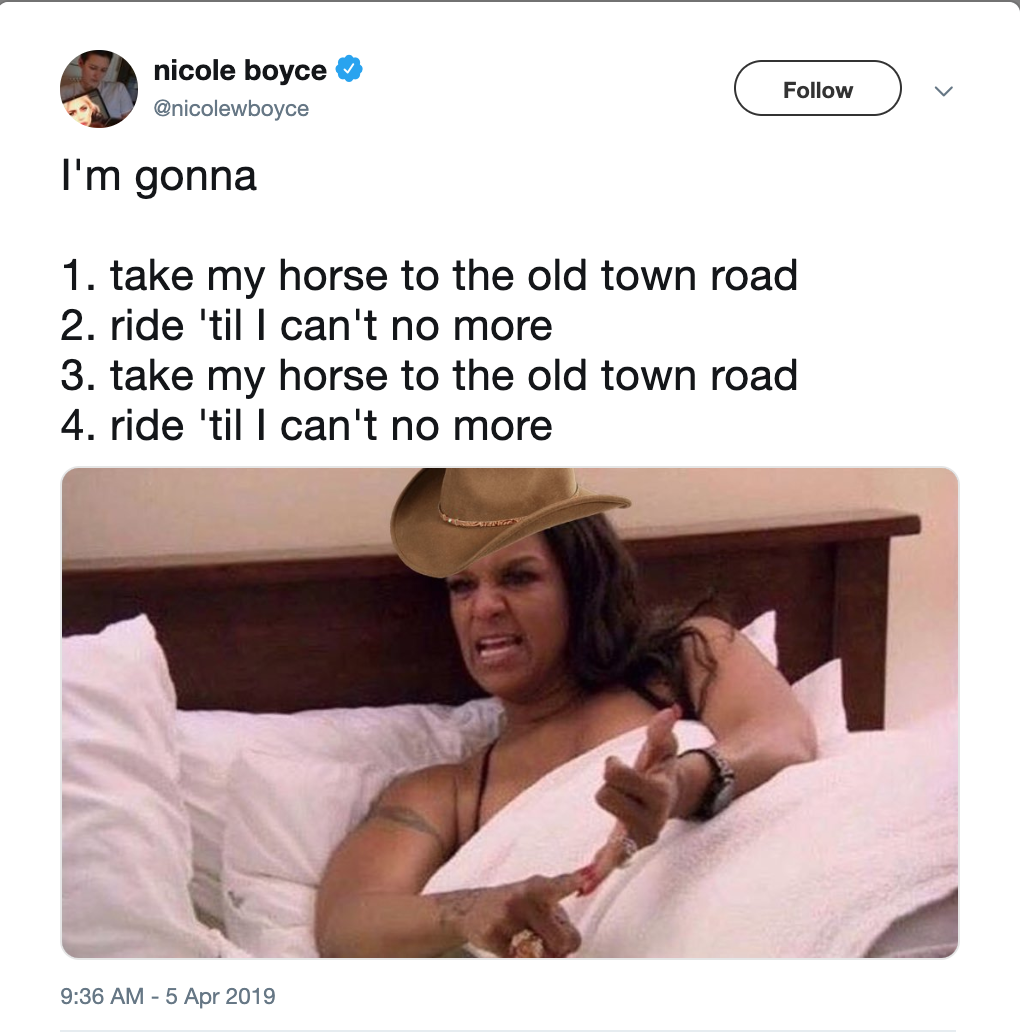 Fuck pic.twitter.com/7z1rm8MYCa

— Katie Notopoulos (@katienotopoulos) April 7, 2019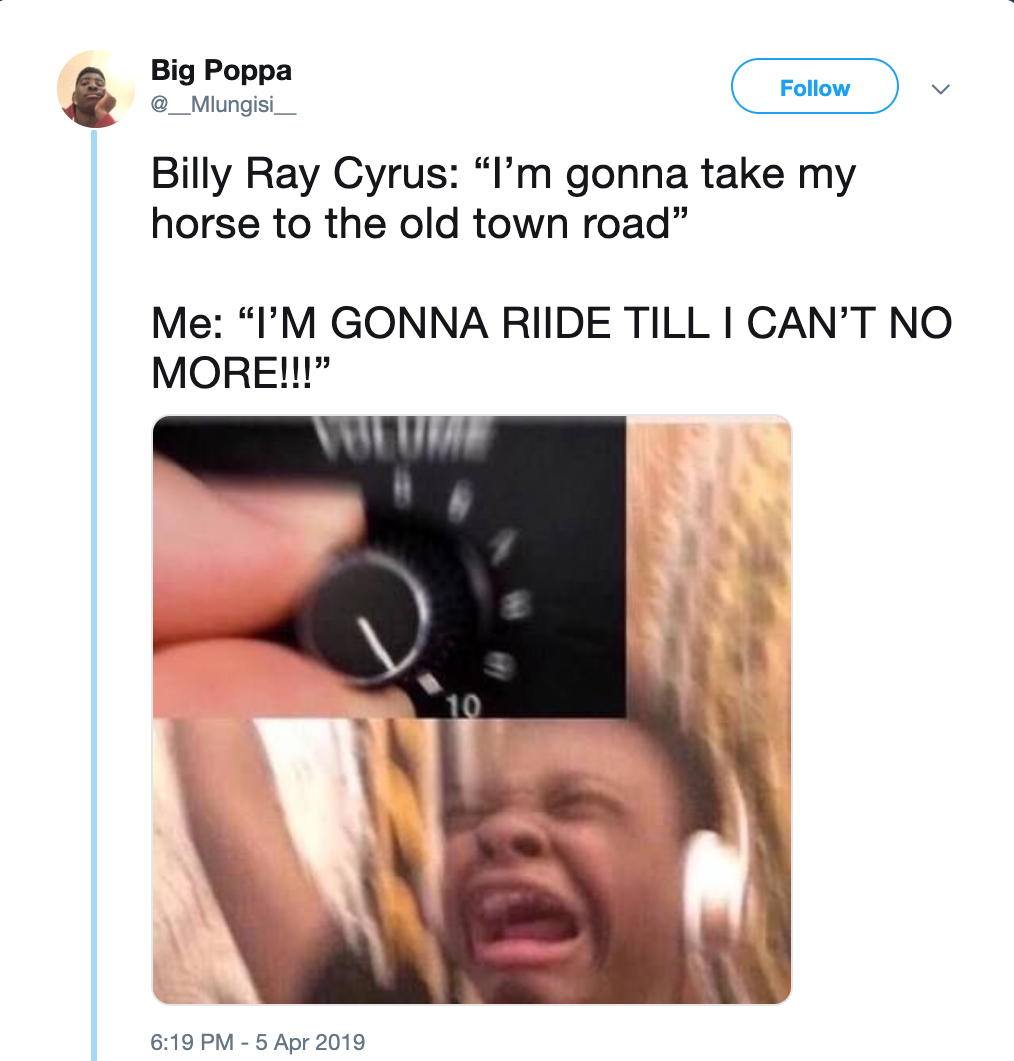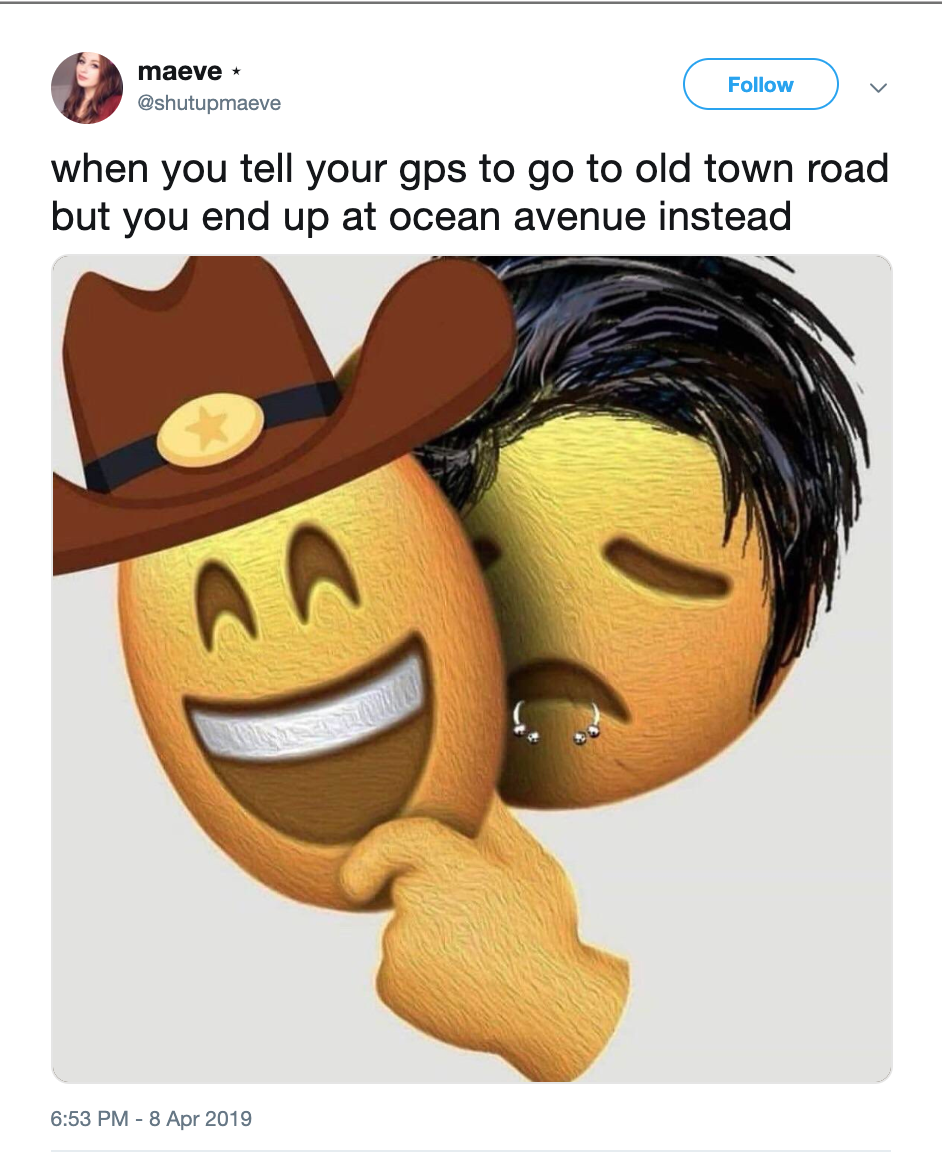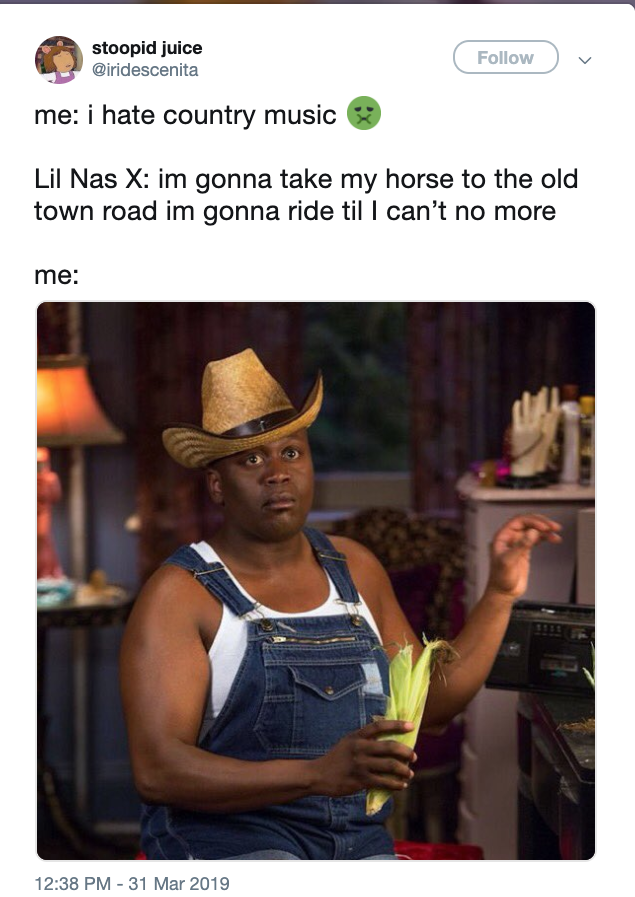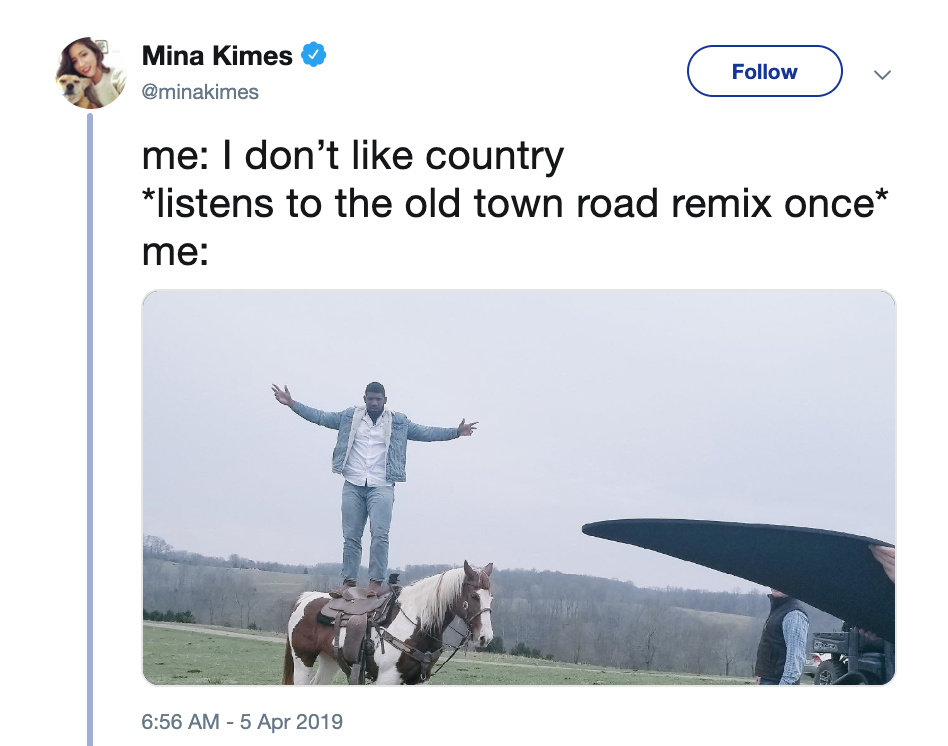 People dancing to 'Old Town Road' in video clips
Naturally, a lot of the best "Old Town Road" memes use the song with a video clip of people dancing.
someone get this clip away from me pic.twitter.com/2qMbG5XUb6

— @UMG release ur copyright claim challenge (@thecalebchin) April 5, 2019
"Old Town Road" @LilNasX x @billyraycyrus remix set to the dance scene from 'Napoleon Dynamite' pic.twitter.com/NSt2XmnJBl

— Lights, Camera, Pod (@LightsCameraPod) April 5, 2019
*Listens to Lil Nas X & Billy Ray Cyrus Old Town Road Remix once* pic.twitter.com/dXW63X3c3w

— Matthew A. Cherry (@MatthewACherry) April 5, 2019
i won't apologize for knowing that this would work pic.twitter.com/wPMbThlkmm

— Mike Camerlengo (@MCamerlengo) April 10, 2019
'I'm gonna take my horse to the hotel room' misheard lyric
There's also a curious subset of people who thought the lyric was "I'm gonna take my horse to the hotel room"—even though that makes no sense. Or does it?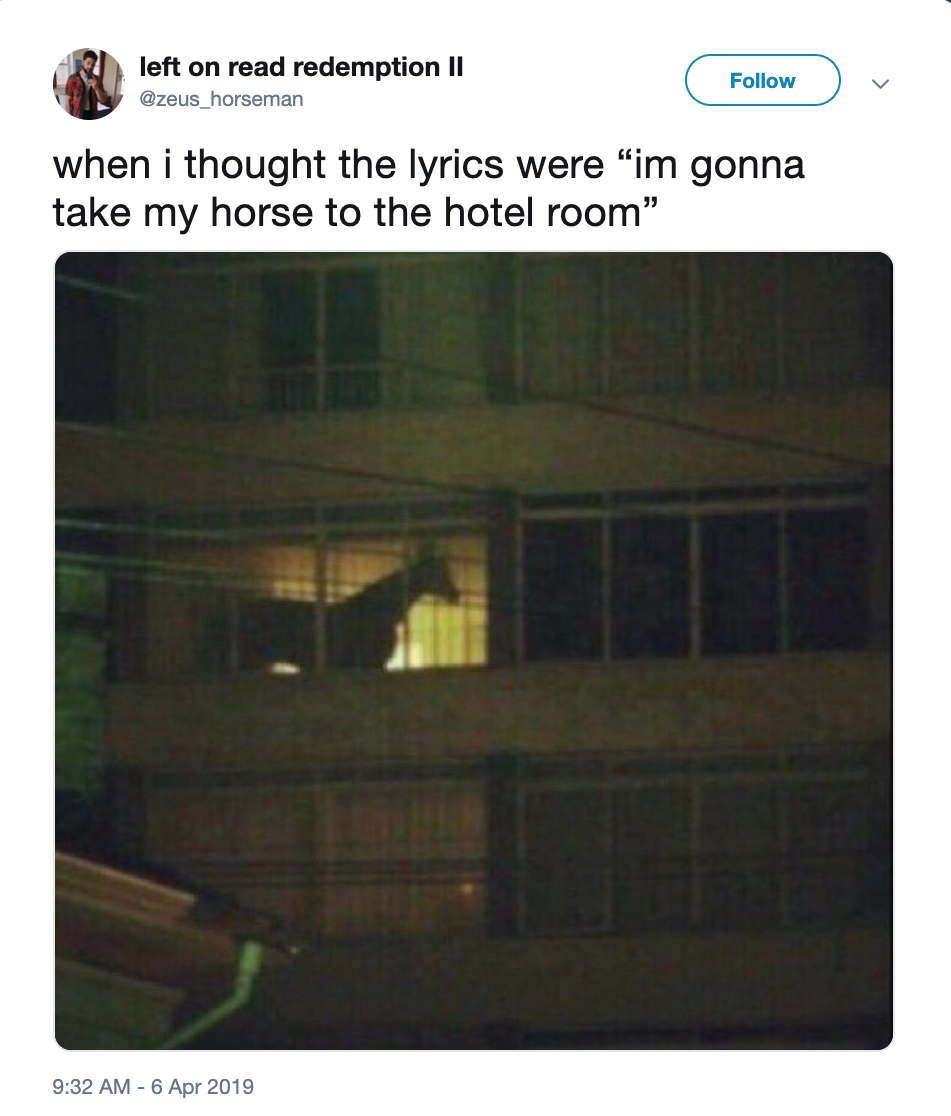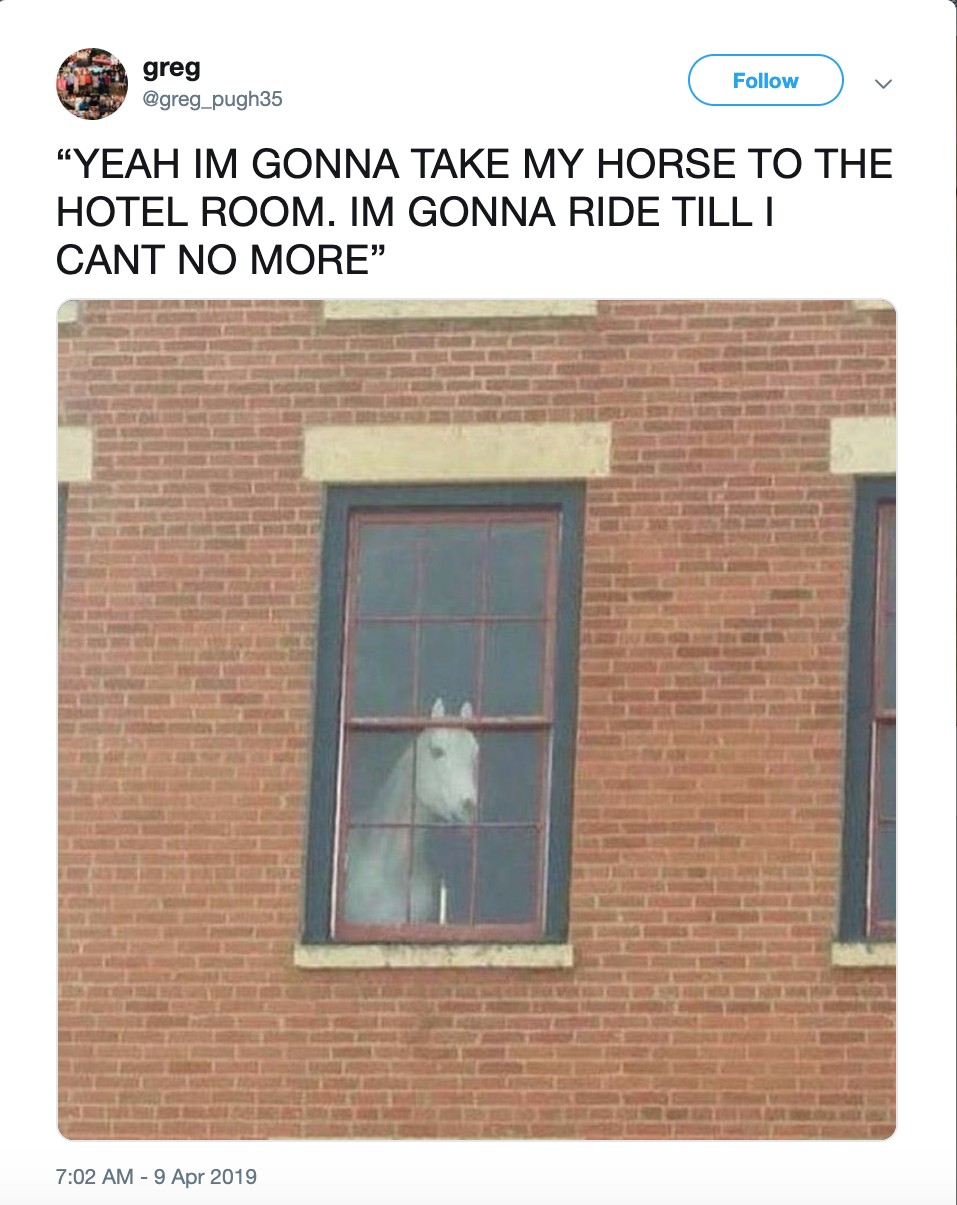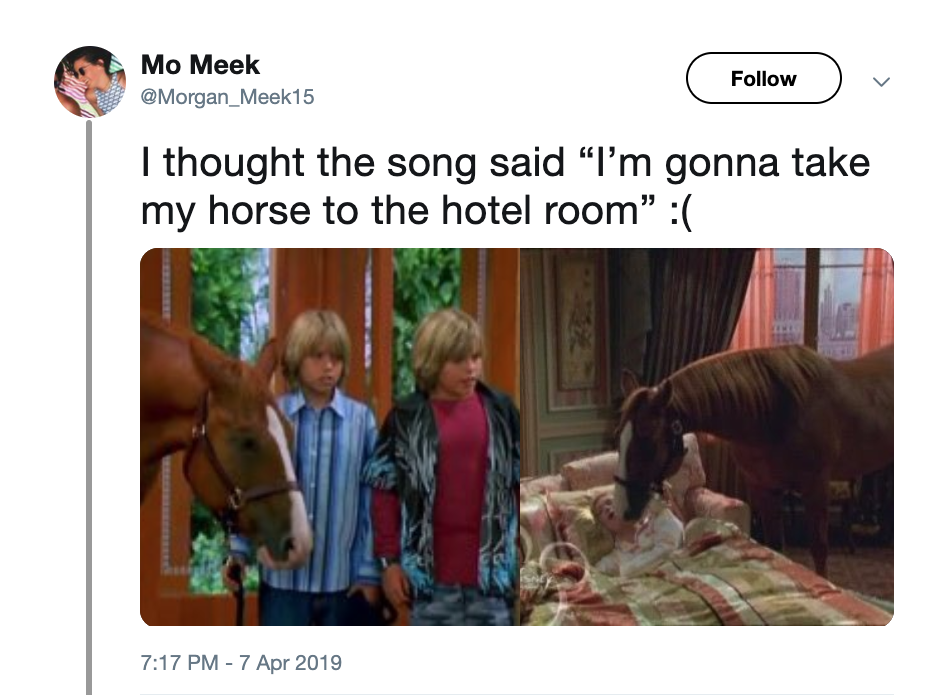 Did the Old Town Road meme peak when Stephen A. Smith jumped on it?
YOOOOOOOO https://t.co/aMHFPtbF0F

— nope (@LilNasX) April 6, 2019
Possibly, but we're still finding ways to incorporate it into our everyday lives—and historic space discoveries.
*listens to old town road once* pic.twitter.com/cZpa7xrgUu

— Caitlin Kelly (@caitlin__kelly) April 10, 2019
READ MORE: