As of Monday, March 31, people who attempt to access OKCupid using the Firefox web browser are being met with the following message: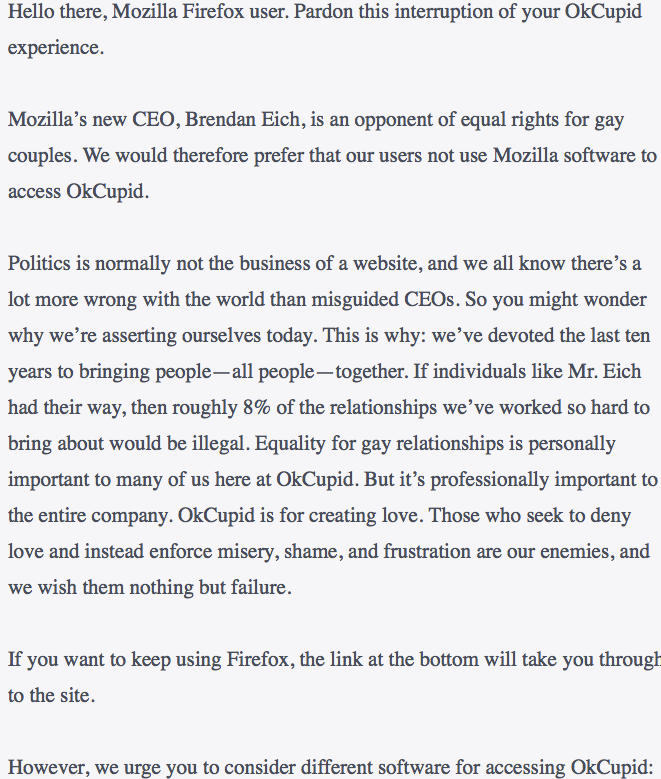 Firefox users are ultimately able to click through and access the site; however, they are first prompted with links to download other Web browsers like Google Chrome, Apple Safari, and Microsoft Internet Explorer.
In contrast to the browsers made by Google, Apple, and Microsoft, Mozilla is a nonprofit organization that runs Firefox as free, open-source project.
Eich, who was announced as Mozilla's new CEO last week after being involved with the company since its inception in 1998, has been a flashpoint for controversy due to a $1,000 donation he made to the campaign in support of California's Proposition 8, a voter-backed initiative in 2008 that banned same sex marriage in the state. Half of the nonprofit's three-person board of directors resigned en masse around the time the announcement was made; however, a Mozilla spokesperson insisted to the Verge that the wave of resignations were unrelated to Eich's selection or his personal politics.
OKCupid co-founder Christian Rudder explained the boycott arose out of a unique confluence of events where the site's leadership team was spurred to action. "This was something that's actually related to our business in a number of ways," Rudder said. "There are a lot of faceless corporate behemoths out there who do shitty things, but Mozilla is different because of the values it's supposed to stand for."
Rudder says the boycott wasn't meant to cause a massive media firestorm. "We just came up with the idea over the weekend," he insisted. "We didn't do it to make a big PR kerfuffle. It wasn't particularly strategic or pre-planned."
He said that OKCupid doesn't have a particular time frame set for how long it will keep the boycott page up. It may be taken down if Mozilla takes action, or if it starts have a significant negative effect on the company's business. Firefox accounts for about 12 percent of OKCupid's total traffic.
In a statement to the Daily Dot, a Mozilla spokesperson wrote, "Mozilla supports equality for all, including marriage equality for LGBT couples. No matter who you are or who you love, everyone deserves the same rights and to be treated equally. OKCupid never reached out to us to let us know of their intentions, nor to confirm facts."
In a blog post responding to the backlash, Eich, while not repudiating his donation to the Proposition 8 campaign, pledged to make everyone in the diverse community that has grown up around the project over the past decade and half feel included:
Mozilla is a movement composed of different people around the world, working productively together on a common mission. This is important to our ability to work and grow around the world.

Many Mozillians and others know me as a colleague or a friend. They know that I take people as they come and work with anyone willing to contribute. At the same time, I don't ask for trust free of context, or without a solid structure to support accountability. No leader or person who has a privileged position should. I want to be held accountable for what I do as CEO. I fully expect you all to do so.

I am committed to ensuring that Mozilla is, and will remain, a place that includes and supports everyone, regardless of sexual orientation, gender identity, age, race, ethnicity, economic status, or religion.
A number of Mozilla employees have spoken out about the controversy. The overall tenor of their writings have been conflicting, though most generally disagree with Eich's support of Proposition 8. However, they worry that any widespread antipathy those views engender toward Mozilla as whole has the potential to do a significant amount of harm to an organization whose stated mission is to create tools giving a voice to all people, regardless of their race, gender, or sexual orientation.
Erin Kissane, director of content at Mozilla's journalism project OpenNews, expressed this conflict well in a Monday blog post. After attesting to her intense support for marriage equality—both as a "queer employee of the Mozilla Foundation" and because her mother's marriage to her stepfather would at one time have been illegal under anti-miscegenation laws—Kissane explained why she believed Eich should stay on despite the controversy:
Several of my colleagues have called for Brendan's resignation. I have not done so, despite my strong feelings on the issue, in large part because of my conviction that the open Internet is not and cannot be a progressive movement or a liberal movement or even a libertarian movement. In the climate-change fiasco here in the U.S., we've seen what happens with a globally important issue becomes identified with a single political point of view. We can't let that happen here: The open Internet is not more important than gay rights or any number of other progressive causes, but it should and must be a broader movement. The moment we let "open Internet" become synonymous with progressive causes—inside or outside Mozilla—its many conservative supporters will be forced into an impossible position.
Others, however, have called for Eich's ousting:
Have waited too long to say this. I'm an employee of @mozilla and I'm asking @brendaneich to step down as CEO.

— Chloe Varelidi (@varelidi) March 27, 2014
I'm an employee of @mozilla and I'm asking @brendaneich to step down as CEO.

— Chris McAvoy (@chmcavoy) March 27, 2014
Mozilla is generally considered a LGBT-friendly workplace. The company offers benefits to the same-sex partners of its employees and recently adopted a trans-inclusive healthcare policy.
People outside the immediate Mozilla community have also taken steps to distance themselves from the company in the wake of Eich's appointment. The developers of the popular game Color Puzzle, a married gay couple, have pulled their app from the Firefox app marketplace in protest.
Firefox is the world's second most popular Web browser, accounting for just over one-quarter of global Web traffic in February. In addition to Firefox, Mozilla has also developed the Thunderbird email client, secure Web sign-in system Persona, and the online educational gaming platform Open Badges.
H/T The Verge | Photo by Jonathan Nightingale/Flickr (CC BY-SA 2.0)