Now we're all on Verizon's "share everything" plan.
According to a blockbuster find by the Guardian's Glenn Greenwald, the FBI and NSA has the data to track every call made to or from a Verizon user in the U.S.—including, likely, their location.
Greenwald has revealed that a secret court, made possible under the controversial Foreign Intelligence Surveillance Act (FISA), has ordered Verizon share "all call detail records or 'telephony metadata'" with those agencies.
Verizon is to file such a report every day from April 25 to July 19, though it's probably an ongoing process; one source told the Washington Post the order is renewed every 90 days.
The order is for non-targeted surveillance—it explicitly does not give the government information on either individual callers or the contents of the call. It does, however, give those agencies data like the time and duration of every call. It's less clear on geolocation data. But as Greenwald notes, a 2005 court ruling found that a call's location—specifically, which cell phone tower it was closest to—falls under "transactional" data, often used as a synonym for metadata.
Congressman Mike Rogers (R-Mich.), chair of the House Intelligence Committee, said the program "was used to stop a terrorist attack in the United States" in recent years, but said details were classified.
FISA, which was renewed in 2012, is a consistent concern for privacy advocates. It can allow government agencies to monitor data about Americans' communications—though not the communications themselves—without a warrant. That includes data about citizens' emails, and has been a particular concern for Sen. Ron Wyden (D-Oreg.), one of the Daily Dot's most influential Internet activists of 2012 and the sole member of the Senate to sign the Declaration of Internet Freedom.
A White House official, while not officially confirming the report, said that metadata is "a critical tool in protecting the nation from terrorist threats to the United States." The representative added that such information "allows counter-terrorism personnel to discover whether known or suspected terrorists have been in contact with other persons who may be engaged in terrorist activities."
That the NSA is so actively involved is somewhat ironic, considering its head, General Keith Alexander, has regularly downplayed his agency's role in domestic surveillance. "The great irony is we're the only ones not spying on the American people," he said in late May.
Privacy groups, of course, have resoundingly condemned the order.
"The revelations of the US government's massive and indiscriminate surveillance program are absolutely frightening, putting before the public's eyes the breadth of a secret, dragnet spying regime which casts every US citizen as a suspect,"  said Mike Rispoli, a spokesman for Privacy International.
The Electronic Frontier Foundation warned that other U.S. wireless carriers probably have similar orders.
"There is no indication that this order to Verizon was unique or novel. It is very likely that business records orders like this exist for every major American telecommunication company, meaning that, if you make calls in the United States, the NSA has those records," it warned.
Verizon didn't respond to request for comment—and, in fact, may not be allowed to comment under the terms of the court order.
UPDATE: Verizon's general counsel sent the following message to employees today, explaining why the company can't comment on the Guardian report: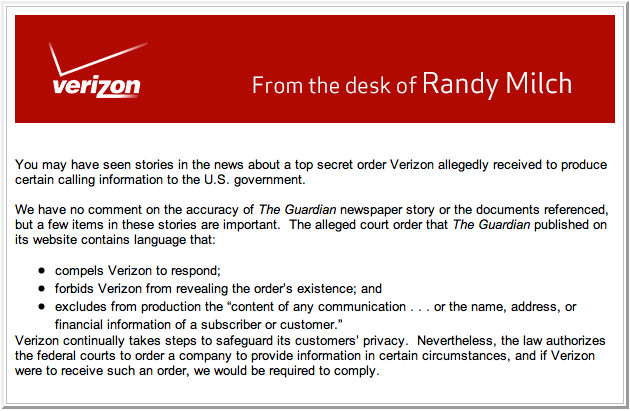 CORRECTION: A previous version of this story stated that Greenwald had obtained the Verizon document via a Freedom of Information (FOIA) request from the U.S. government. As Greenwald has since revealed, the document came from former National Security Agency contractor Edward Snowden.  
Illustration by Fernando Alfonso III