Stranger Things star Noah Schnapp denied using a racial slur (and apologized for using a different word in its stead) after an older video of him appearing to say the N-word went viral.
The video, which the 15-year-old actor says was from last summer and was originally posted on Instagram from an account that has since been deleted, features Schnapp and several friends singing along to Lil Dicky and Chris Brown's "Freaky Friday." The 29-second clip of the song features the n-word multiple times, and in the beginning, you can clearly hear the word "neighbor" said in its place. As the camera swerves to focus on another person in the car, it does sound as if the N-word is being said. 
After the video went viral, the hashtag #noahschnappisoverparty trended on Twitter as many fans called for Schnapp to be canceled.
Schapp is asserting that he's never used the n-word in a statement posted to his Instagram Stories that has been met with mixed reactions and added that his friends would never support him if he had said the N-word
"Recently a video from last summer has gotten out of me dancing and singing a song while singing the word 'neighbor' over the n word," he wrote in an Instagram Stories post. "I would truly never say the n word and i'm not the type of person," he wrote. "I genuinely have never used that word in my life."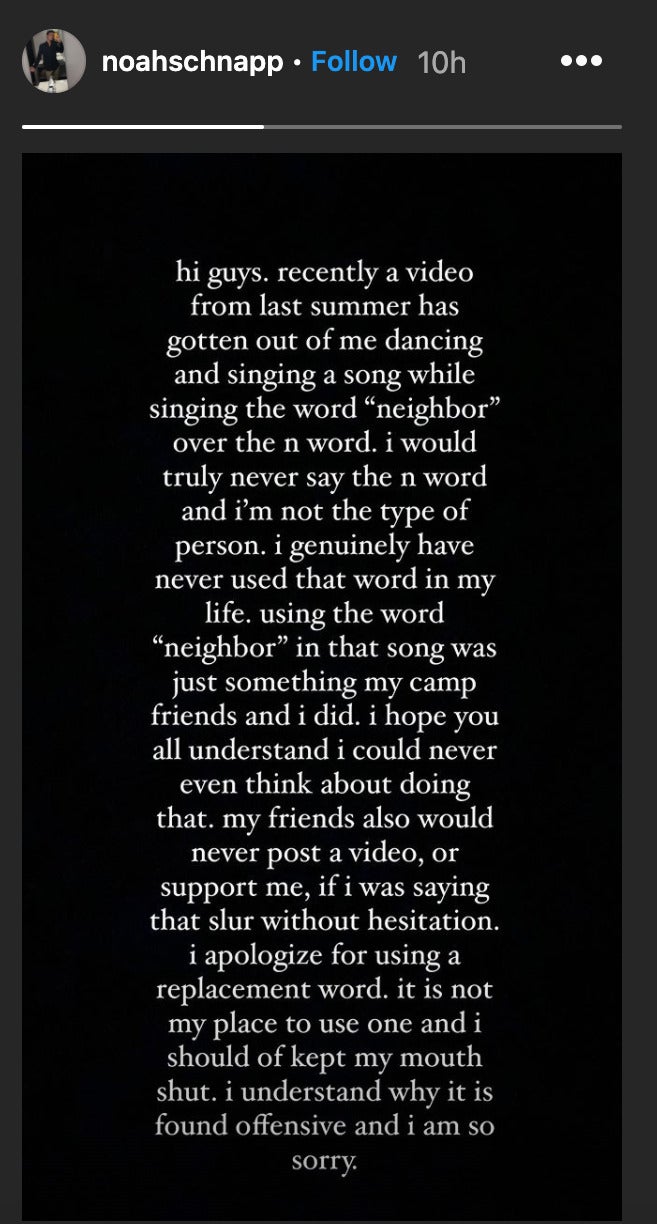 He said that he used the word "neighbor" in its place, noting that it "was something my camp friends and i did" and offered an apology for using a different word in its place.
"I apologize for using a replacement word," he added. "It is not my place to use one and i should of kept my mouth shut. i understand why it is found offensive and i am so sorry."
H/T Page Six
---
More essential culture reads
---