In the early 1970s, Nike cofounder Bill Bowerman famously repurposed his wife's waffle iron to create a new lightweight sneaker sole.
Now, more than 40 years later, Nike has continued to transform random objects into sportswear aimed at improving performance. One of those objects is Unicode, a 25-year-old computer encoding system. 
Nike and its longtime advertising partner Wieden+Kennedy (W+K) have partnered with Twitter artist Matthew Haggett (@Tw1tt3rart) to create original illustrations for Nike Japan Ekiden campaign, a long-distance foot race. The relay races around Tokyo involve five different schools. 
Haggett's task was to create 27 pieces of Unicode art for fans to retweet to show which team they support. Each retweet is tallied and appears on Nike's official page for the races.
"The form of this project was very restrictive, which is my favorite kind of illustration challenge," Haggett told the Daily Dot. "All the illustrations feature a diagonal bar element in a fixed location, special characters at the ends of each row, and a lot of space for text and tags. Ultimately, I only had 72 characters per tweet to work with."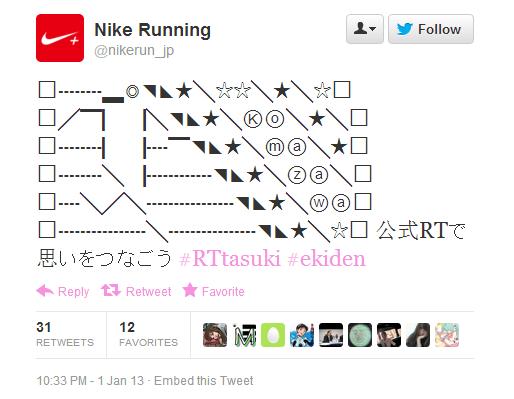 This the second time Haggett has worked with Wieden+Kennedy on a Twitter art-related project. He's also created Twitter art for Nissan, Bravo Creative, and Logo TV.
Over the last three years, Haggett has become one of the most prolific Twitter artists on the microblog. Using ASCII characters, a 48 year old encoding scheme that is built into all Windows and Apple operating systems, and Unicode, Haggett has had his work retweeted by Twitter CEO Dick Costolo and actor Ashton Kutcher. But more importantly, Haggett has helped make the decades-old art form relevant once again.
"With the mainstream embrace of #TwitterArt and other popular unicode art (like Glitchr and the diacritical/crash-oriented unicode style he's inspired), I do think we've seen text art make a resurgence," Haggett added. "The canvas (social networks) and the brush (Unicode) have evolved and are continuing to evolve daily. This evolution made a new place for art to take hold, so art took hold there. A new stage of text art."
Haggett recently worked with Now This News to create 80 original ASCII art tweets of each of the 50 states, battleground state results, and special art for each candidate once the winner is determined. As social networks become more and more art-friendly, Haggett believes the Unicode art community will only grow.
"Advancements in text/unicode (like geometric shapes, and even full color Emoji characters) and advancements in digital platforms like Twitter have certainly created an environment where this kind of text-character-based art is interesting and relevant in a new way," Haggett added. "But beyond the formal requirements of the illustrations, W+K and Nike were wonderful to work with and gave me a lot of creative latitude."
Screengrab via Nike